So many new holistic business owners have literally NO clients, they struggle to get clients on a daily and weekly basis. Nancy is no different.
But why is Nancy struggling to get any clients, so many coaches and therapists are stating they have no clients. Nancy went to college for a few years so she is fully qualified and skilled. She is not a coach or therapist who has simply did a few weeks or weekend training.
So many Coaches, Healers and Therapists can struggle to get clients for various reasons and the sad fact it isn't often not because they aren't gifted or skilled enough. It is usually down to the simple fact that they don't understand business or marketing.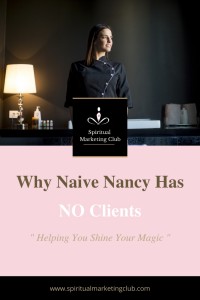 I offered Nancy a short free exploration chat to get a feel for Nancy and her present business challenges. It became quickly apparent that Nancy was very naive when it came to business, she told me while training at college the lecturers implied how easy it would be to set up and to earn a healthy living. Sadly for Nancy this was anything but the truth. One year on and she had only two paying clients.
She gave me her website and Facebook page details and right away I got quite a bit of information on why her advertising wasn't turning into clients.
Some Reasons Why She Had No Clients
Her website was extremely old fashioned and basic now that's fine but her website wasn't fit for purpose, the colours, the layout, font, and even the content gave the wrong message. It looked extremely unprofessional and it did nothing to instill confidence and trust in what she offered, it did not market her message. Now many therapists also make the mistake of going for a website that is clearly free, whilst trying to charge high-end prices. Basically you're sending out a mixed message to your audience. 

She failed to mention her qualifications and years of study. With so many fast track training schools popping up that aren't worth the paper they are written on. Many clients, consumers want to know that the therapist or coach that is treating or supporting them is adequately skilled in what they are providing.   You have to use your marketing to instill confidence and trust in potential clients. Especially when you work in the health or wellbeing sector. Nancy should have a few testimonials, especially on Facebook.

Her Facebook and website content did not give clear enough information, it was hard to find her contact details and it wasn't obvious what area she was located, never mind what country she was based in.

She never promoted her website and she had no SEO on her site so it was very unlikely anyone would find her site through the search engines.

Her Facebook page had a few hundred followers made up of mostly friends and family. She assumed everyone on her page was her client audience this is often not the case especially when its mostly liked by your family.

She only posted on her Facebook page a few times a week and they were simply posts selling what she was offering, no engagement, no interesting posts, no shares, no value, just selling, selling, selling. This is a very common reason why therapists and healers end up with no clients.

She couldn't understand why the two clients she had a year ago didn't come back for a treatment every week. She said they both said they were pleased with the treatment. She assumed every client would be a regular client. On further questioning she admitted she never invested in regular treatments, never mind weekly treatments. So why did she assume her clients would? In-fact when I asked another this same question she actually said she wouldn't invest in therapy treatments as it was a luxury. Talk about not valuing or believing in the products or services you offer.

Also like many holistic businesses she genuinely thought she could get lots of clients without investing any money in marketing. She genuinely thought she couldn't afford to advertise, but she soon realised she couldn't afford not too. So we discussed how she could afford to start attracting new clients. 

Nancy also had no clients because she had no idea who her ideal clients were. Knowing your ideal clients is a must in your business.

Like many holistic business owners, she was trying to market to everyone and anyone. Her training told her that her healing modalities and therapies could be used on almost any conditions and ailments. So she naively believed her ideal client was everyone with pain or certain health conditions.
Growing any business takes time and money. If you are really serious about making your business work and have no other source of income sometimes you need to get a part-time job. When I started my business I had various disabilities and health conditions that made it challenging to get a job. But I was so passionate about my business I took the odd part-time job here when I needed to. Nancy isn't the only naive therapist I have come across. I have met hundreds of naive therapists and coaches over the last 20 years. This has rapidly increased with the rapid growth of social media and online businesses. I meet many people who became healers or coaches because they actually thought it was an easy way to make a large income. Too many people arrive in the healing and coaching industry thinking they will get hundreds of regular paying clients without investment or effort.
Every business needs a solid foundation, a solid business, and a marketing plan. No matter how long you have been going in business it's worth going back to basics.

Now, every single holistic business is different, some therapy businesses owners have it easier than others. Every type of therapist, area, location, product, service, and even who your ideal clients are unique. Which can play a huge part in what you time, energy and money you have to invest?
But if you are serious about running a successful business, that has healthy growth over the early years you should be prepared to invest. A healthy investment, an effective marketing strategy to the right audience.
Now, most traditional businesses will have an initial investment. Which is usually a loan, savings, or grant that is used for buying business resources, equipment, and marketing to get the business up. If you are simply not in that position, you have to be prepared to re-invest at least some of the money you get from your paying clients into attracting new clients. That is a necessary element of business growth. Now at the initial stages, this can be 50-100% of what you get in and as you become more established from 10% up.
In a saturated market like the holistic and wellness coaching sector that can be a lot more. If you are charging a premium price for your services your advertising can be a lot more.
This case study represents a typical client, a lot of what is mentioned is based on real clients I speak to regularly. But many specifics have been changed to protect clients' details.
Unsure Who Your Ideal Client Audience Is
Those clients who want, need and will buy your services.
If you aren't getting enough clients, you probably don't know who your ideal audience is

[Updated] This blog was originally published in January 2017 and was updated February 2020 by the Spiritual Marketing Club




by