Stop Guess How To Use Facebook For Business. And Learn How To Use Facebook Effectively To Grow Your Business.
So many small business owners don't know how to use Facebook for business effectively. Many businesses simply just follow the crowd, hope, guess or pray that what they are doing on Facebook will work.
Other people try and copy what other people doing often with a presumption that what other people doing is what they should be doing or that what they are doing is working.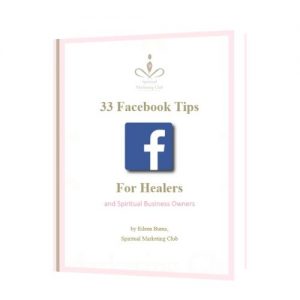 But like any marketing tool or platform, you have to work out a strategy that works for your business. Choose the marketing platform that is used by your ideal client. So you have chosen the right social media platform to market on. Every social media platform has a different purpose with different audiences. Most people don't deliberately come on to Facebook for business, to buy. Most people use Facebook to socialise to be entertained or informed, so you have to keep this in mind.
Making Facebook a top promotional tool for your business is about maximising the features it has to reach that audience not put them off. For example making the most of the banner area, the information sections, the posts and videos features with images, posts, messages that will engage, inspire, and motivate your potential clients.
You maximise conversion when you connect with what your clients want and need. And by adding value to your facebook giving them a reason to come to visit your page.
If you use it to sell, sell, sell or miss out on the vital information you should be providing you can actually lose the audience you already have or more of the right clients who would have bought your services.
Most small businesses don't know how to utilise the basics of Facebook for business. They struggle to effectively use their business  Facebook page never mind moving on to Facebook adverts. It is important you get the basics right so you don't lose, miss, or put off potential clients you have right now.
Have you chosen the right name for your Facebook page, don't just choose a page name like www.facebook.com/UsuiReikihealing12567 better with www.facebook.com/UsuiReikihealingLanarkshire…
Do you know what category to use, do you know what you have to include in your business description or what type of Facebook Banner to create;  your banner has to capture your client audience and help them remember you? These are all common parts of Facebook most people struggle with.
If not but you want to use Facebook as one of your main platforms to get clients, it is important you to take the time out to learn how to use Facebook effectively, why not start by downloading my FREE 33 Facebook Top Tips for Healers a great resource packed full of top tips how to use Facebook for your coaching or therapy business.
Do you know Facebook announced they had just under 1.2 billion monthly active users in October, so this is still a powerful digital platform for many businesses? But I see so many coaches and therapists expect miraculous results from inadequate marketing and not enough traffic to their page. You have to do different things for your Facebook to be seen and it's not just about sharing your group in every sales group.
Just think of the time and money you have put into learning your coaching and therapy skills, years of studying and investing, and how little time or energy you may be investing in your marketing. Marketing is just as important as the services and products in your business. So make sure you put the right time and energy into investing in the right marketing skills to build that successful business you dream off. You can learn how to effective use Facebook Marketing For Your Spiritual Business in My Facebook Marketing Course For Spiritual Entrepreneurs
Download My Free 33 Facebook Tips For Healers + Bonus videos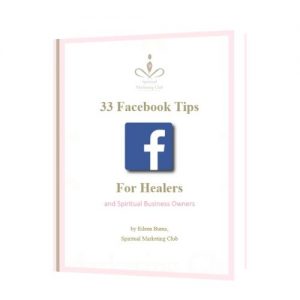 by