How To Grow Your Facebook Audience. 10 Ways that help grow and feed your Facebook fans.
What You Need To Know And Do To Grow Your  Facebook Audience
Facebook is first and foremost a social media platform, an advertising media that is used mainly for socializing not selling. People don't go on to Facebook to buy, they go on to be entertained to connect with family, friends, and colleagues. If you remember this you are less likely to lose potential customers and grow your Facebook fans.
10 Tips To Grow Your Facebook Audience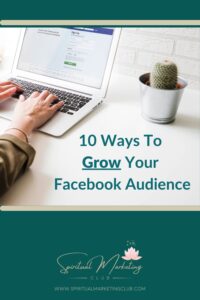 1. Learn To Give your fans want something to come back for. Too many small holistic or spiritual businesses focus on selling than nurturing. Marketing is all about building connections and trust. Don't just try to sell, this rarely works on Facebook, especially if you are a coach, healer, or therapist. You have to give your audience good enough motivation to revisit, read, and share your page's posts. Post engaging content, and freebies that would be of value or interest to your ideal audience. Don't be tempted to ask clients to share your pages or posts without an incentive. Occasionally is fine, but it can be off-putting to clients when a business constantly asks its audience to share its page or posts with nothing in return. This rule applies to asking other businesses to share your posts. I have lost count of the requests I get from other FB business owners who ask me to share their posts or page with no offer of reciprocal support.
2. Find Out What Your Customers Want, this can change over time, so keep asking, keep checking, and keep offering. Survey Monkey is a great way to create market research surveys for your audience for free. The free version allows your audience up to 10 questions anonymously if they want.
3. Make Sure Your Facebook Message Is Clear. Would a new visitor who sees your Facebook business banner or page, know instantly what solutions you offer? Check out my post Create A Facebook Cover. Make any instructions on your banner or page clear. If you want your audience to sign up for your freebies, tell them to sign up. If you want them to click the link tell them in the post. 
4. Make Daily Regular Posts to remind potential customers you are there. Regular engaging content is good for Facebook algorithms. Make sure your posts are not just a few words or more, share high-quality blogs on topics your audience will find beneficial. When possible don't share someone's post without any comments. Again Facebook algorithms are very clever. If you want your posts to be served on your audience's Facebook feeds, you need to include quality relevant content. This should include engaging videos, attention-grabbing images, and titles. 
5. Share Your Facebook Page Link on your website, your emails, business cards, blogs, Twitter, Pinterest, Instagram, and anywhere else you promote your services
6. Reward Your Fans by offering them fabulous freebies, lead magnets, and tips. Do things to thank fellow businesses who share or support your services. Don't ever take for granted your audience, your supporters, or your sharers, remember it is all about energy, give and take.
7. Never Post Your Products Or Services onto someone else's page, this is like trying to set up a stall in someone else's shop. You may be surprised by how many businesses try and do this.
8. Never Just Be-friend Someone to invite them to like your page, buy your product or come to an event. (This is a biggie on an average week I get at least 10 people asking me to friend me and immediately a minute or so after they invite me to buy something or like their page.) I now delete anyone who does this. I rarely accept friend requests for the same reason. It is very off-putting and definitely not great marketing or healthy network approach.
9. Share Related Articles, Blogs, Events… things your clients would be interested in and benefit from. Mutual sharing of blogs, videos, and other educational content between fellow Facebook business pages that have a similar audience is good practice. If done fairly it can be a win, win situation for you both. Sharing other people's content makes your page more interesting and can be great for Facebook algorithms. It is all about what your audience wants.
10. Make sure you add all your business details to your Facebook page. Add your telephone, and website, you can also add links to your different social media platforms.
Are you struggling with your
Facebook Marketing?

[Originally published August 2016, re-published 16th March 2020]




by