Top Spiritual Content Ideas For Social Media Marketing. Creative online marketing ideas to attract, engage and convert your ideal audience into ideal clients and soul clients.
One of the biggest challenges most spiritual businesses have is trying to come up with different types of spiritual content for their different social media platforms. Content that will help attract their ideal clients and boost social media engagement.
No matter if we like it or not the online world today is so busy. Even established spiritual entrepreneurs are presently struggling to stand out from the crowd, and be visible on social media.
The spiritual sector on so many levels has exploded more into a business commodity than a vocation. And although according to a spiritual industry report on BusinessWire the Spiritual sector is expected to increase to $271.8 by 2024. A saturation in some areas of the market means many in the spiritual and coaching industry are struggling to get started never mind surviving.
That is why it is so important for so many healers, spiritual teachers, and spiritual coaches to come up with the right spiritual content ideas for their businesses. Content that is going to support them to stand out from the crowd in a more authentic and aligned way with their audience. A truly soul-aligned spiritual business wants to make sure its content matches its brand's core values.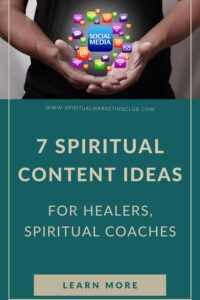 7 Spiritual Content Ideas For Spiritual Entrepreneurs
Spiritual Infographics that break down spiritual concepts, benefits, properties, or self-care work really well for the spiritual business. For example crystal infographics, aromatherapy infographics, self-care infographics…
Spiritual Quizzes are a great way to encourage engagement and sharing on social media. The right type of spiritual quiz can go viral.
Spiritual Top Tips – Simple bite-sized top tips for example as a graphic or a very short video like a reel on Instagram or a shortie on youtube can help boost those algorithms so your spiritual content gets in front enough of a wider audience. If you are creating a graphic make sure it's branded in your brand colors.
Spiritual Podcasts – Creating your own spiritual podcast or being a guest on someone else's show can be a great way to increase your reach and give your social media audience what they want. So many people enjoy listening to podcasts on the go. You can now even post your podcast on Facebook.
Funny Spiritual Memes: We all like to have some fun in our lives the occasionally funny meme, especially those aligned with our audience can be a useful strategy to use every so often to boost those algorithms. It is so easy to funny memes using graphic software like Canva.
Thought-Provoking Questions: Thought-provoking questions can be great for many awakened and spiritual audiences especially a spiritual business that has a dominant sage brand personality.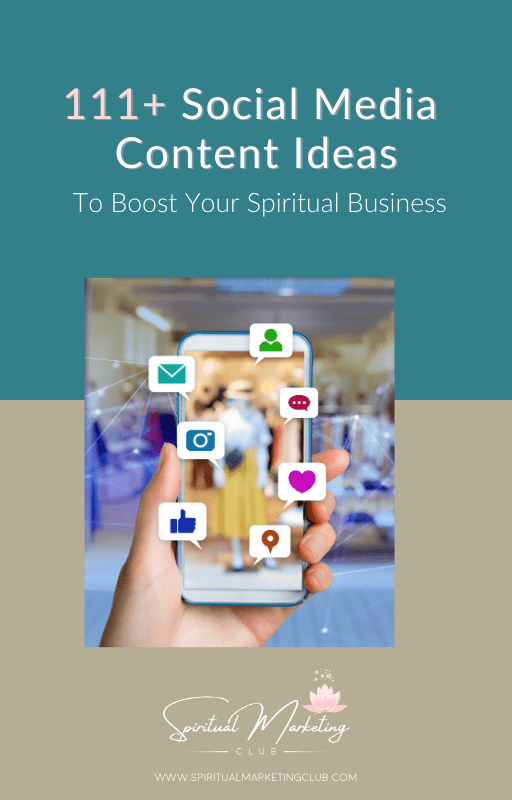 High-Value Lead Magnet: Every online business should have at least one high-value lead magnet that helps them create a healthy email list where they can keep their ideal audience up to date with their offerings. The more highly relevant lead magnets you have for your audience the more you encourage your audience to come back for more. Lead Magnets on my blogs are one of the biggest ways I grow my therapist training and spiritual marketing business.
Access over 111 Spiritual Content Ideas For Your Spiritual Business
Stop spending endless hours, and weeks trying to think of spiritual content ideas to post on your social media platforms. Social media marketing doesn't have to be exhausting or stressful, it is meant to be fun and creative.
Download my 111+ Social Media Content Ideas For Your Spiritual Biz, and get instant access to so many different ideas for spiritual content that will help boost client engagement on your Facebook page, Instagram, Twitter, LinkedIn…
Recommended Relevant Blogs