Why the right automated lead magnet can boost conversion by nurturing customer or client trust. Why every spiritual business should have an automated lead magnet to grow their leads. The top 5 things to consider when creating an automated lead magnet and sales funnel.
What is A Lead Magnet?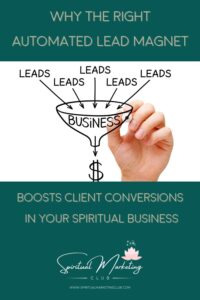 A lead magnet is a marketing tool used to attract and nurture clients. The client will normally sign up for your freebie in exchange for their email or contact details. Commonly used lead magnets by spiritual businesses are free taster sessions such as healing sessions, discovery calls, free webinars, free 5-day courses, ebooks, meditations, and activations.
What is An Automated Lead Magnet?
An automated lead magnet is where the whole lead magnet funnel and pathway is automated for the consumer, so they can sign up and often get access to that lead magnet at their own convenience. Most lead magnets are automated today to suit today's audiences who have in many ways come to expect instant access to products and services at the press of a button. The right automated lead magnet can help satisfy that sense of urgency and help capture and guide your audience toward a much more clear and more focused nurturing process that feels comfortable.
Why The Right Lead Magnet Can Increase Client Conversion
One of the biggest problems consumers have today is the overwhelming choice they have, especially in the online Spiritual and Coaching industry. In many ways the coaching and spiritual sector that much it can appear as if more people are selling than purchasing. There are so many people trying to run online spiritual businesses that it can feel like everyone and their granny is now a healer or coach. So how do you capture that audience in often those first few seconds they connect with your posts before they scroll past?
Well, that is the right brand and the right automated Lead Magnet.

Why The Right Lead Magnet Can Actually Be Comforting For Your Audience
For most audiences out there, there are so many choices of healing, coaching, therapy, and spiritual teachings that it can actually be positive but also extremely overwhelming. Especially when on so many levels social media is so psychologically unhealthy.
But the reality is no matter if we like this or not, this is where most of the people who need our help are still spending a lot of their time, in many ways too much time.
Most potential customers and clients are simply scrolling through fast feeds of information when they come across your valuable content such as your posts, your videos, your page, and even your freebies. In the modern world where people spend a lot of time scrolling without any real focus, a good lead magnet provides them with an easily accessible solution to a problem where they can sign up right now when they remember and get access to the resource when they want.
Even the more conscious interested client or customer tends to want to try before they buy, and get to know your products and services a bit more before they go and purchase that product or service. The right lead magnet can help nurture that audience, and help answer any doubts they may have about you or their purchase in a more natural way. Especially if you drip feed aspects of that lead magnet into short tips or short videos over for example 5 or 7 days.
Like most relationships, connection, and trust need time to flourish, small touch points over a short period can help remind a busy audience of who you are and why your product and service may be exactly what they want and need. It doesn't have to be too salesy or pushy, if it is educational, helpful, and informative it can feel natural and organic.

Top Tips For An Automated Lead Magnet
Choose a client-aligned lead magnet that aligns with your soul clients and audience needs, it has to solve a problem your audience wants to be solved and have enough perceived value that is willing to sign up for it. Make sure your lead magnet is brand aligned with your audience.
Choose the right automated lead magnet software, I love to use new zenler as it is an excellent all-in-one online platform for course creators, it actually has a free version where you can build lead magnet sales funnels for free.
Create a comfortable and logical lead magnet pathway that feels as natural and organic for your audience as possible, automation can help you do that.
Focus on sharing value and nurturing connections before trying to push that sale.
Make sure your lead magnet is directly aligned and linked to the product and service you are promoting. That the freebie has a direct and obvious correlation to the problem you help solve.