Coaches learn who and where your soul clients are. Knowing your ideal clients and soul clients is so important when running a spiritual business. So how do you start identifying your soul clients and ideal clients?
If you are a spiritual business you can start identifying your soul clients by start identifying your own gifts, your own soul gifts, your own areas of expertise, and skills. By learning some important spiritual marketing strategies especially if you are a spiritual coach or healer.
Stop Wasting Time, Energy, And Money On The Wrong Clients, Wrong Tribe
Time and money in business have to be used wisely that is why it is so important from the start of your business you start focusing on the right clients, your soul clients not someone else's ideal clients. If you don't get this right in your coaching business you will struggle to maintain a healthy growth of clients, or attract the wrong clients or customers. No business wants to attract the wrong clients, clients that cause you more stress, anxiety or frustrations. That is why the biggest thing you can do for your spiritual business today is to find out for sure who is not just your ideal client but soul clients.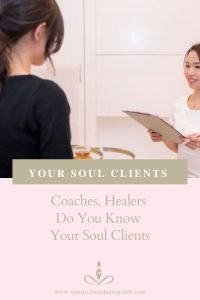 Why Your Soul Clients Help You Grow Your Business
Believe me, coaches, when you identify and find your soul clients things start to get so much easier in your business and marketing. It is much easier to market to clients you understand, know, and can help especially if you use spiritual marketing and business strategies to grow a healthy successful business.
Your soul clients will help you promote your business, refer you on to other ideal clients and soul clients to your business. They can save you so much money in advertising and marketing because word of mouth, referrals, great testimonials are the most natural free way to get new clients.
Coaches, Healers Are Your Ready To Attract Soul Clients?
STOP wasting time, money, energy on the wrong clients
Soul Clients Who Love My Programs
Testimonials from Ideal Clients & Soul Clients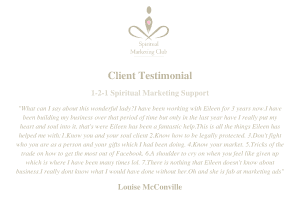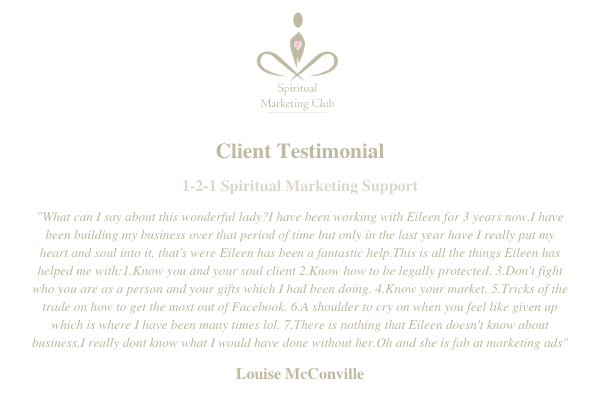 Thanks Eileen. Your course is fantastic and it will be worth its weight in gold. I'm very grateful to you for your generosity – thanks again Lesley Scott, Hypnotherapist & Coach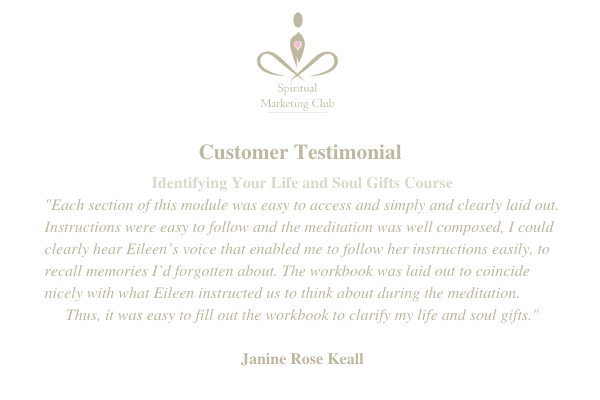 " I had a 30 minute breakthrough call with Eileen and got more golden nuggets in half an hour than I did in 12 weeks coaching with a well-known coach!! Came away with an action plan and clarity about where me and my business are now and where we are going. Huge thanks Eileen Burns you're a superstar mentor!" Fiona Kyle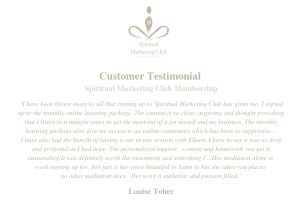 "I have paid hundreds of pounds in the past for courses with much less content and much less heart.. David Rabone, The Soul Healer"


This course with Eileen has given me the confidence I need to carry on my journey in Reiki Healing….so I thank you very much Eileen, you are a wonderful and very talented lady and I am so proud to let people know that I have had the privilege to work with you and thank you for the support you are giving me….. NAMASTE x" Elaine King, Shining Light Holistic Therapies, Lanarkshire
Hi Eileen I have loved the course – I have found it difficult to keep up just with juggling other demands but know I will go back and work on everything. I'm generally feeling a lot more confident and the support and encouragement you have given us all has been amazing. Massive thank you, Lynn Sutherland, Hypnotherapist & Health Coach
We talked about: 1) How to identify my ideal client by looking at my own experience and the kind of clients I was successful with in the past. 2) How to market my services to my ideal client: work out how my skills and services are a solution for clients, and promote that, rather than advertising the modalities I use 3) Match my solutions with the ideal client, then work out how I am going to package the solutions. This was very helpful in working out my priorities, and gave me a process for organising my business and my marketing strategy. "Iain Layden, Healer & Therapist
"Your 3-day challenge has helped me so much. I loved the daily tasks. It really made me think where is my ideal client hanging out. That for me was the biggest aha moment. I'm busy working away with my lists and pulling together my ideal client profile. Thank you once again for sharing your knowledge I really appreciate you letting us have a glimpse of your experience in marketing" Carolyn Bradshaw, 3 Day Ideal Client Challenge
Free Video Course – What Is A Soul Client?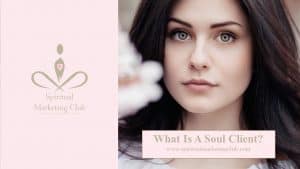 by