So how do you grow your business during a crisis, during a down period? Whether that is having to take time out, coping with a recession or a worldwide pandemic like COVID 19. How you can save, nurture and revive your business through difficult times.
The reality is all sorts of crises' can happen when we run a business, especially a small business, a self-employed business. I know as a disabled self-employed business owner for 20 years I have faced all sorts of business crises. More than a few that nearly shut me down. So how did I grow my business, how did I survive even when the odds were stacked against me.
So, How Do I Grow My Business When I Can't….?
This is a question I am getting asked a lot. What can you do, when you are thrown a massive curveball in business? One that you are not prepared for or one you never imagined would happen.
Of course, it matters what that actual issues are. The actual problems, challenges that you are facing? In relation to what can you do and what you can't do. A sole business owner like a massage therapist or spiritual entrepreneur who has a clinic to pay for is one problem. Coping with an economic recession, national or worldwide crisis where fewer people are buying is another issue.
But there are a few things that everyone should look at and consider when your business is struggling to survive. Especially on how to survive ethically.
My Experiences Of Growing A Business Ethically During Extreme Challenges?
During extreme challenges in my health and business, I always focused on what I could do, NOT what I couldn't do. Believe me, there were a lot of things I couldn't do. I had a wide range of disabilities, mobility, and stamina issues when I first started my business. I was living on a very low income, I had no security. I faced even more complex issues over the last 5 years. When I developed extreme noise sensitivity that triggers seizures. I am housebound but I have still found ways to run my business online by creating online courses.
I focused on what I can do, not on what I can't
I focused on my areas of expertise and resources.
I focused on being of service offering what was needed at any given time.
I didn't just give up even when it appeared everything was lost.
How Can I Grow My Business Ethically In The Present Crisis
A lot of heart-based and spiritual business owners are struggling at the moment with the question of how do I sell ethically at the present crisis. The reality is it's about getting back to business and marketing basics. Focus on what your audience wants and needs.
In many ways this a time for connecting and nurturing your audience. Time for building that long-term know like and trust factor.
It is a time for many businesses to adapt to the current climate without lowering your ethics and values. At times like this, your audience will know who supported them or who actually took advantage of them. It doesn't mean you have to stop sharing your offerings but be wise, focus on your audience's big pain points. But don't be tempted to just offer anything and everything. Still focus in your main areas of expertise and skills this is not a time to start offering areas your not qualified in. Remember do no harm first, many people are extremely vulnerable mentally and emotionally at this time. So choose your offerings wisely.

Top Tips On How To Grow Your Business During A Crisis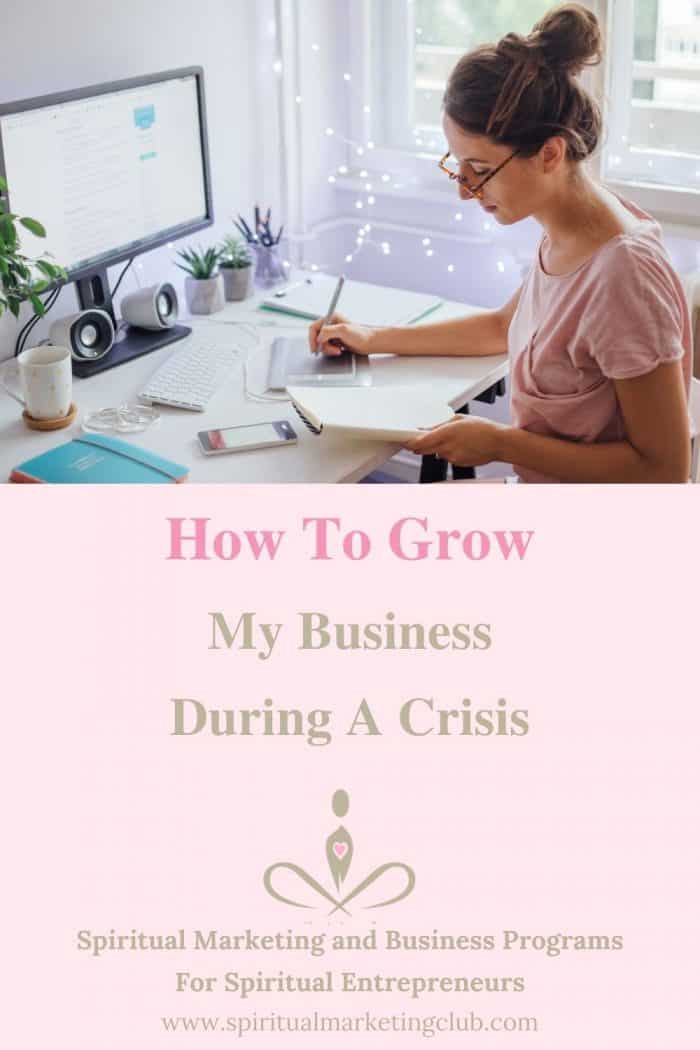 Use Downtime In A Crisis Wisely: There are times in life when we are forced to stop. Often there is a much bigger reason at play. We often fail to see the reason at the time because we are so resistant to that change. At times like this, we are being pushed to look inwards, to reflect and re-evaluate our present situation. This is a gift from the universe in more ways than you can imagine. It can really help remind us what is important and what's not. At times like this, we can be forced to face those things in our business that aren't working. Or things that we were never fully aligned with in the first place. So take the time to be still, take the time to trust, and be guided.
Focus On What You Can Do: Like every crisis in life it's important to focus on what you can control and let go of those you can't. Try to see things from an out of the box perspective. If you are a business owner you are an entrepreneur you are offering products or services to make money. Look at your areas of expertise. How can you turn that around? If you have had to shut down your shop, clinic, your main business because of COVID 19. What can you still offer? I built a business that focused on my strengths, not my weaknesses or disabilities. I created my own range of essential oils and natural products. I also created an online and published directory, as well as a holistic health newsletter in 2000 under The World of Health. I used this as a stepping stone to start building my stress management and holistic therapy business. I wrote holistic articles for a local community paper. What I didn't realise at the time was I was actually building trust. I was getting my name known, my areas of knowledge and expertise known. So when I got stronger to start doing what I really wanted to do I had already built up a reputation. During a crisis like the present time, this can be the time to start those blogs, write that book, create those extra resources or courses for your clients Or maybe it is time to upgrade your skills or learn something new. Think about adding new products or earn affiliate income selling other products your ideal clients would love.
Focus On What You Do Have: In times of great crisis especially financial crisis I would focus on what resources I did have. We are so lucky today to have so many Free Advertising Platforms especially social media. If you have an internet connection and a computer, iPad, or phone, you can do all sorts of things at this time. Focus on your greatest strengths like that training that took a few years, that life challenge you overcame with certain tactics and strategies. You could start writing a small ebook, creating a small online course, create a Facebook Group.
Focus On What Your Clients, Audience Need: If you are a healer, coach, or therapist during a national or worldwide crisis. Your clients, your audience need help and support to get through this challenging and vulnerable time. They will remember who stood strong, supported them and nurtured them despite their own personal challenges. As well as remembering those who used highly manipulative or disingenuous tactics to try and get a sale. I believe these sorts of situations unveil to audiences more of who they want to work with in the future. This is a rare opportunity to really build a strong connection with your audience. An opportunity to show an element of vulnerability, along with strength and integrity. Share lots of tips, inspiring, educational videos. Write helpful and educational blogs, create low-cost freebies and lead magnets your audience will love.
Network And Build Connections: During quiet and downtimes this can be a great time to network, build connections and plan joint ventures with other businesses. Working together makes us all stronger together. Start getting more interactive and supportive in those Facebook or LinkedIn groups your in. Be of service, share your knowledge, support others, build a healthy reputation.
Maintain Your Ethics And Values: During a crisis in act of desperation, it is common to see people act in un-ethical ways. I have seen many people do things they would never do when their business was struggling. Don't do it, it takes time to nurture that know, like and trust factor. But it can take only one silly mistake, one very poor offering to ruin your reputation. No matter how hard things are don't stop paying your public indemnity insurance. Don't offer and sell things you have no training or little skills in. Don't do anything you would normally not do that would compromise your ethics and values. You can always start your business again, it is a bit harder to gain customer trust again.
Ask For Help When You Can: Recognise when you need help, advice, support, sometimes others can see a solution you can't. Sometimes others would love the experience to help you with this or that. Exchange skills when you can at a time of crisis, but don't just trade hour for hour. There is a whole difference between someone sharing something that has taken them 20 years to learn and cost them thousands of pounds to learn. Than a skill, you have only been doing for a few years. So play fair and be respectful. One common issue I see in many holistic small businesses is their reluctance to invest in other services their business needs. What many small businesses fail to recognise is if you hire the right team, they can help your business grow. These types of experts have often made a far larger investment in training and experience than you have. If you won't invest in others, how do you expect others to invest in you?
If you need some support to get you out your current business crisis why not book a Free 1-2-1 Spiritual Business Discovery Chat. LEARN MORE