Why Healers and Therapists Working Together, Can Help Us All Grow.
Why I Believe Healers And Therapists Working Together Can Be A Powerful Force
If you are a holistic or spiritual Business owner your business is about supporting and empowering others. But the reality is running any business can be challenging,  running a holistic heart-based spiritual business can be even more demanding and exhausting for so many reasons.
Especially when most spiritual and holistic businesses are built solely on service to others and in an industry that many would like to take out or at least discredit and harm.
That is why I believe the more healers and therapists work together as a community with the same mission, with the same challenges,  we can help empower and support each other in a variety of ways by focusing on the same goals and sharing the same resources.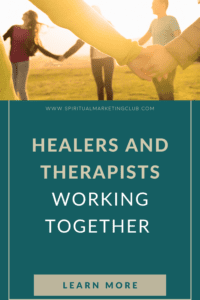 Top Tips For Therapists And Healers Who Want To Work Together
Top tips for therapists and healers who believe in working together, and growing together.
Set clear rules and guidelines for the community.
Encourage authenticity and transparency.
Build a community around common interests and core values.
Encourage mutual exchanges and swaps, to build up genuine organic referrals.
Build a community that builds genuine support
Create A Therapists Working Together Motto
Creating A Healthy Supportive Community
Like any good community, rules, guidelines, and transparency, make it easy for group members to be clear on the purpose and motives behind the community.
Common interests and core values can help build a stronger relationship but in reality, even within communities with similar values there will be differing opinions, different levels of awareness, awakening, insight and experience.
So even though your mission would be more around therapists working together, it is important to honour and respect individuals differences of opinions without expecting others to compromise their core values.
A healthy supportive community should always ensure no one feels manipulated or obliged to work with or promote those with clearly different ideals or values than yourself. Like everything in life alignment is everything.

The Power Of Healers And Therapists Working Together
The power of healers and therapists working together and building together is in many ways limitless.
We are all unique and different, and we all have something different to bring to the table. Yes, it is important to stay aligned with our core values. But when we know we are not in competition and are all part of a team with our own unique mission, it is much easier for us to support each other in our purpose
I have always tried my best to support other therapists, especially those I have personally worked with and admired. For many years I referred and contracted out therapists for work.
The Support Of Therapists Working Together
Being a strong believer that we all have different gifts and different strengths and that we are not in competition but we are genuinely all here to work together.
But it was not till later years in my business that I really started to experience the personal benefits of therapists working together. The opportunity to be on the receiving end of mutual support from fellow like-minded healers, therapists, and coaches.
Supported by those  I now regard as good friends that I can go to for guidance and support as fellow therapists. This sort of connection and support made a huge difference in not just business but my life.
Meeting other therapists and healers with similar interests can really help us grow and evolve spiritually. I love the deep conversations I get to have with fellow healers and therapists. That is why I think an organisations that support therapists working together are worth being a member of,  especially if you are a holistic or spiritual solopreneur.
Therapists Working Together Can Help Build Deeper Connections
Believe me, you can make wonderful connections with other spiritual and well-being practitioners you resonate with and admire. Working together can help you team up with other therapists for events, and help each other out at holiday times, or when you are ill.
It is a great way to share referrals, do workshops or contracts together or simply ask for their knowledge, expertise, or opinion.
We all know being a therapist and a healer isn't always easy but it can be far easier, more interesting, and more enlightening with friends who are all on similar paths.
To All Those Wonderful Therapists Working Together
Thank you to all the wonderful therapist and healer friends I have made through the years. And all the therapists that have supported me on my own healing journey. In so many ways, they have all helped me evolve and grow together.
What a wonderful experience it is to grow and learn together, such an honour to be on this path together as we create the new earth and walk each other home.
If you believe in community and cooperation instead of competition if you are a spiritual business owner and believe in healers and therapists working together check out the Spiritual Marketing Club on Facebook, where we believe in spiritual businesses growing and working together.