Learn how to create client converting content in your business and marketing for your spiritual business. Top tips for choosing client converting content that is both time and cost-effective. The right content marketing strategy for solopreneurs such as healers, coaches, or therapists.
What Is Client Converting Content?
Client converting content is any blog, media, or resource that helps convert readers into leads and customers. The right type of client-converting blogs or posts boosts your business income.
9 Tips To Create Client Converting Blogs And Posts
Top tips on how to create client converting content posts and blogs. How to create content that converts your readers into paying clients and customers more easily.
For example, writing a blog for your holistic business isn't just about writing blog content you think our audience wants to read. In many ways, there is an energy and science to content that converts. 
Your content has to Read, Relate, and Respond to your ideal client's needs and wants. You also want to make sure it has good search engine optimization to attract high-quality relevant traffic, especially free organic traffic. So you are not wasting countless hours on content marketing that gets lost in the ether.
Every type of client converting content is a form of marketing, part of the customer journey also known as the client or customer pathway or sale funnel process.
But it starts with really knowing and understanding your ideal client's biggest pain points. The big problem your holistic or spiritual business solves. Know what your ideal clients and soul clients want, and need, what they are interested in, and what they will find of value. It is invaluable to know what is going to be client-converting posts or content. What type of clients are most aligned with your brand?
So it is important to post relevant, interesting, and informative content. Content that will make your ideal client stop, be curious and read. That is why it is important to know your ideal clients or soul client.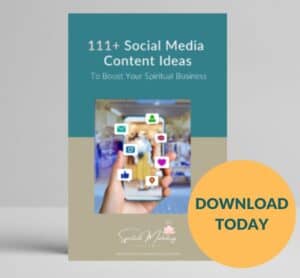 Create Client-Converting Titles
If you don't create a great title for your blog or post, well it is highly unlikely anyone will click on it and read it. The best client-converting content really speaks to our ideal audience. That is why it is worth spending the time to get that headline for your blog or social media post right.
With so much online information overload, your blog title has to be crystal clear and speak to the reader's wants, and desires or in relation to their pain point. What make you stop scrolling, to click through a post?
Think of your clients, consumers, biggest challenges and desires, and the solutions you offer. I bought a title-creating piece of software a number of years that I still have on an old computer but there are so many free versions like ShareThrough Headline Analysis Tool and Title Generator 
Client Converting Images
Powerful attention-grabbing images don't just grab your reader's attention but encourage them to pin, share, retweet, and even repost on their own social media…I LOVE to use Canva to create images and graphics. But if this is something you struggle with or don't have the time Healthinomics have amazing content bundles for many health and holistic businesses.  For a small investment, you can get a whole bundle of graphics/images to use on social media.
Client Converting Content Is Relevant, Interesting, Informative
A blog has to include content that has value to your ideal client. So ensure your blog contains valuable information, perhaps a solution, tips, advice, and suggestions. Or if the purpose of a post is about you helping your client get to know you better. Make sure you give them what they are really seeking. Show them your expertise, and share your knowledge or life experience of a particular challenge…
Client Converting Content Is Easy To Read
Content that converts highly is usually easy to read and fast to process. That is why a professional layout and easy-to-read font can make a huge difference. So the easier your blog or site is to navigate and read, the more likely they will read to the end.
A Fast Easy To Load Website Or Blog
Most viewers come across your content through social media or on a website. You often have less than 6 seconds to make an impact before they move on. So the faster your website or blog loads the more likely are to actually stay and read.
Use A Plugin On Your Blog That Encourages Comments
I love the free version of Comments Luv as it has a great feature that automatically posts a link to the latest blog of any reader that leaves a comment. Links on someone else's website with higher domain or page authority can be great for SEO. So this is a great incentive to encourage regular visitors. And well of course more comments on your blog can help increase client confidence. All effective strategy encourages other readers to engage, share, and come back to your site or blog.
Add A Social Share Plugin So Others Can Share Your Posts 
Free sharing on different types of social media like Facebook, Twitter, and Pinterest is one of the greatest ways you will reach new free traffic. One of the reasons, I love to share valuable blogs that will benefit my audience. What about you are you sharing enough of other people's high-quality content that your audience will love? This can be a really effective way to boost engagement on your social media pages.
Repurpose your content into Free Downloadables
The best client converting content is content that can be repurposed. Look at different ways to repurpose your blogs.  You can combine blogs to create free PDFs and free ebooks. All great ways to build your email list and give your ideal audience great valuable content. New Zenler a free online course creator platform has fantastic marketing funnels and email automation to help you start building up your list. Learn more on my other blog Online Course Platform For Coaches, Healers, Therapists.
Want access to over 111 client converting content ideas for your social media? Client converting content for Facebook, Instagram, Youtube, Linkedin, Pinterest, and Twitter click below.