Instagram Tools for the Spiritual Business, Spiritual Artist, and Conscious Creator. A look at Instagram apps and tools to help healers, coaches, therapists, and spiritual creatives grow their business.
According to Instagram research in June 2020, Instagram's main users are aged between 25 – 34-year-olds at 30.5%. Next is 18-24-year-olds at 23.4% and then 35-44-year-olds at 18.1%. Then 11.7% of 45- 54-year-olds.
So if your main audience is a younger audience having some presence on Instagram is important. But it's not just about age, it can depend on your niche, depend on what you're selling. I don't use Instagram in a big way because it's not where most of my ideal audience hangs out. But for some of you, especially spiritual creatives and those who sell physical products Instagram maybe one of the places your audience mostly hangs out. Especially as it's a great platform for you to showcase and sell your physical products or gifts.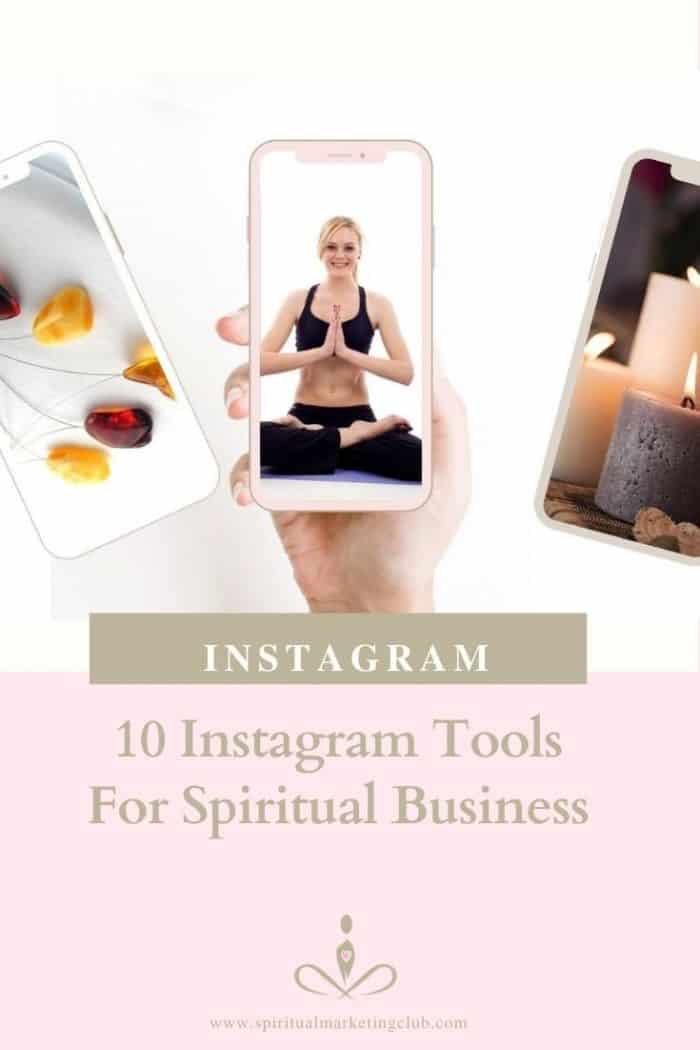 Instagram For Spiritual Creatives
If you are a spiritual creator, a psychic artist, or an inspirational artist or even someone who sells crystals or healing jewellery you should have an Instagram presence. If you sell any beautiful art, gifts, or other products that are very visually attractive Instagram stories and posts should be part of your marketing campaign.
How Instagram Can Help Sell Your Spiritual Creations
A friend and client of mine Claire Lavin-Rice from Heart Space Studio has really taken Instagram by storm in a short time, sharing her beautiful art and drawings. Claire is not only a beautiful artist but has a fantastic gift at home staging. She uses this gift on Instagram to share her beautiful products and reach her ideal audience in a powerful way.
Create Branded Content For Instagram
But before you start to learn how to use different Instagram tools effectively you need to know who your ideal clients and or soul clients are. Once you know for sure who your ideal clients or soul clients are then you want to create an effective brand that will attract your ideal audience.
Once you have sorted out your brand, you want to learn how to create branded content using software such as Canva or Visme. Branded content works very well on Instagram, so do well designed Instagram Grids. Effective branding helps your ideal client remember you and your business.
Instagram Tools – Create Content
Tools that help you create beautiful, branded and authentic Instagram Posts, Stories, Videos
Visme this fab new software helps you create beautiful attention-grabbing Instagram posts, videos, and memes. It is so easy to use, extremely versatile with all sorts of animation features that make it perfect for Instagram. You can also create all sorts of presentations, documents, and printables, highly recommended. The short video below was created by Visme.
Canva is a popular tool used by many to create Instagram posts and videos. Like visme you can also create all sorts of social media graphics, short meme type videos, as well as documents, presentations, printables.
Learn How To Publish On To Instagram Effectively
You know want to learn how to use the Instagram platform and Instagram Tools effectively.
Instagram Rules And Guidelines
Like all Social Media Platforms, Instagram has rules and guidelines, there can be a really poor way to use Instagram or a highly effective way to use Instagram. To make sure your following Instagrams Rules and Guidelines check out their Community Guidelines Page Click Here
Instagram Tools -Instagram Schedulers
For a variety of reason's Instagram schedulers can save you a lot of time and energy. They also help you schedule and post your Instagram posts at specific times and day's at the most effective times to get engagement.
Instagram Auto Schedulers
Planoly – I use Planoly to schedule my Instagram posts as fine motor skill challenges make using a phone very challenging. Planoly has both a free and paid version. But both lets you upload you Instagram posts up on a grid so you can see what your posts will look like on your Instagram Grid.
Socialbee App – Socialbee app is not just an Instagram scheduler tool but you can schedule and rotate posts on Facebook, Twitter, Linkedin…I use this platform for most of my auto-scheduling and since I bought this software last year I can honestly say, so far it's saved me at least over 100 hours of scheduling.
Tailwind is another way you can schedule Instagram posts, I use tailwind mostly as an auto-scheduler for Pinterest but it's also a great Instagram auto-scheduler.
Later – Later is another social media scheduler tool that includes Instagram scheduling. It presently has a Free Plan that lets you post 30 posts on one scheduler for free.
Instagram Tools – Hashtag Search Tool
Another Instagram Tool you should be using to find the right hashtags is a Hashtag Search Tool otherwise known as Hashtag Generator Tool.
Instagram feeds of the right hashtags, the key here is #righthashtags to help categorise your post and attract the right audience interested in that specific post. But if you overstuff your Instagram Posts with too many hashtags or wrong hashtags you risk getting penalised by Instagram algorithms. Using any old hashtag especially irrelevant hashtags can actually repel your ideal audience. So do your homework, it is much more effective to use hashtags that are more specific, more niche to your audience, your industry.
Instagram Hashtag Generators
HashTest – is a chrome extension that is designed to help you choose the most effective hastags.
Social Captain has a Free Trial on their Instagram Hashtag Generator
Understand What Different Hashtags Mean
Many top companies have made huge marketing blunders and lost many customers by using hashtags that didn't mean what they thought it meant. So before you start using any hashtag even one for your own brand check it out. You may be surprised what that hashtag is already being used for or means in the hashtag world.
Instagram Tools – Instagram Headline Helper
Caption Writer For Instagram
Create compelling Instagram headline's with this caption writer for Instagram which is available on APP Store and GooglePlay is Free
Instagram Live Computer Software
YellowDuck
YellowDuck software helps you go live on Instagram directly from your computer with OBS, SLOBS, Wirecast, or any other streaming software that supports RTMP. Available on Windows and Mac.
Creator Studio For Facebook And Instagram
Creator Studio on Facebook and is now available for Instagram aswell as Facebook . Creator studio helps you schedule IGTV Videos, monetize your content. Aswell as helping you respond to comments and messages directly in the inbox, analyse engagement metrics.
Instagram Tools For Your Website
Want to share your Instagram posts on your website?
Snapwidget
Snapwidget is a widget that displays Instagram, Twitter, Facebook, and YouTube on your website to grow followers and increase engagement.
Over 300 Hashtags For Instagram
Healers, coaches, spiritual creatives get access to over 300 Hashtags For Instagram to choose from. In this Free Download you get access to 300 plus #hashtags for healers, coaches, spiritual, holistic and wellbeing businesses.