The Client Journey – Connection To Conversion
It is key to understand the importance of a clear client journey or pathway that will help convert your ideal audience into ideal clients or soul clients. Effective client journey mapping makes it easier and more comfortable for your ideal audience to get to know, like, and trust your business and services. Effective client journey mapping improves sales.
What is The Client Journey Or AKA Customer Journey?
The client or customer journey is the pathway, the touchpoints that you create in your marketing that help to nurture your ideal audience. It begins at that first connection point taking them on a journey that converts them into paying clients or customers.
That is why a good customer journey map ensures that you are catering to the needs of your audience, at every stage of the connection and nurturing process.
A comfortable customer journey is important for the spiritual entrepreneur. An effective customer or client journey map makes it much easier for the audience to find out if you are both aligned. It also saves you valuable time, energy, and money on customer service tasks, which can seriously eat into your time and profits.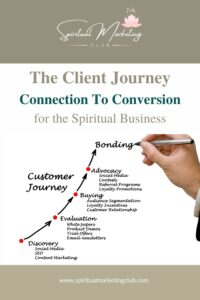 A Comfortable Client Journey
A comfortable client journey shows that you genuinely care about the wants and needs of your audience. That you take them, your business, and marketing seriously. It helps them to feel genuinely understood and supported, showing that it is not all about you and your services, it is about them.
Examples of a comfortable client journey are
Highly Effective Branding That Demonstrates The Solution You Offer; So your ideal client can find out quickly if you offer the solution they are seeking.
Quality Lead Magnets: Quality lead magnets such as automated freebies, are part of a sales funnel process and are a great way to help your audience get to know you and your products or services. They are a logical step-by-step way to educate your audience, making it easy for them to mentally digest the information. If designed effectively, they can be extremely helpful in engaging your audience, so that they can remain focused on what they want to achieve.
Landing Pages: Good landing pages share all the information about your products and services that your audience may want or need to know. For example, this may include the exact content of your programs, products, and services. The when, where, and delivery method of your products and services. More about you, your experience, and your qualifications in this area, helping your audience to see if they align with you and your offerings. It can also be a good idea to include a common question section, sharing typical questions that your ideal audience may want to know but would feel uncomfortable about reaching out and asking.
About Pages And Sections: A good client journey map includes a way for your audience to find out more information about you and your business background. That is why you should always fill out your "about section" on your website and social media pages. The more information you share, the more it shows you care about attracting the perfect ideal audience therefore not wasting the time of clients or customers who aren't in alignment with your work.

A Poor Client Journey
Poor Branding And Marketing: Branding and marketing that is poor or unclear around the solution you solve, not aligning with your offerings.
Low-Quality Information and Content: Low-quality content on websites and social media, where very little information and content is shared, to help nurture confidence and trust. This is especially prevalent where a high majority of content is selling but not educating or inspiring. Or where most posts on someone's social media are short and sweet but not very informative, with no external link to a landing page or sales page with enough of the right information.
Poor Quality "About" Pages: "About" pages that lack enough depth of content and information about that person, can come across as being vague and lacking in transparency. This does not create trust or alignment with your audience.
A Confusing Pathway: A confusing pathway that points ideal clients towards many different options, without considering the various needs of those clients throughout the stages of the journey. Not having an automation process, when the customer would normally expect one.
An Effective Client Journey
As you can see an effective client journey is not just about building deep connections and trust with your audience, it is also about making it easy for your audience to get the information they want and need in an easy and digestible way.
An effective client journey shows that you are serious about your business and are fully committed to a good customer-client experience.
Unfortunately today, so many small spiritual businesses are too focused on getting the sale or sharing posts on their social media rather than building up their business. They miss out on some very key factors that can make or break a sale in the client-nurturing process.
If you are serious about your business and care about your audience, it is important to map out a good customer or client journey so that it makes it easy for your audience to get the information they want quickly and easily, without them feeling awkward asking questions that they would rather have answered online.
One way to start a highly effective client journey map is to start at the beginning and create a highly effective brand that speaks to the heart and soul of your audience. A great brand can speak a thousand words. The next is investing in the right automation software which is why I highly recommend New Zenler for the Spiritual Entrepreneur, which has a free version to help you get started. You can find out more about this fantastic all-in-one platform by clicking here CLICK HERE