Free Automation Software That Can Help You Grow Your Spiritual Business. Why every online holistic and online spiritual business should be using automation software to grow their online business. Why these recommended automation tools can help you make money as well as save you time, energy, and money.
Why even free automation software can seriously help improve your audience's customer journey.
Why The Right Automation Software Makes You Money
The right free automation software tools are great at saving you time, energy, and money. because it gives you the small business owner or solopreneur more time to focus on your main area of expertise. An automated spiritual business or automated holistic business doesn't just save you time and money it can help you make more money.
It helps with time management and can help stop you from wasting a lot of time and energy on administration tasks like client or student bookings, course sign-ups, and online inquiries that can be easily automated. Daily tasks can seriously eat into your precious time and energy.
If you spend a large amount of time in your day, week, or month rescheduling appointments, answering queries, or sitting about because of no-shows or cancelled bookings. You have less time in your day to spend on the tasks in your business that are vital to make you money.
A big bonus to automating your business the right way is how much it can help reduce anxiety, stress and overwhelm. That is why I try to use as much automation as possible in my online holistic and online spiritual business.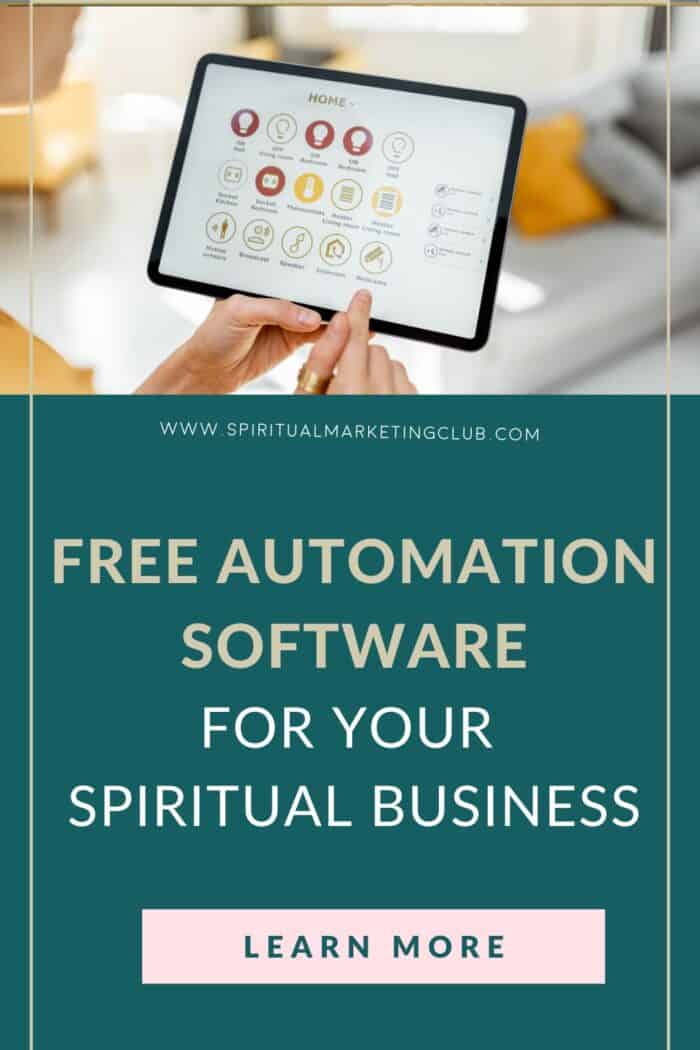 Automation Software For Your Business
The paid and free automation software I wouldn't be without in my online spiritual business is the
New Zenler All-In-One Online Learning Platform
I use the New Zenler automated software for 3 different sides of my business email automation, sales funnels, and lead magnets. New Zenler is a fantastic e-learning platform ideal for healers, spiritual coaches, and spiritual teachers who want to add more automation to their businesses. And make their online learning much more easy, streamlined, and more professional for their audience.
The great thing about New Zenler is it is extremely low cost and there is even a zero set-up fee option in their freemium plan where you can start creating sales funnels, landing pages, lead magnets, and newsletters at no cost, you are only charged a small percentage if and when you start selling any courses.
Appointment Schedulers
Appointment schedulers are great if you run a physical or online business, as they give both you and your clients more access and control over making and changing appointments.
There are a variety of free automation schedulers but there is also a variety of appointment scheduling automation tools that take payment, and send out email and text reminders for a low cost per month.
In the long run, this can save you a lot of time and money, as it is great at reducing no-shows which in the long run can cost you money.
Automation can actually make you more money as it often encourages more bookings as the client can quickly see when you can fit them in, check for cancellations, etc.

Free Appointment Schedulers
There are a variety of free appointment schedulers available, the key is considering what you and your clients would want and need in an appointment scheduler.
If you are a coach who offers free discovery sessions you want to do what you can to ensure you reduce no-shows. Choosing an appointment scheduler that offers your clients the option to get email and text reminders not only saves time but can help increase profit.
I am currently trying out the free version of 10 to 8, I have used a number of schedulers throughout the years, the last few I have been using the paid version of Calendly. But decided to try the free version of 10 to 8
100 Scheduled Appointments a month ( 1-2-1 sessions or groups)
Email Reminders
SMS Reminders
Zoom Integration
Google Calendar Integration
Receive Payments from Stripe and Paypal
Up 2 Staff
Setmore is an online scheduler that is used by many therapist clinics and spas. The Free Setmore Appointment Scheduler gives you
Unlimited appointments
Email reminders
Custom Booking Page with a unique URL
Payments with Square
Teleport video meetings
Social media integration

Social Media Schedulers
I wouldn't be without automated software for my social media, automated social media schedulers are a must for the busy holistic or spiritual business owner. They help ensure you have continual and relevant content on your social media to nurture and engage your social media followers.
Social media schedulers help make sure you are putting out content at the right time your audience is most likely to see and engage with your posts. The great thing today is there is so many different types of free automation software and schedulers to make social media marketing easier.
Free Social Media Schedulers
If you plan your social media ahead and use a rotator social media scheduler like the Social Bee Social Media Scheduler. It can save you a lot of time, energy, and money.
If you use a social media scheduling tool correctly it can help save you hundreds of hours and thousands of pounds on an admin or social media manager. That is why I Love the Social Bee Media Scheduler as it is uniquely designed to help you rotate and repurpose old content into new posts.
As a business owner with different audiences and more than a few social media platforms. This form of not just scheduling content but repurposing content has been invaluable time management and money management tool.
Later App
–
Later App can be used to schedule a variety of social media platforms for free. Later's visual planning tool is designed to help you drag and drop content onto a posting timeline. Gives you suggestions for the best times to post, and it also provides suitable hashtag suggestions.
The Social Oomph scheduling tool lets you post to one social media platform for free with unlimited scheduled posts of up to 3 posts an hour.
Tailwind App
I LOVE tailwind to schedule my pins, you can also use it to schedule Instagram posts. Tailwind has a free forever plan that you can use to schedule 20 posts a month on Instagram and Pinterest free. Get a Free Month of Tailwind with this link CLICK HERE