How To Start Building A Spiritual Business. What to do and what not to do when creating and growing a spiritual business if you are a healer, coach, therapist, or spiritual teacher. Learn some of the most common mistakes that many heart-based spiritual business owners make when starting a spiritual business when trying to grow a successful spiritual business.
Building A Successful Spiritual Business
Building a successful spiritual business like any business takes time. Even though a soul-aligned spiritual business tends to grow and evolve more intuitively. Even a spiritual business needs a good strategy to make things grow and flow more easily.
I have lost count of the amount of time spiritual and holistic business owners have said something along the lines of. " I know I am living my purpose, I have really worked on my vibration. But I just can't seem to attract any or enough clients."
Owning You Are A Spiritual Entrepreneur
This can be for a variety of reasons and it is often not what the healer or therapist thinks. A big reason is many actually don't see themself as a business or as a holistic or spiritual entrepreneur. They often just see themself as being of service or purpose and don't really equate it to actually being not just a business owner but an entrepreneur. Too many treat their spiritual business as a hobby.
Also another main difference between your average entrepreneur and a spiritual entrepreneur, aka spiritual business owner. Is that most entrepreneurs know a business is built around a demand or a need in the market. And they are focused on making a profit.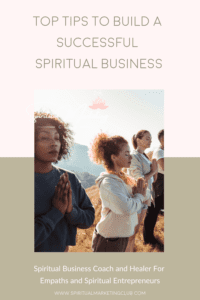 The Mistake Of Building Your Business Around Your Techniques
Most spiritual businesses start trying to build a spiritual business around techniques or tools they have trained in. A healing modality, a type of therapy or spiritual teaching they have trained in.
Most don't ever consider how if there is enough demand or need for their products or services in the market. Many assume there is enough need, and enough demand for what they are offering.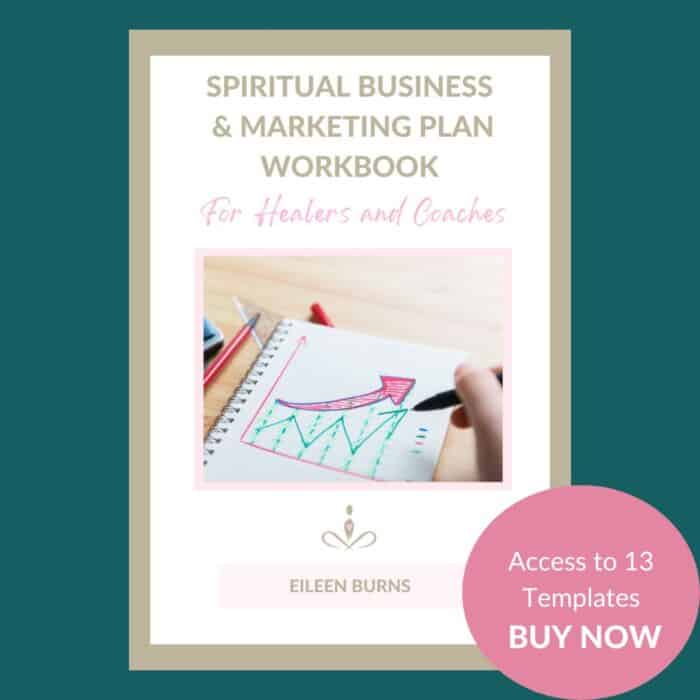 Now on one hand if you know in your heart and soul this is what you are here to do. You know there is a need and that you are truly being spiritually supported and guided. You are more likely to do what it takes to make that happen. Even if you have a variety of challenges and obstacles that you have to overcome.
On the other hand, if you set up your business just because you want to build a business around something you have learned or are passionate about. But have absolutely no idea if people actually want or will buy your products or services. And have no idea how saturated the market is with that product or service. You can find yourself totally underprepared and overwhelmed with how hard building and growing a business can be. And how much time or money you may need to spend on marketing to attract those ideal clients.
Hard Lessons Alison Learned When She Set Up Her Spiritual Business
Let me give you some examples Allison set up a holistic therapy clinic in her local remote village. Although there were only a few other healers and therapists in the area and only one other clinic.
She became very disappointed to find out that most people in her locality didn't really seem interested in the type of healing or therapies she was offering.
It took her a few months in business to realise that her marketing costs were actually a lot more than she originally projected for. She soon realized that just to survive not even thrive, she would have to put her pricing up a lot more than planned.
But that was a bit of a problem, the few customers she attracted were on modest incomes and couldn't afford to come to her as much as they would like to. When she started to look more closely at her business and other therapy businesses in and around the area. She began to realise why so many therapists and healers in the area had struggled to survive and why the few therapists who were still going, were actually mobile therapists and worked part-time.
She had been so focused on using the modalities she had learned, and getting a clinic she liked the look of. She didn't really consider if enough residents in her small village would really want and invest in what she was offering. She also was so focused on sharing her tools, and her modalities. She didn't focus on marketing the problems her healing and therapies solved.
Also, unfortunately for Alison, she had invested so much in kitting out her clinic with a fancy new shop front, expensive fixtures, and fittings. She quickly ran out of cash flow to keep her business afloat.
Sadly there are many businesses like Alison, not just physical businesses like Alison but online spiritual businesses. Who haven't thought things through or who haven't created an effective business and marketing strategy.
That is why I am sharing some of my top tips to build a successful spiritual business.

Top Tips To Build A Successful Spiritual Business
Build Your Business Around Your Zone Of Genius
Build your business around your zone of genius, your uniqueness your Ikigai. Align it with your life, and soul purpose with your Ikigai.
Build Your Business Around A Demand.
Build your business around a problem, a need that you solve really well. If you want to truly create a soul-aligned spiritual business focus on your purpose, your an area that is your zone of genius.
Focus On Your Ideal Audience/Soul Audience
A successful business is built around your ideal audience, a successful soul-aligned spiritual business is built around your soul audience or soul clients. If you don't know who your ideal audience is you will really struggle to create an effective marketing plan. You will struggle to get good engagement in your content, you will struggle to get good conversions in your products and services.
Plan A Strategic Sales Funnel with Lead Magnet
Most businesses today especially online spiritual businesses use a strategic soul-client aligned sales funnel to attract, nurture and build a successful spiritual business. A sales funnel will normally include a great high-converting automated lead magnet, a freebie that helps your audience get to know who you are. The more automated your sales funnels and lead magnets are the better.
Be Authentic
Don't try to be anyone else, than yourself. Don't try to align yourself to your audience, yes align your products and services to your audience's wants and needs. But if you have to bend yourself like a pretzel to an audience, they are not your ideal audience and definitely not your soul clients.
Choose The Right Location
If you intend to set up a physical business you need to choose the right location. But you also need to consider the locations you will be targeting, if you want to create a successful online spiritual business. Think for example time zones, if a different country and language or cultural difference may need to be considered depending on the type of product or services you are offering.
Create An Aligned Brand For Your Business
An effective brand helps you stand out from the crowd. An effective aligned brand should represent the energy of your brand personality or brand archetype, and the energy of the solutions you offer. I love helping clients create a brand that represents their spiritual archetype and brand personality.
Plan An Effective Marketing Plan
Every really successful business has an effective marketing plan, no matter how aligned you are to your purpose. A business tends to grow with more ease and flow when you have an effective marketing and social media marketing plan in place. That involves understanding the Foundations of Social Media.
Create A Business Plan
Even the most spiritually aligned soul business that works intuitively can benefit from a healthy business plan. It can help keep you focused, help you stay in your lane, and be much more financially aware of your income and expenditure needs. Help you realign aspects of your business that need to be tweaked or changed.