What is a Sales Funnel and a Sales Funnel Lead Magnet? Why should every healing or spiritual business invest in the right sales funnel, lead magnet and sales funnel process?
So many spiritual businesses have a lot of resistance around sales funnels.
In fact, many healers and spiritual business owners squirm and resist when it comes to the actual term sales funnel.
I think the words sales and funnel together, alongside a lot of myths and miseducation about what is a sales funnel and what is not, have created a lot of confusion and misconception.
So let's get clearer about what is a sales funnel process. And why every spiritual and holistic business should and will normally have some sort of customer sales funnel.
What Is A Sales Funnel Process?
What Is A Sales Funnel Process?
A sales funnel is basically a step-by-step sales process, the journey that you take your ideal audience or customer from initial awareness, and attraction to purchasing. A sales funnel is also known as a revenue funnel or sales process.
Every successful business has some sort of sales funnel as part of its marketing plan or marketing campaign. Even your spiritual or healing business needs a sales funnel, especially if you are using mostly online digital marketing.
Psychology Of A Sales Funnel
Marketing is all about increasing awareness and encouraging your audience to take action. Its main aim is to help bring a client or customer awareness of your business, brand, products, and/or services.
A sales funnel pathway is basically different steps or a customer pathway that takes the potential consumer from that initial brand awareness to purchase. That is why the right marketing strategy and a great free lead magnet can help create a highly effective marketing sales funnel.
What is a Sales Funnel Lead Magnet?
So what is a sales funnel lead magnet and why are they so effective at converting your leads into clients or customers?
Lead Magnets
Lead Magnets are part of the sales funnel pathway they lead your ideal client or customer toward the product you are offering. In some ways, lead magnets are the initial carrot that can help your audience pass over their email address. Usually, the freebie helps nurture client connection and trust.

Every business has its own unique sales funnel process and lead magnet. Some types of spiritual businesses and types of spiritual products require a lot more client nurturing. So the client journey from initial awareness to sales conversion can sometimes be a little longer than other types of holistic products or services.
For example, it will often take a longer time to convert your ideal audience into a bigger purchase of a coaching or healing program than a smaller product like a guided meditation, ebook, or 1-2-1 session. The length of time it takes to convert to sale can depend on a lot of factors. But the key is having an effective sales funnel and effective marketing campaign that builds that know, like, and trust.
A Healer Sales Funnel
Like any sales funnel or customer journey, a spiritual business sales funnel must start at the very beginning. Here is an example of a sales funnel for a healer, which can be easily adapted to suit also spiritual coaches or therapists.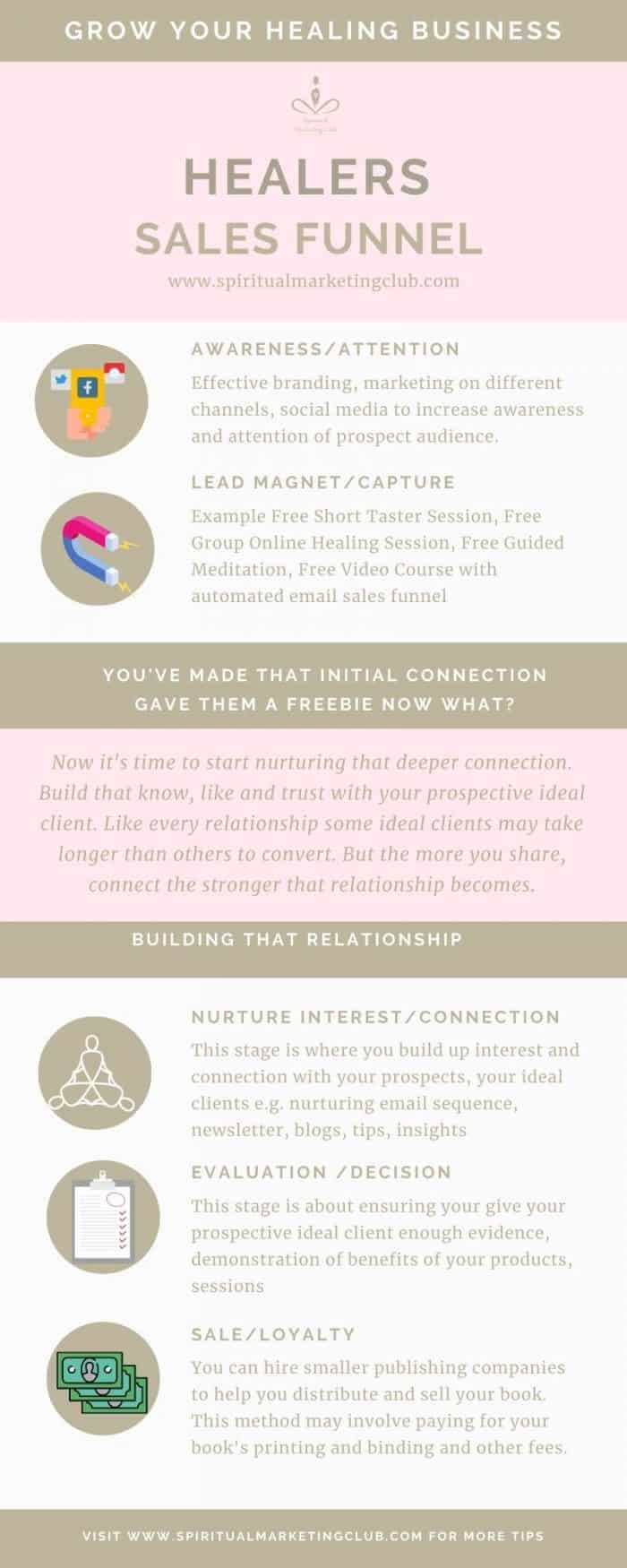 No 1: Awareness And Attention:
Effective branding and marketing on different channels and social media will help increase awareness and attention to your prospective audience, your ideal client. That is why your initial marketing message must be clear and effective.
Take the time to create a great lead magnet for your audience. It should provide a solution to a problem your ideal audience has. A problem that is directly linked to the product you are selling. This is a great way to capture your audience's attention and get them to hand over their email address. I create my automated lead magnets on New Zenler which is a free plan.
No 3: Nurture Interest And Connection:
Every lead magnet should be accompanied or followed by a nurturing email sequence, and continued connection. You can do that in a number of ways but the longer you continue that nurturing in an effective way you help with the next step.
No 4. Evaluation/ Decision:
this is the stage where your ideal audience is evaluating if your product or services is aligned with what they need and/or want. The email sequence that accompanies your lead magnet just like any other nurturing is an opportunity to demonstrate and showcase the benefits of your products and sessions.
It is a time to demonstrate enough evidence of the solutions and benefits your products or services offered. If you're a healer, it is about demonstrating the benefits of the healing sessions or healing programs offer. If you- are a coach or therapist the sessions, and programs you offer. This is where sharing testimonials of previous happy clients or students can be worth their weight in gold.
No 5. Sale/Loyalty:
this part of the sales funnel is all about sales conversion. An effective landing page and checkout, that helps transform your prospective ideal client into a paying ideal client can make a huge difference. Once you have that sale it is about ensuring and building on continued loyalty. Providing your customer with not just what they expect but over-delivering can help make big impressions, lifelong loyalty, and great testimonials to attract even more clients or customers.
How To Start Building That Sales Funnel
There are so many different types of platforms and software that can help you set up a sales funnel, and help you share your lead magnets. I LOVE New Zenler which is an online creation training platform that not only can provide you with Free Sales Funnels but can help you host courses, training, memberships and so much more.
What Is A Sales Funnel Nurturing Sequence?
So what is a sales funnel nurturing sequence and why is it so important for a spiritual business? Part of a healthy sales funnel is a nurturing email sequence or nurturing journey, that helps move your ideal audience to lead to client or customer.