5 Lead Magnet Ideas For Healers who want to attract and nurture more soul clients to their spiritual business with lead magnets that align with their business's core values.
Lead Magnets are normally automated freebies that we share with our ideal audience in exchange for their email.
The right lead magnet can help
Automate key elements of our business
Build and grow our email list
Help nurture more audience confidence and trust
Help save us time
Help increase our client conversion, boost our income
Save us time, save us resources
In business time is money, and if you want to run a successful healing business it is important to think smart and run your spiritual business as efficiently and effectively as you can.
Automated lead magnets can not only help grow your business but can help reduce and eliminate time spent on time wasters, and answering long messages and emails by clients who are trying to find out if your products are right for them.
But no matter how many lead magnet ideas you have, you have to create freebies your ideal audience will actually want and sign up for.
So many healers have blocks around lead magnets because they have seen so many lead magnets and sales funnels that have been created in a very overhyped, pushy, or sleazy sort of way.
But the reality is the right lead magnet for your ideal audience, can help your audience get to know you in a way that is convenient for them.
So many healers lose out on so many potential clients because they don't have the right lead magnet or sales funnel attached to their social media or website.
That is why I have shared some of the most popular lead magnet ideas that are known to help healers convert audiences into clients. Lead magnet ideas for more spiritual business owners such as spiritual coaches, spiritual teachers, reiki masters, theta healers, and therapists…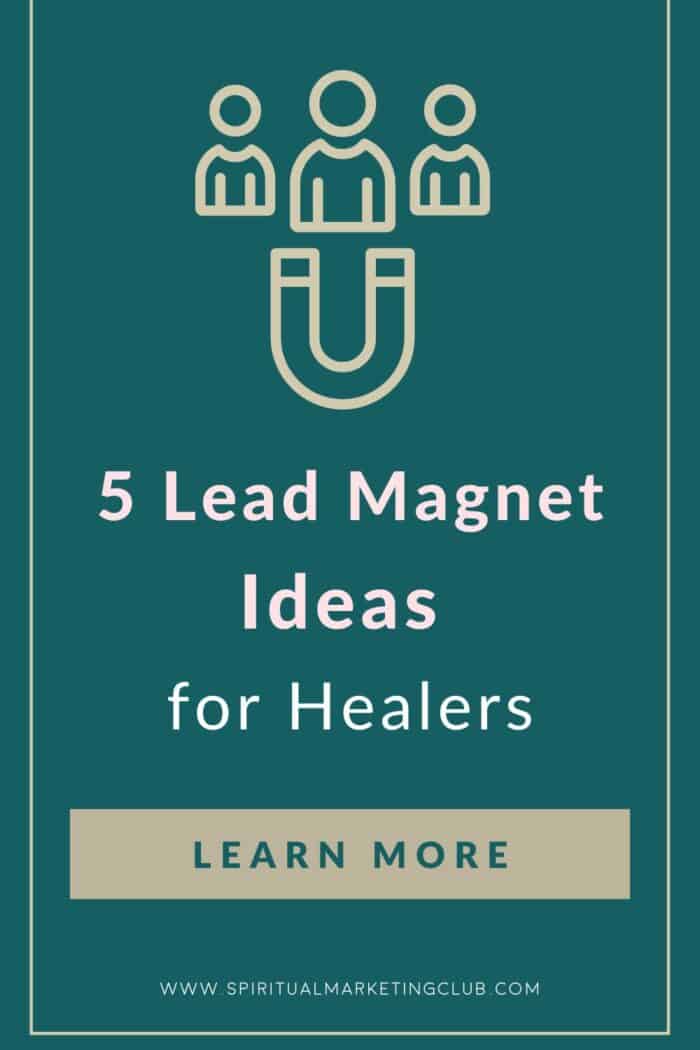 No 1 Lead Magnet For Healers – An Automated 5-Day Course
A 5-Day or 7-Day automated course can be a great evergreen lead magnet for spiritual business owners. If you choose the right type of automated course you can use this lead magnet for years to attract more of your ideal audience to help grow your email list. I use the e-learning platform New Zenler to run my automated courses and automated challenges
No 2 Lead Magnet For Healers – A Free Webinar Or Class
Free webinars can be great for healers, especially experienced healers who specialize in group healing. This can be a great way to showcase your healing gifts and healing expertise. An opportunity for your ideal audience to try out your healing sessions with a taster webinar or taster session. Another reason why I love using New Zenler as the paid version has a Zoom integration inside its training platform, which makes it so much easier to set up, promote and collect signs ups with highly effective automation.

No 3 Lead Magnet For Healers – Free Meditation
If you are a meditation teacher, healer, or hypnotherapist, meditations, and guided meditations, guided visualizations can be a lovely free lead magnet for your audience. Again the NZenler online learning software makes it really easy for you to create a meditation lead magnet.
No 4 Lead Magnet For Healers -Free Ebook
Ebooks and pdf downloads like tips and checklists are very popular freebies for many spiritual businesses, ebooks specifically can be a great way to share more in-depth information about topics that are complex and wide. They are a great way to showcase to your audience a certain depth of knowledge, awareness, or insight into a particular topic or issue that may be important to your audience.
No 5 Lead Magnet For Healers – Free Taster Sessions
Free taster sessions can be extremely useful if the service you offer is not well known, or requires the client to sign up for a package rather than a one-off. A free taster session can be useful to help potential clients try before they buy. Get a feel for you and the product or service you offer, to see if it feels like the right fit.
Other Lead Magnet Ideas For Your Spiritual Business
Above are just some of the most common lead magnet ideas that can be used to nurture your fans, and your audience into clients or customers. Others include a sample or trial of a membership or subscription, some people use podcasts or private content you can only access through a private membership that you have to sign up for and give your email for. I do this in my Free Lightworkers Library.
When creating any sort of lead magnet it is important you create a lead magnet your ideal audience will want. Create a lead magnet with the right customer pathway or journey that feels natural and aligned with your audience's wants and needs.
That is why lead magnet alignment, the right strategy, and the right software can make or break your conversions. I teach all of this in my highly informative 👇automated lead magnet masterclasses 1 & 2 more details below 👇