What is a Micro Summit? And why are micro summits the latest great way to grow your holistic or spiritual business quickly.
What is A Summit?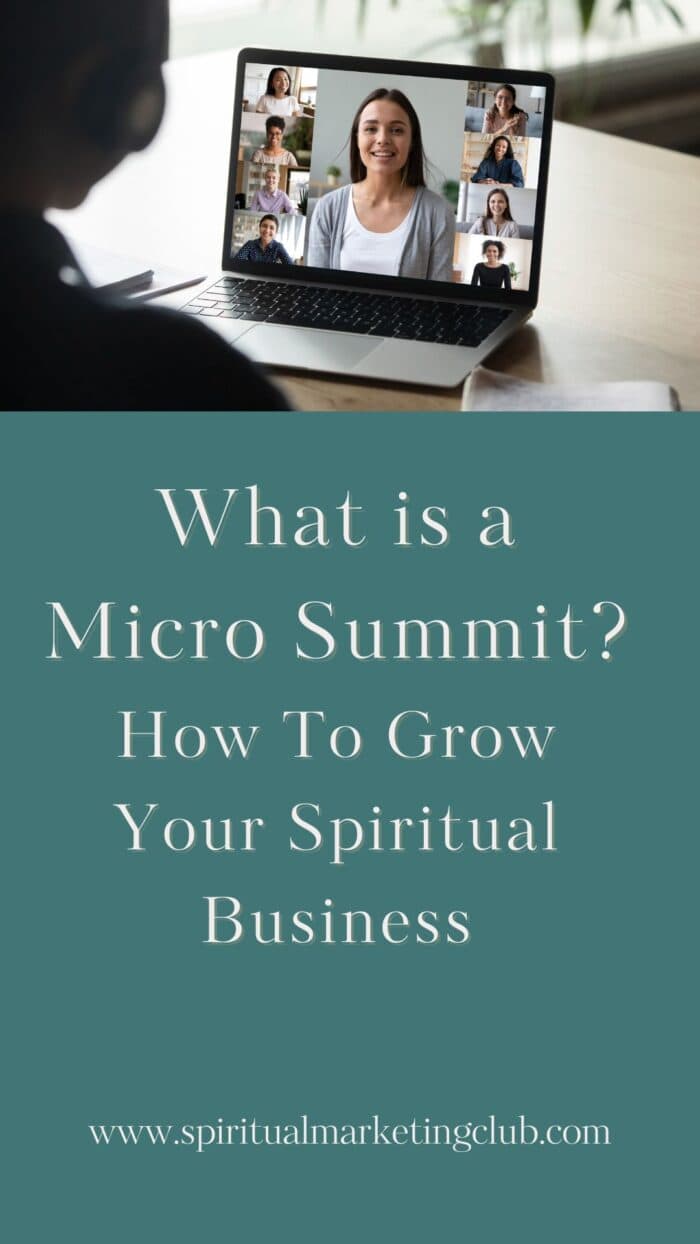 A summit is where a group of selected people often experts in a specific field get together to discuss a specific topic. Summits tend to be more exclusive than others types of events, and conferences. As they are focused on providing a high quality or highly experienced group of people on their panel. Many physical and online summits are run over 3-5 days and have between 10 -30 speakers.
Many holistic and spiritual experts grow their business through international and national summits especially free online summits. Just look at the amount of free online hay house summits, which are utilised to promote their authors, sell their books and spiritual programs.
What is A Micro Summit?
A micro summit is a tiny summit normally run over one day with a small group of guest interviewers or speakers for example 3 – 5 speakers for that one event. Micro summits are less work and great way to increase your audience reach using fellow participants audiences and email lists when you run them for free.
Micro summits have a much quicker turn around and are much easier to manage. They can also be less time consuming overwhelming for your audience. Especially if you planned to run regular summits, a virtual summit every 6 – 8 weeks.
As too many large summits with too many speakers can be over kill for many types of audiences.
What is A Micro Audio Summit?
A micro audio summit is a small audio summit run normally over one day with a smaller group of online speakers or guest for example 3 – 5 speakers. Where you release all the interviews or podcasts in audio over the same day to your audience in exchange for an email sign up.
One of the main advantage of micro audio summits is audios are mobile, so easy for your audience to listen to on the go. Micro audio summits also can be created and launched more quickly than most other online summits. So they take up less time and money to launch, and are great for smaller businesses who don't have a large email list or financial resources to take part in larger virtual summits or national events.

Main Benefits Of Running A Free Micro Summit
The main advantages of participating or running a free micro summit is they are
Fantastic way for smaller businesses to grow their business.
You can reach a wider audience.
Grow your email list quickly.
Be invited on other micro summits or events.
Be seen as an influencer
Reduce your advertising and marketing costs
Easier to organise than larger summits
The Main Consideration When Running A Free Micro Summit
The main consideration you should consider when taking part in any summit especially a micro summit is creating an event that aligns with your ideal audience or soul clients. Choosing a topic and speakers that will add value to your email list. Micro summits are something I am going to be taking part of and running more of in 2024. What about you would you like to host or become a guest on a micro summit? Make sure you comment below and check out my next Co-Creation Session. Hosting A Micro Summit