Top Time Management Tools For Your Spiritual Business. Learn how to become more productive, and manage your time more effectively so you can grow your coaching, healing, or therapy business in a smarter healthy, and balanced way. Utilize a variety of low-cost and free time management tools that can help grow your business in a more automated and time-efficient way.
Including great time-saving life skills that many spiritual entrepreneurs already have instant access to, but aren't utilizing enough.
In Business Time Is Money
In any business time is money, that is why good time management is worth its weight in gold, with the right time management tools in your spiritual business you begin to work smart, not hard.
As spiritual business owners, we know how important it is to work and lead by example. To show others how to live a more healthy and balanced spiritual life. The right time management tools can help us and our clients achieve a much better work-life balance.
*

Time Management Tips For Spiritual Entrepreneurs
Be In The Moment
Reminding ourselves to be fully in the moment as much as possible is often an unrecognized or undervalued time management tool. When we are not fully in the moment, we are more likely to be more energetically scattered and make more mistakes as we are not in spiritual flow. When we are fully present we are giving the task at hand our fully divided attention with much more focus and balance. And more likely to be open and aware of any intuitive or spiritual guidance
Daily Meditation
Daily meditation to start the day can help us become much more balanced, focused, and productive. I find doing a short 5 Minute Meditation before tasks helps me get through difficult tasks much more quickly and effectively. Meditation helps me retain information much better which really helps when you have neurological challenges that can impact how you process and recall information. Meditation also helps me quickly channel better creative solutions in my business.
Work With Your Own Energy Cycles
Working with your own energy cycles such as your circadian cycles can help you maximise those times in the day when you're more productive and focused. And help you to leave those more mundane tasks that take less effort when your energy and concentration maybe not be at their peak. I explore more* in my Time Management Skills Course For Coaches and Therapists.
Access Your Inner Guidance
Getting into a daily habit of tapping into your inner soul guidance, your intuition can stop us from wasting a lot of time and energy on tasks and projects that are not aligned with our spiritual business. This is really important when you are serious about creating a more soul-aligned spiritual business. A strong soul connection is one of the most powerful gifts and time management tools you can learn to harness in your life and business.

Time Management Tools For Your Spiritual Business
Time Blocking Your Calendar
Time blocking is a common effective time management strategy that is based on scheduling time in your calendar to do similar tasks or topics together. For example, planning and scheduling your social media, doing your accounts, and blocking out time in your calendar for discovery calls. You can do this for Free using Google Calendar or other time management apps like Clockify This can be a really useful tool if you are a bit of a procrastinator who puts off certain tasks.
Free Time Tracking Software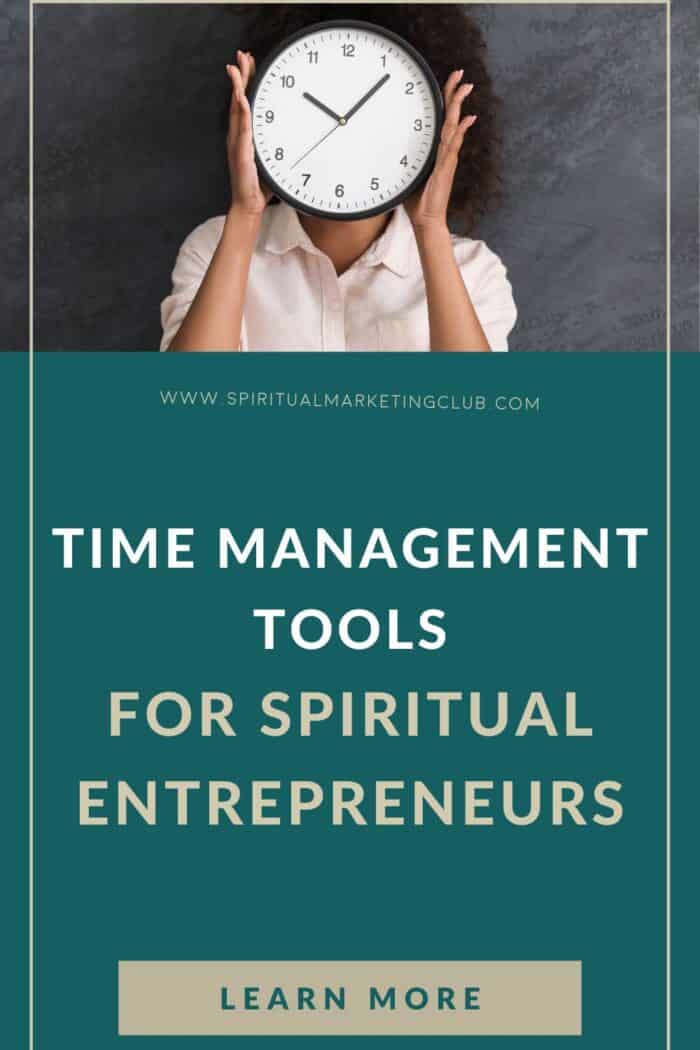 At the time of writing the companies below offer a free version of their time management tools tracking software
Timecamp for tracking time in project management is great for monitoring and managing time between employees,
Toggl Track Free Time Tracking Software to help increase productivity and profitability.
Business Automation Software
Any business automation software that saves time and helps you increase profits is a good investment. Especially for spiritual entrepreneurs whose main focus is service to others than being all about the money.
Automated Sales Funnel Software
I use the New Zenler- All In One Platform to automate a lot of tasks in my business. This all-in-one learning platform not only has a variety of time management tools which include easy-to-use email automation, automated sales funnels, and online e-learning features it also gives me the ability to offer easy-to-setup live webinars and classes integrated with Zoom that are both professional and user-friendly for the student.
Automated Appointment Scheduling Software
10 to 8 The 10 to 8 appointment scheduler has a free version that allows for up to 2 members of staff and up to 100 appointments a month, it offers SMS reminders and email reminders.
Social Media Scheduler
Social Media Schedulers are one of the most valuable time management tools for social media marketing. Social media posting schedulers save time, improve workflow, increase productivity andf profit. Social Bee is my top social media scheduler that I recommend for spiritual business owners who have more than a few social media platforms