7 Social Media Marketing Ideas For Healers that help attract soul clients and increase engagement. Social Media Content helps nurture deeper connection and trust with your audience in a deeply spiritual way.
One of the biggest struggles most spiritual businesses have in their marketing is trying to think of what type of content to post on their social media. I meet many healers and spiritual coaches who tell me they spend hours each month trying to think of content to post that will be relevant to their audience.
In fact many have wasted years hoping something will land, something will work without investing in a proper social media marketing campaign.
2 Things You Need To Know Before Creating A Social Media Campaign
Identify Your Idea Audience:
Many holistic and spiritual businesses spend a lot of time and money trying to attract an audience that is NOT their ideal clients or soul clients. Identifying your ideal audience, the audience that will love and invest in your products and services is so important.
Know Your Business's Zone Of Genius:
Many are not focusing on their unique zone of genius the problem they solve for their audience, they are more focused on the tools techniques or modalities they use. In in any type of social media marketing it is so important that you know your zone of genius and who your ideal clients and soul clients are.
Know Your Brand's Biggest Client Attractors:
Every business should know its biggest client attractors. If you are a healer, spiritual coach or spiritual teacher just like your skills, your experience, your core values, your personality even archetypal traits will be what attracts your ideal audience to you.
So you what to create content that is aligned with what aspects of you and your products they are aligned with.
Below are Social Media Marketing Content ideas that can help you have a more spiritual marketing approach to your business.

7 Social Media Marketing Post Ideas For The Spiritual Business
Here are 7 useful social media marketing ideas for healers that really encourage engagement on your posts. And generally, the better engagement you have on your posts the more likely Facebook is likely.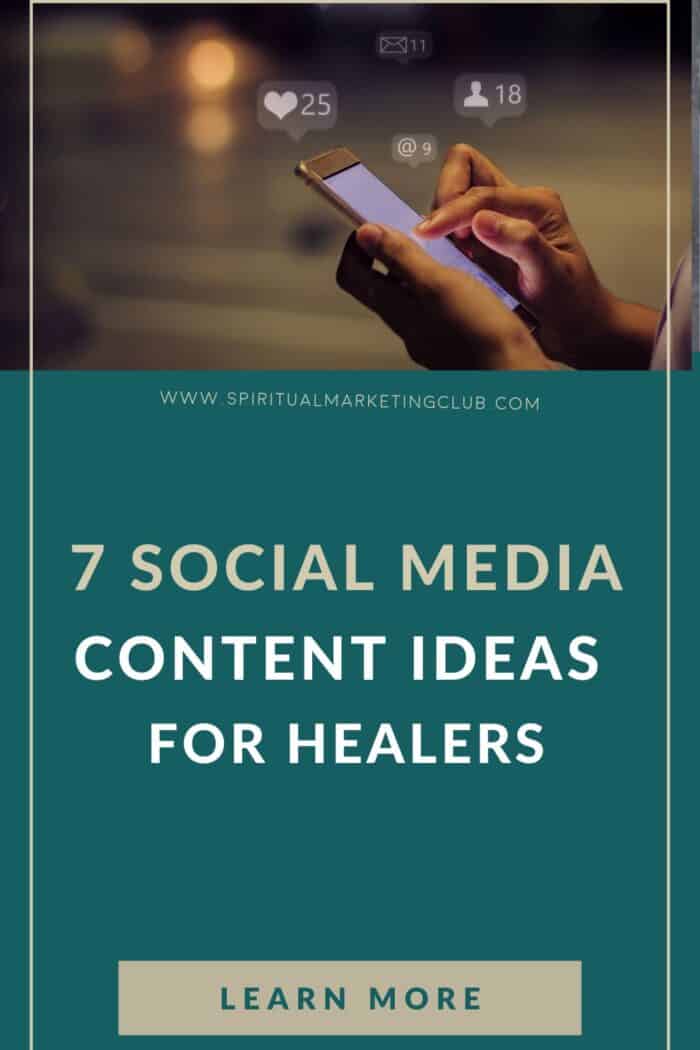 Audience-Aligned Videos:
Videos that explain what you do, who you do it for or with, and why. Why they should come to you. Those videos where you speak your truth, demonstrate or share your gifts, your level of experience, level of awareness, level of depth, your own journey, your own awakening, and your own challenges.
Audience-Aligned Blogs And Posts
Blogs and posts that connect with your ideal clients, soul clients on a deep soul level. Think about your audience's biggest pain points and their daily emotional, physical, and mental struggles. Blogs that demonstrate your level of awareness, empathy, compassion, and own personal experiences with the issues they have. Choose some key content categories relevant to your audience and business brand.
Polls and Quizzes
Polls and quizzes are a great way to get social media engagement on Facebook, Twitter, Instagram or even Linkedin. Create questions and quizzes around topics your audience is interested in or finds fun for example ask your audience what is their favourite crystal, favourite essential oil, favourite yoga pose, their astrology sign or favourite spiritual book or even their favourite style of meditation.
Tip Of The Week
Share tips of the week related to your area of expertise. Demonstrate to your audience you are the go-to person for that particular pain point, that particular niche. Top tips show your audience you genuinely care and want to help.
Spiritual Infographics, Wellbeing Infographics
Wellbeing infographics, self-care infographics and spiritual infographics are great to encourage engagement and are often the type of media more of your audience are likely to share with their friends or family.
Memes
Thought-provoking or funny memes can be a great way to get an important message through to your audience, make sure you brand your meme in your colours and fonts.
Podcast
So many people listen to podcasts today. Sharing your own podcast is a great way to build better connection and trust with your audience. Sharing other podcasts your audience is interested in is another way to show your audience you care. Valuable content like this gives your audience a reason to come back to your page. You can now add your podcast rrs feed onto Facebook, you can share your podcast links to all your social media.
The Key Component Of Social Media Marketing
The key component of any social media marketing plan is about building connections and trust. That involves showing evidence that you have the skills, knowledge, and expertise to help solve the problems your audience has. And having a good strong powerful brand that stands out and is easy to remember.
Social Media is all about providing content that is valuable, engaging, educational, and entertaining. A mixture of different types of valuable and engaging social media content to attract and convert your audience into clients or customers.
Which I know can take up a lot of headspace and time. That is why I have created over 111 Social Media Post Ideas to save you time, money, energy and stress. 111+ social content ideas that will help you not just increase your engagement but grow your spiritual business.