How To Find Spiritual Blogging Opportunities for Your Spiritual Business. The 5 Top Things Every Spiritual Blogger should know before you request to Submit A Guest Post to Another Spiritual Blogger's Website.
How To Find The Right Spiritual Blogging Opportunities
Spiritual Blogging is a great way to attract free organic traffic to your website. It can also be a highly effective way to increase your SEO Search Engine Optimisation. But like everything in life, it is better to find the right Spiritual Blogging Opportunities for Your Business.
But there are quite a few things you should consider when becoming a guest blogger or hosting guest blogs for other Spiritual Bloggers.
5 Things Every Guest Spiritual Blogger Should Learn
Know Your Soul Audience
You need to know at least your ideal audience that is most aligned with you and your offerings, and even better your soul audience. In some spiritual businesses, it is important to know the age, sex, and biggest pain points of the audience that you want to attract and engage with.
A lot of Spiritual Businesses don't niche down enough they may think that anyone woman with menopausal symptoms of a certain age is their ideal client, but not all of those women will be your ideal audience or soul tribe. It is the women who will feel most aligned with you and your products and services. There can be things that make us more aligned with one service or another other than vibration it can be your level of experience, knowledge, views, and your natural attractors.
Choose To Write For Blogs With A Similar Audience
When looking for a Holistic or Spiritual Blogging Opportunity seek out guest posting opportunities with sites or businesses that have a similar audience to yourself. Guest Blogging is all about increasing blog traffic or getting more signs up on your lead magnet or offer. I get bombarded with Guest Blogging requests from Bloggers who are clearly not aligned with my business or my audience. So always take the time to check out more information about the host blogger and what type of guest blogging they expect.
Align Your Spiritual Blogging With The Host's Audience
It can be a good idea to check out their area and level of expertise, what they blog about, and the core values of their business. And see what kind of guest bloggers they already have.
I have quite a few different websites and for example, on The World of Health Blog, I only accept holistic experts who blog because this is a health and wellbeing site so I tend to aim my holistic health blogging opportunities at Holistic Doctors, Herbalists, Homeopaths, Psychologists, Psychotherapists with some sort of medical degree. The main reason is this site writes about a lot of topics that Google tends to push down the search engines if not written by a medical professional. Even though I don't agree with this, I found getting medical professionals with a holistic perspective as guest bloggers solved a huge issue when after 20 years this site was getting seriously suppressed.

Never Write Guest Blogs With Similar Content
Please whatever you do, don't just create a paraphrased guest blog of other content you have published elsewhere. If someone is kind enough to let you publish content on their website and help you grow your business never publish or re-publish the same content you have anywhere else online. This can seriously damage a site's SEO rankings.
I received a spiritual guest blog request from a Spiritual Teacher who clearly didn't know much about blogging, as I had to make more than a few amends. But thankfully, just before I went to publish the blog I went looking for some quality links to add to the blog I was seriously disappointed to discover that the blog that she provided was mostly copy of content from another website.
This unfortunately can seriously lower a blog and site's rankings. Many bloggers invest a lot of time, energy, and money over many years to get high rankings. It is important to truly value the free advertising opportunity you are receiving and not do this.
Write Spiritual Guest Blogs On Your Area Of Expertise
The most powerful thing you can do as a guest blogger is a blog about the topics you are more qualified or experienced to talk about. The reality is yes there are lots of bloggers but not enough quality bloggers especially genuine spiritual bloggers. Far too many bloggers today write about topics they have very little knowledge or insight into and it shows. Choose to write spiritual blogs in an area you are deeply passionate about, or have a lot of knowledge, insight, wisdom, or experience to share.
Spiritual blogging is a great opportunity to follow your soul and get really authentic. An opportunity to write about those deeply personal experiences your audience will feel most aligned with. A place to share those spiritual or well-being tips, and areas of expertise you have studied for years or decades.
If you have to go looking for lots of content for your blog, ask yourself is this really an area I know enough about? Or is this a topic I should actually open up as a guest post opportunity?
Many blogs today are sadly written by content writers or amateur bloggers. Many clearly don't understand what they are writing about so when you actually write about a topic you really understand it tends to stand out.
Now more than ever we need more genuine holistic and spiritual practitioners to share their expertise and knowledge in high-quality blogs.

Learn How To Blog Effectively
There is an art to blogging and of course, we all have our own unique way of writing. But if you are serious about building your business or increasing your reach through spiritual blogging and guest blogging, My no 1 advice to you would be to learn how to blog effectively. Like everything in life, there are a lot of wrong ways or ineffective ways to do something. When I receive a guest blog submission, I want to see that the person is taking their blogging seriously. I share a lot of tips, resources, and tools in my Blogging Course For Spiritual Entrepreneurs.
How To Find Spiritual Blogging Opportunities
When looking for spiritual blogging opportunities, the first thing you need to do is do some research and check out those sites where your ideal audience hangs out.
Search for businesses and blogs with similar values and quality of content by using different Search Engines like Google, Bing, and Yahoo that your audience may use. More and more holistic and spiritual entrepreneurs are moving to alternative search engines such as DuckDuckGo and Ecosia.
Here are just a few good holistic and spiritual websites that offer Holistic and Spiritual Guest Blogging Opportunities for Spiritual Teachers, Healers, Lightworkers, and Spiritual Coaches. You should also check Pinterest for Guest Blogging Opportunities.
Offers the opportunity for holistic and spiritual bloggers to create posts on mindful living, organics, spirituality, sustainability, and yoga.
They offer Holistic and Spiritual Blogging Opportunities in  Holistic Health, Wellness, and Spiritual Healing.
Savana East Offer Spiritual Teachers and Healers, the opportunity to write content for their Spiritual Site.
Self Growth accepts well-written blogs on a variety of personal development, health, and well-being blogs.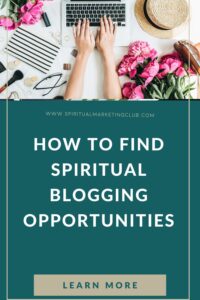 You Can Submit Your Spiritual Blog or Psychology Blog To Spiritual Media Blogs For Consideration
As a spiritual blogger, you can submit guest posts on health, spiritual lifestyle, yoga, and travel.
We accept health and holistic well-being topics by Holistic Health Experts, Health and Wellness Professionals.
Wellbeing.com.au an Australian Magazine accept high-quality health and wellbeing blogs for their magazine
Now other than these blogs above I am now accepting high-quality blogs to my Eileen Burns site from highly experienced spiritual teachers and healers aligned with my own work who specialize in Empaths and Sensitives. And we at the Spiritual Marketing Club accept blogs on Spiritual Marketing and Spiritual Business Blogs written by Spiritual Business Experts who are aligned with what we teach at the Spiritual Marketing Club.