How To Find The Right SEO Keywords For Your Spiritual Business. What are SEO Keywords? And why is choosing rich keywords for SEO so important if you want your spiritual website and spiritual blog to get free organic traffic and rank high on search engines like Google, Yahoo, Microsoft Bing, Youtube…
What Are SEO Keywords?
SEO Keywords are search-optimized words and phrases that your ideal audience will put into the search engines to find information, products, and services like you. Keyword searches are called search queries.
Keyword-rich content is about including good quality keywords in your content in a natural way without overstuffing keywords into your content or using duplicate content from anywhere else.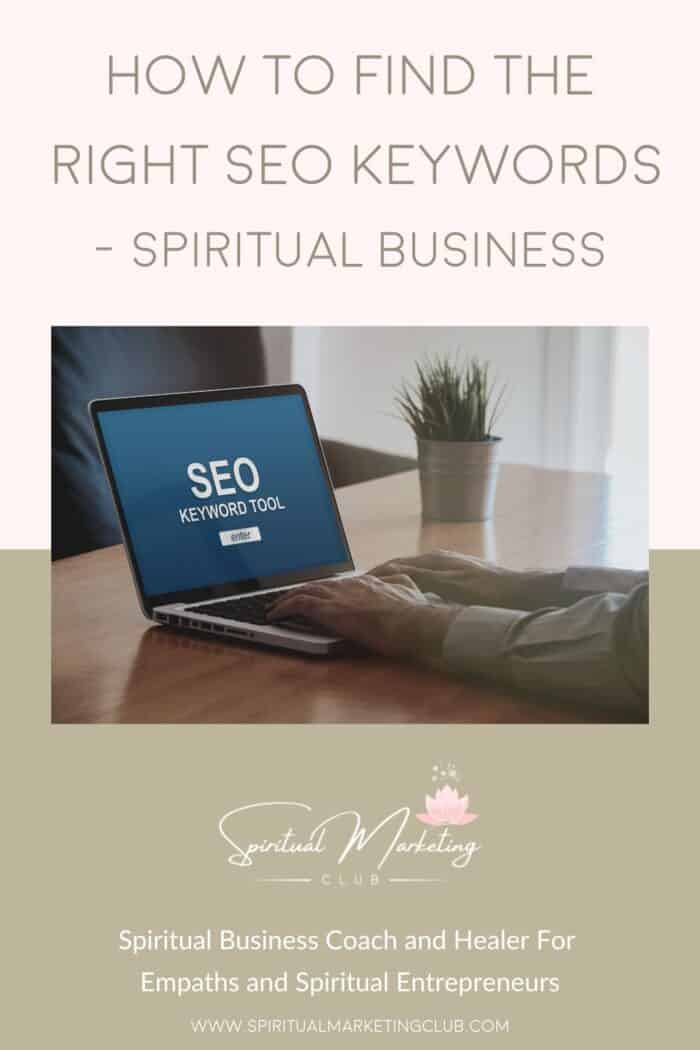 What Is A Short-Tail Keyword?
A short-tail keyword is a broad keyword search that contains no more than 3 words for example* Reiki Teacher, Essential Oils, Healing Meditations. They are often used in a search as a way for people to find broader and wider search terms and categories under that umbrella.
A long-tail keyword is a much more specific keyword search such as Reiki Teacher Glasgow Scotland, Organic Essential Oils Ireland, Healing Meditations For Manifesting
Why Do RICH SEO Keywords help your business rank high on search engines?
Rich Search Optimised Keywords help you rank higher in search engines because you are using keywords that your audience use. Although rich keyword content can help boost your SEO it should always be accompanied by a highly effective SEO campaign, which should include search engine submission and link building.*
How Do You Find The Right SEO Keywords?

It is so important to understand the problem you solve and the ideal audience or soul clients you solve that problem for. And the type of terms your audience searches for. As often the words or terminology we use to describe our products and services are different from the words our audience would use to search for the solution they need.
For example, someone who is suffering from back pain may seek advice on back pain relief, but they may not know that your type of healing or modality can solve that problem. So it can be extremely beneficial to write blogs around the biggest pain points of your products. services solve.
Free Keyword Tools
There are a variety of free keyword tools online, at the moment of writing this blog, here is a list of a few recommended SEO keyword analysis tools
Boost Your SEO Keywords With Blogging
Blogging is one of the most effective ways to include rich keywords on your site in a more natural way. Include a variety of different blogs around key topics your audience will find valuable and relevant, for example, topics related to the problems you solve.
Blogging is a great way to drive more free organic traffic to your sites and your social media. One of the best platforms to use to blog is WordPress using WordPress.Org on your own hosting space.
Learn How To Blog Like A Pro
Learn how to grow your spiritual business with free organic traffic.
In this step-by-step blogging program for healers, spiritual coaches, and spiritual teachers.