WordPress – Understanding the main differences between WordPress.org and WordPress.com if you are a spiritual blogger or spiritual business owner. Why it is important to know the differences when considering building a spiritual website or creating a spiritual blog through wordpress.
So What Is WordPress.Org?
WordPress is a content management system that was originally created to publish blogs. It was released in 2003 and since then has evolved and grow into being the most common website publisher, that offers many different plugins and add on features such as an online membership, online shop, mailing list. To use it you need to purchase web hosting space and your own website domain.
So What is WordPress.Com?
WordPress.com is a web and blog hosting service although great for hobby bloggers it is not as versatile or popular as its .org version. It doesn't offer the extensive free plugins or 3rd party software than can help growing your blog or website easier. Many bloggers and small businesses get confused by both and choose this version when actually it's more advanced counterpart is more suited to their blogging or business needs.

WordPress.com For Spiritual Bloggers
If you just want to create a spiritual blog as a hobby or are just testing the waters into blogging rather than making money then this might be okay for what you need
Benefits
There is a free option
Easy to use
Suitable for hobby bloggers
Disadvantages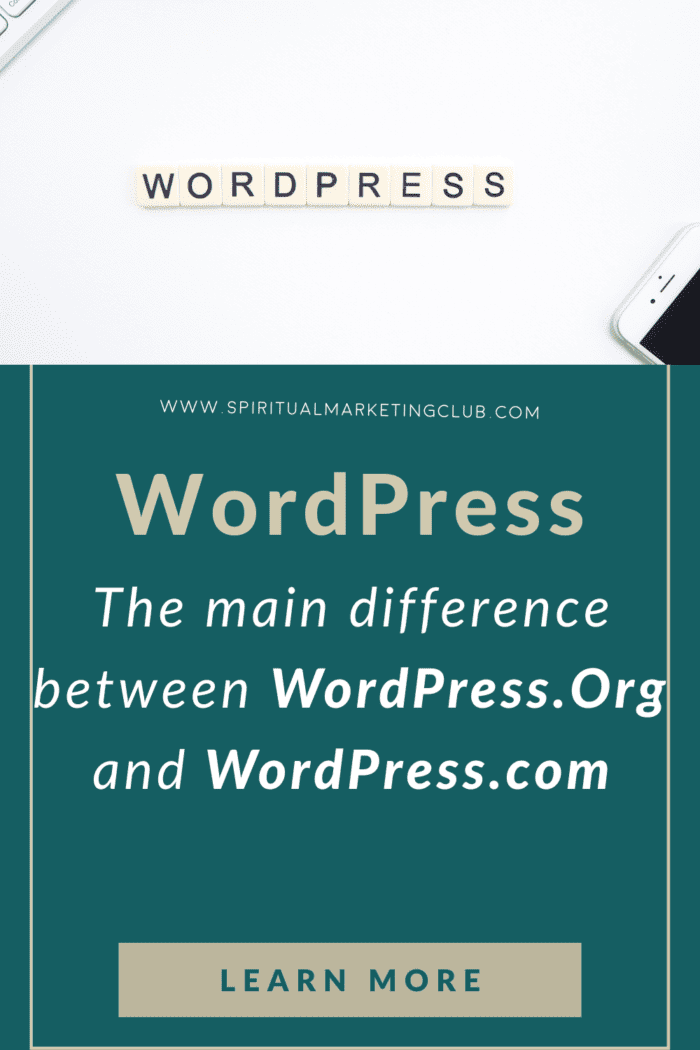 You don't own your domain
It does not let you run ads or earn revenue on your blog or website
It doesn't give you free access to the thousands of plugins you get access to with its counterpart which can really help you grow your spiritual business and blog.
Limited themes, designs, customisation
Limited access to 3rd party web statistic plugins and tracking software
You would need to move your content later if you wanted to change to the .org version.
WordPress.org For Spiritual Bloggers
WordPress.org is a great for Spiritual Businesses who blog, who want to increase their client reach through spiritual blogging or holistic blogging.
It offers vast choice of wordpress plugins for free
It offers a variety of free plugins that help you boost your search engine optimisation
You have automatic access to a variety of plugins and optional add ons that can help increase blog engagement
You have the ability to collect emails or newsletter sign up's through mailing list plugin features.
There are a variety of online membership plugins or additional membership software.
You can sell directly on your website or blog with plugins and 3rd party software.
Recommended Hosting Spaces For Your Blog And Website
Every business and blog has different requirements in relation to hosting space and bandwith, it will depend on how many websites you intend to host in your hosting space.
I have used a variety of diffrent hosting spaces over the years. I have been with Inmotion Hosting to host my websites and blogs to run my 4 websites for which include blogs since 2012.
A company I have recommended for very small holistic or spiritual websites and blogs with low bandwith requirements who only plan to blog occassionally is NameCheap
Many people often go looking for just the cheapest hosting space, but please don't automatically assume the cheapest hosting space is the best for your needs, there are quite a few things you shoul consider so you don't end up having to move your blog or website elsewhere. You check out more information on choosing the right hosting below in our recommended blogs section.

Main Conclusion
The main challenge with is WordPress.com doesn't look as professional and you don't have the same control over it as you do with the more professional and advanced features of WordPress.or that is designed to help you really grow your website, blog and business with more ease in the long-term.
It can be tempting for some businesses to go for the .com version as there is a free version you can start with, but as a blogger for 20 years my advice to you is always invest in the right tools when you can rather than the cheapest tools that will help you grow your business in the most effective way. Sometimes free and cheap can cost your business more in the long run.
Building a business even a spiritual business involves investing in the right blogging tools and blogging strategies that are going to increase your blog reach, improve your blog conversion, help you understand and track your statistics.
Recommended Blogs
7 Ways Blogging Builds Your Therapy Business