What is evergreen content? And why is creating evergreen content, especially evergreen blog content a great way to build valuable traffic to your spiritual website and spiritual business in the long term? It is a great long-term effective marketing strategy.
So What Is Evergreen Content?
Evergreen content is content that never dates that doesn't tend to go out of fashion or lose relevance. An effective blogging strategy should include evergreen content on topics that your audience will always be interested in. Content that is directly linked or related to your audience's interests or challenges.
For example, If you are a spiritual teacher write spiritual content. If you are an aromatherapist who blogs about different types of essential oils like Eucalyptus or Lemon these are blogs that will always be relevant and helpful. If you are a meditation teacher and write a blog on different types of meditation techniques it will always be relevant. If you sell crystals you can write blogs about the properties and benefits of the crystals you sell or use.

Effective Evergreen Blogging
Blogging can be one of the most effective ways to get traffic to your spiritual website. It is a great way to share valuable, educational, and informative content about the benefits of your spiritual products and spiritual services. Blogging can be a rich source of content for your social media.
But like everything in business and marketing, you need an effective blogging strategy. Here are some top blogging tips used by professional bloggers that I have learned and applied over the last 20 years.
Write blogs around topics your audience is interested in and find really valuable even better topics they search the internet for. For example your client's biggest pain points, your audiences wishes, dreams, have clear content buckets related to your niche.
Choose a blog title that will stand out and will motivate them to actually click through and read
Make your blog educational, informative, inspiring, or insightful.
Creating a blog that has effective Search Engine Optimisation can really help increase your SEO rankings and blog traffic.
Include a newsletter sign-up link or free lead magnet in your evergreen blog that encourages your audience to give you their email, which gives you the opportunity to nurture a relationship with your reader.
Make sure you share your evergreen content on your social media, make it part of our social media content
Choose the right type of Blogging Platform software and platform like WordPress.org
Examples Of Evergreen Blogs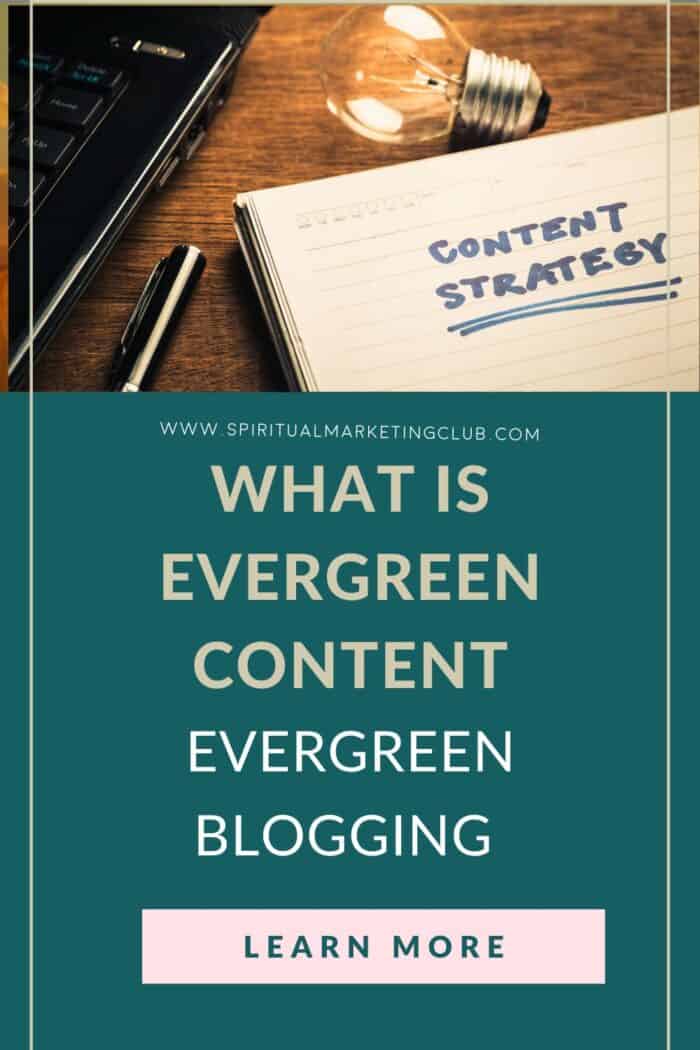 Common examples of evergreen content and evergreen blogs include topics for different types of holistic and spiritual industries. Blogs around your client's biggest pain points, blogs around the origins of your therapy or modality.
Here are some examples of evergreen blogs I have on some of my different sites by myself and guest bloggers
Ayurvedic Medicine- The Origins Of Ayurveda
How To Reduce Fibromyalgia Symptoms
The Spiritual Benefits Of Music Therapy
Advantages Of Evergreen Blogging
The advantage of evergreen blogging compared to evergreen videos is you can always update the blog, add new content, and change links. Just make sure the title, main keywords, and main content of the blog remain the same.
You see, if you use an effective blog strategy, and write a topic around a keyword that many people search for but that doesn't have a lot of competition you increase your probability of organic traffic from search engines google, yahoo, bing, duck duck go …
Another way to get evergreen content for your blog or website is through guest blogging, which I talk more about in Healers Benefits Of Guest Blogging.
And the longer that evergreen blog with valuable content is in the search engines and the more link-building you do to that blog, it is more likely to move up the search engines.
I have built a large part of my online business through evergreen content, and //evergreen blogging. If you would like to learn some of my trade secrets to Blogging as a Spiritual Business check out my Blogging Course For Spiritual Entrepreneurs