3 Top Content Pillars For Social Media Marketing if you are a spiritual business owner, a healer, therapist, spiritual coach or spiritually conscious creator.
What is Content Pillars?
Content Pillars are the main content categories your spiritual brand will be focusing on in your spiritual blog, spiritual website and social media marketing.
Content pillars are often between approximately 3 to 5 main topics that will be important and aligned with your soul clients struggles and dreams.
Choosing The Right Content Pillars
The right content in your marketing is so important because it helps you stand out from the crowd and helps you builds brand awareness, brand connection and trust. The right content categories also known as content buckets also make it easier for your ideal audience to find you.
Great content helps draw your ideal audience in and help them get to know you, your brand, your products and services on a much deeper level which is very important for a spiritual business.
Content Pillars That Build Client Trust
Your audience needs to feel soul aligned with you, your products and services, especially if they are coming to you from a spiritual perspective.
The more you create client converting content pillars that build that client trust the easier it is to convert your audience into leads, clients and customers.
More than ever your ideal audience needs to know you genuinely have the knowledge, skills or expertise they are looking for.
Many spiritual consumers today have become more market savvy to a lot of the over-hyped marketing manipulation and unethical practices that have dramatically increased in the spiritual sector. They require an effective nurturing process in the audience to customer pathway
As a large holistic and spiritual consumer myself for over 30 years I have witnessed a dramatic increase in extremely dishonest and highly manipulative marketing claims, spiritual coaches more focused on their 6 or 10k monthly goals than being spiritually aligned or spiritually guided in their business.
An industry saturated with poor fast-track training schools certificating students after only a few days training in topics and subjects that for safe and effective practice would normally require at least 6 months or a years full-time study.
Where it seems everyone and their granny is calling themself a coach even though many of them have no coaching skills or have very little knowledge or expertise in the area they are coaching in.
Now more than ever your ideal audience wants content that will help build client confidence and trust that you and your products are a right fit for their needs and expectations. client converting content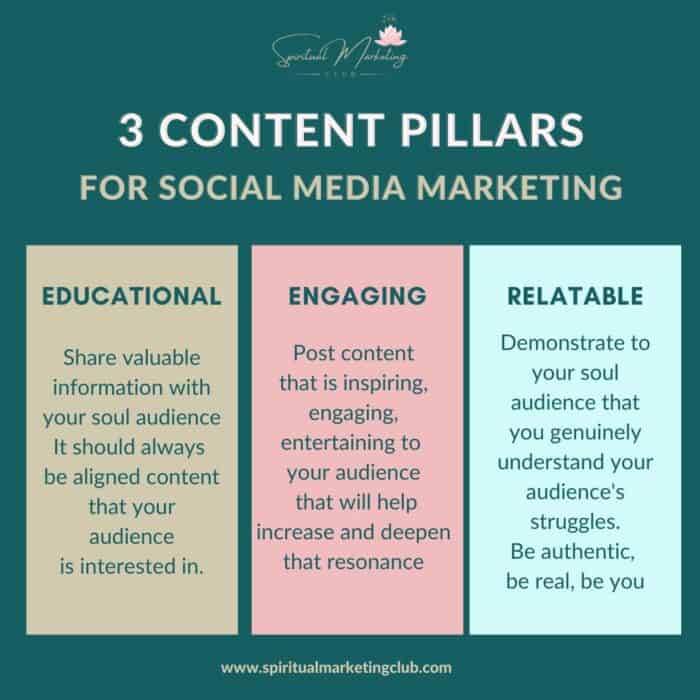 3 Content Pillars For Social Media
Educational
Educational and Informative
Share valuable information with your soul audience. It should always be aligned content that your audience is interested in.
Post educational content that helps them understand why your products and services can help them, that helps showcase your level of awareness, insight, knowledge and experience.
Share educational content that actually inspires them to take action, to sign up for your freebies, your lead magnets, your community, your events, your products and services.
Examples of educational posts include How to posts and videos, Top tips in your areas of expertise, what is blogs and posts that will help your audience understand more about the issues they are facing or more about why your products and services is most aligned with their needs.
Understanding your brand's most dominant archetype can help you to choose the right type of content pillars for your ideal audience.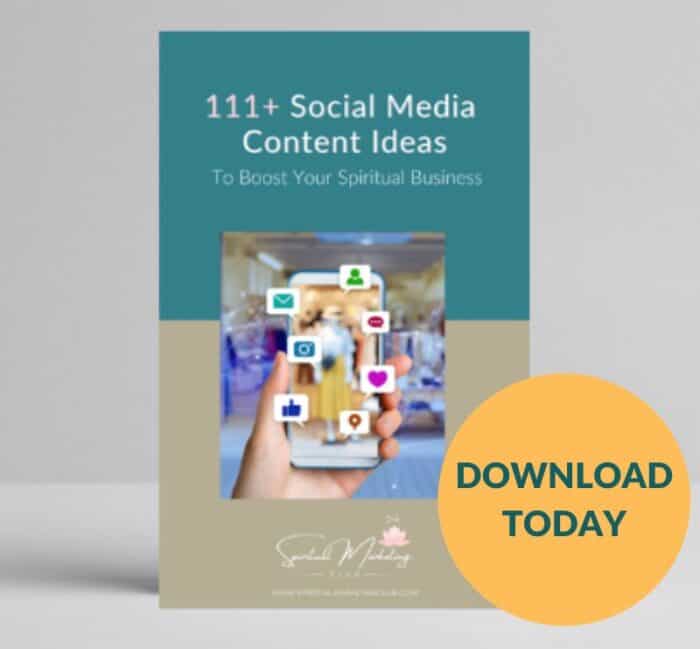 Engaging
Engaging And Socialising
Although content that converts is the most important aspects of an effective marketing strategy. Engaging content actually helps boosts your social media algorithms and can increase your visibility. The right type of engaging content is more likely to be shared by your ideal audience and can help encourage more social engagement on your social media. It is important to remember that social media is mostly for socialising, make your marketing more sociable.
Engaging content includes questions, quizzes, entertaining and funny content.2
Relatable
Relevant and Relationship Building
Now more than ever people want to feel aligned with the brand they are buying from, in a spiritual business this is can go really soul deep. So the more that you can relate with your audience in a more authentic, transparent but equally relevant way the better.
As someone who has been a large consumer of both the holistic and spiritual industry for over 30 years, I want to work with a healer or coach or therapist that I can relate to and they can relate to me. It is important to me for many things that for example a spiritual teacher has a certain level of consciousness, is spiritually awake to a certain level, has certain core values that are similar to me. Your audience is exactly the same.
That is why it is so important that the content topics and content categories you choose are aligned with your audiences needs, wants, desires and core values.
Relatable content is videos, blogs, tips that are very uniquely focused on specific issues your audience face. Topics that demonstrate true alignment and understanding with your audience.
Looking For Ideas To Boost Your Social Media Engagement?
Download my over 1000 social media post ideas for spiritual business owners, social media marketing ideas for healers, spiritual coaches, spiritual teachers, more conscious creatives who want boost their client leads and clients conversions.