11 Steps On How To Write A Spiritual Blog. How To Grow Your Spiritual Business With A Successful Spiritual Blog. Spiritual blogging tips for Spiritual Mentors, Spiritual Coaches, Healers, and Conscious Influencers Who Want To Reach Their Soul Audience In A More Impactful Way.
Writing about spirituality is a great way to connect with your ideal audience, share your experiences, and inspire people to live better lives especially if you run a spiritual business. But how do you write about spiritual topics and use a spiritual blog to reach more of your audience in an authentic way?
Well, In this article, you will learn about the eight essential steps on how to write a spiritual blog, that will help you create content that engages, informs, and nurtures your readers. Whether you are new to blogging or a seasoned writer, these tips will help you to write from a place of authenticity and connect with your audience on a deeper level while ma So, let's dive in and discover how to write a spiritual blog that resonates with your readers!
What Is A Spiritual Blog?
A spiritual blog is a blog that focuses on spiritual topics around spirituality, and religion such as spiritual growth, spiritual ideas, and spiritual awakening.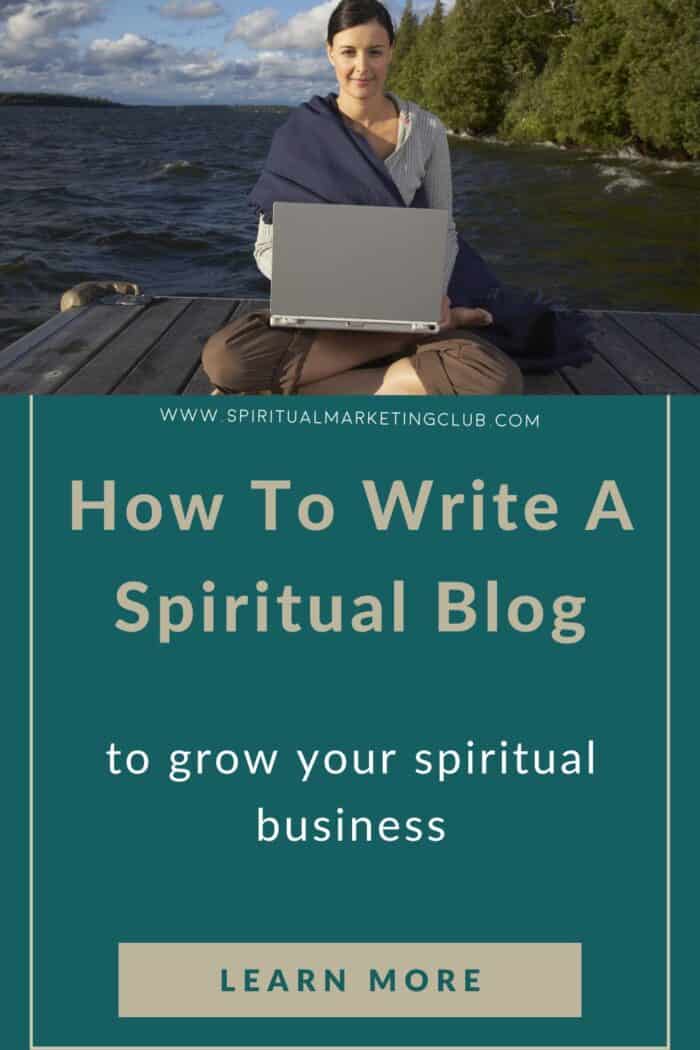 Why Write A Spiritual Blog
Blogging can be a highly effective way to reach a wider audience if you are a spiritual business owner. Especially if you are a spiritual teacher, spiritual coach, or healer with a good level of spiritual insight, knowledge, and years of expertise in the spiritual field.
Spiritual Blogging can be a great tool if you are a more soul-aligned spiritual business that wants to reach the heart and soul of your ideal audience. If you want to make an authentic impact, help inspire, awaken, or educate your perfect soul clients.
Blogging is one of the most popular forms of content marketing today, one reason why, is people prefer getting to know about brands through content than adverts. Blogging is an easy simple way to digest or even skim through information, it is great for SEO and great as evergreen content. That is why I have chosen blogging as one of my main forms of marketing for over 20 years.
But like everything, in life and business, there is not just energy to effective blogging in the blogging world, there is a science and some highly effective strategies that can help you design and create a spiritual blog, that will convert.
So many bloggers, including spiritual bloggers, start blogging with no understanding of some of the most effective strategies for a successful blog. That is why I am sharing some of the things you should and shouldn't do when writing and growing a spiritual blog.
11Top Tips On How To Write A Spiritual Blog
Understand Your Audience:
Know Your Soul Audience, Your Soul Clients. Before planning out, creating, or writing a spiritual blog you need to know who your ideal audience is or soul clients are. If you don't know who your aligned audience is you are going to find it difficult to truly speak to the heart and soul of the audience you are aligned with and truly here to help. The more you know about your audience's wants, needs, and desires, what is truly important to them, the easier it is to start writing a successful spiritual blog that inspires your readers and audience. Make a list of all the key anxieties. fears and wishes your soul clients have.
Choose Your Niche:
Write A Spiritual Blog Around Your Spiritual Area Of Expertise. It is important to be totally authentic and aligned when writing a spiritual blog, your audience needs to experience a deep sense of trust, and connection especially when it comes to spirituality. So the more you can focus on your biggest spiritual areas of expertise; spiritual insight, spiritual knowledge, or spiritual sharings you will reach your ideal audience, your soul tribe, and your soul audience. Make a list of spiritual topics, spiritual experiences, and spiritual challenges you have a lot of knowledge, insight, or passion around.
Researching Spiritual Topics:
Researching spiritual topics that your ideal audience and soul clients are interested in and searching for helps you write spiritual content and other content that there is already a market for. It can help increase your chances of free organic traffic. Equally the more you can create content that is uniquely tailored to your soul clients, your niche will help you stand out from the crowd.
Writing Content That Resonates With Your Audience
Write A Spiritual Blog That Speaks To The Heart And Soul Of Your Audience. Now more than ever spiritual readers want to read spiritual blogs that are of high value, have spiritual depth and spiritual integrity, With more than 600 million bloggers out there, the world needs awakened bloggers, spiritual bloggers that can truly speak to the heart and soul of their audience through their writing. Who write blogs that go soul-deep, write blogs that are highly educational, informative, and insightful that are aligned with what your ideal audience wants and needs, than just about getting just another piece of content out there.
Choosing The Right Blogging Platform
It is important to choose the right blogging platform for your and your spiritual business's needs. Don't just think about the short-term but the long-term of your blog. It is important to choose a blogging platform that will help you reach, attract and engage your ideal audience. Equally, it should be a platform that has the right software and plugins that is going to make it easier to help your business grow.
WordPress .org is regarded by many as the best blogging platform for bloggers and businesses who intend to blog to grow their business. Mainly due to the level of creative control, ease of use, and the variety of plugins you can access that help grow your blog. I love wordpress.org as is designed for bloggers and gives you access to more than 59,000 free WordPress plugins, thousands of free themes, and a high level of design and customization that is difficult to get from other platforms.

Choosing The Right Domain For Your Spiritual Blog
Choosing the right domain for your spiritual blog is so important, it should be the same domain of your spiritual business or aligned with your spiritual brand. The right domain for a blog shouldn't be too long, it should be easy to remember and easy to spell. A blog name that speaks to your audience and is related to the spiritual topics you will be writing about can be great for SEO, juts look at my website and blog name the Spiritual Marketing Club. It includes the 2 top keywords my audience is interested in.
Plan Out A Good Post Blog Structure
Planning out a good blog structure helps you keep focused on the most important topics you want to write about. It also helps make sure you make it easy for your reader to digest. Start with a clear introduction, plenty of short paragraphs, and plenty of headlines and sub-headlines that make it SEO-friendly. A successful blog needs great images, great titles, a good blog structure, aligned call to action and it has to get in front of enough of your ideal audience to convert to leads or sales.
Have The Right Blogging Strategy
Even if you want to create a more soul-led or spiritually guided blog, it is important to understand how to create an effective blogging strategy that will help your blog grow. A successful spiritual blog should have good spiritual depth but equally, be built on a step-by-step proven blogging and seo strategy. Spiritual Blogging is more than being able to write a spiritual blog that will resonate with your soul clients or to write guest blogs on other people's spiritual blogs. You need to have a strategy that will help your blog reach enough of your ideal audience to make an impact and convert into leads and clients.
Great Search Engine Optimisation
Effective search engine optimization is what helps you attract free organic traffic to your spiritual blog. It is not just about taking the time to write a blog that your audience will read, it is about really understanding effective SEO. Too many spiritual bloggers and spiritual businesses give over their SEO to a web designer who isn't really an expert in search engine optimisation. Or hires an SEO expert that doesn't really understand the small very important differences about your spiritual niche.
Promoting And Sharing Your Spiritual Blog
A successful spiritual blog needs to be promoted and shared with a wide enough audience to be successful especially if it is one of the ways you intend to grow your spiritual business. So it is important to share your spiritual blog on a wide range of social media platforms. Add a social share plugin to your blog to make it easy for your readers to share your blogs, and also include a comment plugin that makes it easy for your blogging audience to comment on your blog, this can help boost engagement.
Be You, Be Authentic
In a spiritual business, it is so important to be you, be authentic, and be transparent in what you do. It is so much easier when you truly know yourself, you know your innate gifts, your zone of genius and purpose, your areas of expertise, your core values, your ideas, and who you can best serve. People expect far more spiritual integrity and depth from a spiritual business.

Recommended Related Blogs