What is the heart, soul, and ego of your business?
Why The Ego Of Your Business Can Harm Or Heal Your Business. Why understanding the heart, soul, and ego of your business, can help keep it balanced and strong.
If you are a spiritual entrepreneur you are more likely to recognize your business as an extension of you. In many ways, our motivating drives and decisions in our business come from our heart, our soul, and our ego.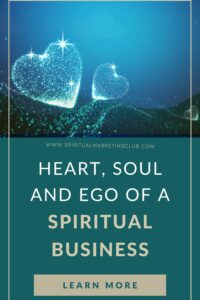 The Heart Of Your Business;
The heart and passion run through the veins of our business. Often whatever therapy, technique, or teaching we do. The love we give in helping and supporting others. The genuine compassion and care we give to our clients and students who we are so honoured to work with. The heart and soul expansion of your own spiritual evolvement that transfers into your work.
The Soul Of Your Business;
The soul of your business is very much your why your intentions and motives. It also includes the magic of what we bring through as our unique essence, our natural gifts, and our abilities. Our unique message runs through our business connections and everything else that we do. Our values, ethics strengths, skills, our expertise.
The Ego Of Your Business:
We can look at the ego of your business as the foundations of your business, the structures, the survival, and the human aspects of your business. That which comes from your beliefs, fears, sense of self, potential, and limitations. It is often shaped by our past, our stories, and even our wants, desires, dreams, and hopes.
Our ego in this sense is the power and financial aspect of our business. A positive healthy ego can help us make healthy decisions, even necessary risks. A negative unhealthy ego can sabotage our success in different ways, from lacking confidence and self-esteem to moving forward.
A negative reckless ego can be harmful and dangerous. A healthy balanced ego in your business is vital for success.
The Heart of Your Work
The Soul Essence Of Your Work:
If we look at our soul essence, it is far greater than we can imagine, it has a purpose just like your business.
What are the beautiful unique traits of your soul essence?
So many, healers, therapists, and coaches have strong archetypal traits of
The Magician– alchemist, shaman, medicine man, ( healer)
The Sage– the teacher, mentor, guru, expert, wise old man or woman
The Caregiver– nurturer, parent, helper, ( healer). …
What are the main archetype traits of your soul essence? Check out The 12 Common Archetypes.
This can really help put a magnifying glass on what naturally exudes out of you, the core traits that have been with you all of your life, that comes so naturally that you don't even think about it. And those that grow with life experience.
Combine this with your life's challenges and somewhere in the middle and altogether is the magic and key of your soul business.
The Ego of Your Business:
The ego of your business could be viewed as the survival aspect of your business, influenced by the structure, processes, and even mindset of your business. Which has to include the financial model of your business. Too large an ego can kill as many businesses as no ego.
For many of us who actively work on letting go and detaching from the ego, this may seem counterproductive. But in business, we have to have a sense of self, a sense of our zone of genius, where our levels of knowledge, expertise, and gifts start and end.
You have to have a certain level of awareness, confidence, and self-esteem to make healthy decisions. A reckless ego can seduce us into delusional and even reckless behaviour which is often seen in the sabotaging shadow traits of the rebel archetype.
Understanding The Ego Of Your Business
One of the biggest drives in my business was always to be the best therapist I could be. But in many ways, it was my biggest crucifixion I was driven by my passion, my purpose but also my ego, my fear, pain even trauma from harmful therapy practices.
I had very rare serious health conditions from a young age as well as being diagnosed with severe M.E. from my late teens after being mercury poisoned. Which now looks like it was in-fact Lyme disease. Symptoms that many people thought weren't real but which impacted my life greatly. That soon led to many serious health complications which included threatened eye loss. Conditions and symptoms that mainstream medicine couldn't explain, help, or support.
The only solace I got was through healing and holistic medicine. And although I was privileged to be treated by some of the most amazing and dedicated therapists here in Scotland. I equally experienced too many harmful and dangerous practices.
Healthy Aspects Of The Ego In My Business
I vowed never to let any of my own clients experience those sorts of challenges. In many ways, these experiences helped me be a better therapist. It helped me recognise how important it was to get the best training I could. It helped me to look for the best trainers and teachers.
Negative Aspects Of The Ego In My Business
But in other ways, I put myself through horrendous pressure and stress to be the best therapist I could be. So I was constantly learning, constantly training. And although I do believe many healing and holistic training today is not long enough. And not covering enough in relation to all sorts of subjects like contra-indications and co-dependency issues. I also know an element of my drive, was the fear and pain of the ego, of not being enough.
I was also driven by my own life story in relation to money and charging. I spent most of my early twenties very ill and unable to work. And the next 30 years spending most of my income on my health, well-being, and training. At times I spend so much money on treatments and people that promised the world that never worked. I felt heartbroken at times when I had no money to afford treatments that would help. So I carried that story into my business.
I on some level believed that many clients couldn't pay, so I constantly undercharged. But the reality was these clients were generally in a lot better financial situation than I ever was. I was trapped in my egoic fear, my limiting beliefs, and my old story.
The Unhealthy Ego Of Your Business
The unhealthy ego of your business can show up in so many ways. What elements of your ego are sabotaging your business?
Your Life's Journey
All healers arrive as the wounded healer. From our wounding comes the wisdom and compassion born from our own story. Your biggest life challenges are the biggest assets in your business. But it can also be some of the biggest vulnerabilities in your business.
Just remember your Soul Essence is your biggest asset, make sure you are not shy at acknowledging and shining those gifts in your marketing.
Do you Struggle With Marketing Your Business?
Are you Struggling to Attract the Right Clients Who Would Love To Share What You Offer?
Sign up for my Free Course – What Is A Soul Client?
Learn why you should be focusing on soul clients in your spiritual or holistic business.
Learn why soul clients save you so much time, energy, and money in your marketing.
Learn why soul clients can take the stress out of working with clients you don't want to work with Click Here
Do you have a Business Or Marketing Challenge You Need Some Help With? Or maybe you are ready to own the power of your gifts and are ready to market your gifts to your soul clients in that powerful way?
Originally published 3rd August 2016, Updated 24h April 2023