Learn How To Start Attracting Traffic To Your Website Absolutely Free. Learn how to grow your holistic or business website traffic organically.
You have built a website but no one seems to visit? And you don't know why?
Sadly most web designers build websites for clients but rarely tell clients what they need to do to get traffic. Even if they do offer an SEO package I can honestly in most cases they don't really know what they are doing. Most only provide their clients with the mere basics that will never get you enough traffic. Especially if they are not an expert in your area of business.
Your website like everything else on the world wide web is like a tiny place that very few people will find unless you make proper pathways, proper roads, proper directions, and reasons for traffic and consumers to visit.
Basically, your website has to have great SEO Search Engine Optimisation that helps send lots of relevant and quality traffic to your website.
That is why you should use a website planner to help you plan out, create, design, and grow your spiritual website in a strategic way that includes SEO.

6 Tips To Boost Website Traffic To Your Spiritual Business
Here are a few things you can do to boost traffic to your website

You have to fill in the meta tags with the right keywords; like meta title, meta description, and meta keywords.
You have to build links from other websites so it opens the pathways for search engines like google to find you, search you and update you.
You have to promote your website link everywhere you can. For example your promotional literature; business cards, brochures, posters… your social media; Facebook, Twitter, Linkedin, Pinterest, Instagram…
You have to find ways to capture your audience to take action and visit or come across your website through for example; your blog articles, a free download, special offer.
Regularly submit your site to the search engines.
 One way you can build up your links is by simply commenting on blogs that have a plugin like commentluv (and add it to your own blogs) which basically allows you to leave a link to your latest blog with your comment. I have great rankings in google+ for the healing, coaching, therapy, and wellbeing field so anyone who is a healer, coach, or therapist who comments on my blogs can help increase their SEO. See the comment section below.
As a healer and coach who has been building my own websites for over 20 years, I know how effective Search Engine Optimisation can have in helping you get organic traffic to your website. But building a website that converts your audience to clients or customers is not just about effective SEO, the right traffic but the right design, the right message for your audience. That is why I have created below the Plan Your Website Guide & Workbook For Healers, Coaches.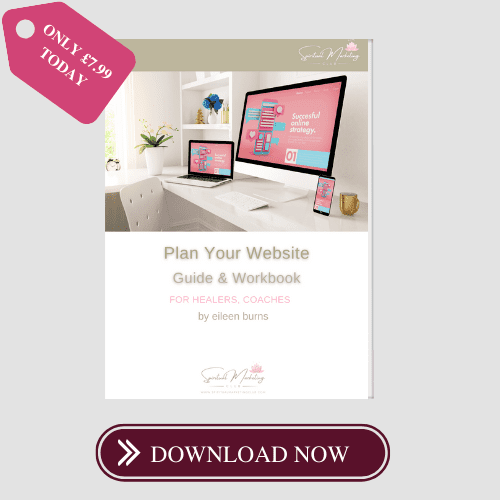 by