5 Free Marketing Tools For Therapists, Healers, and Coaches. Free Marketing Tools that will help you add a little magic to your marketing. Help you create a more professional marketing campaign.
If you can't afford a marketing expert and you are doing most of your marketing yourself on a budget, you want to find the best free marketing tools and resources you can get your hands on.
5 Free Marketing Tools For Therapists, Healers
Here is five free marketing resources that can help you save thousands of pounds and a lot of hours, whilst giving your marketing that professional edge.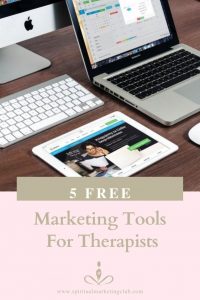 Canva- This fabulous free online graphic software tool helps you create all sorts of powerful eye-catching adverts, social media banners, graphics, and memes around your own unique themes and brand. It is so easy to use and most of the tools are absolutely FREE. Remember powerful visuals are the easiest way to grab your viewer's attention.
Free Slogan Maker by Shopify- I have my own title generator software program that I bought years ago that helps gives ideas for headline-grabbing titles or slogans. But this free online tool is ideal to help give you ideas on how to create taglines or slogans for your business, your products, or services that really sell what you do.
Hootsuite– is a great social media planning software that saves so much time, you can manage all your social media platforms from one place. I have used the paid version for a variety of social media platforms as well as client accounts that I managed. But the free version is ideal for most coaches, healers, and therapists you can automate posts on up to 3 different social media platforms at the same time. I tend to create and schedule my posts a few days or even a few weeks ahead so when I am sleeping, eating, and taking clients my posts are still getting promoted.
Mailchimp– every serious marketing campaign should have the right email mailing list and marketing software, so you have the tools to capture every potential client. Mail chimp provides a way for your clients to sign up for your latest offer, latest freebie, or download.
Wordstream- when writing quality content for your blogs and your website, keywords are the secret key for the right traffic and clients to find you. The use of popular and relevant keywords can seriously help raise your SEO and Google rankings.  This FREE keyword search tool at the moment gives you 30 of 30 free keyword suggestions for your topic or industry. 10 on the first 10 then one a day.
Above are just some of the free marketing tools available today that can help grow your spiritual business, check out my other related blog Top 10 Marketing Tools  
Grow Your Healing Or Therapy Business On Social Media Today
Over 111 Social Media Contents For Your Spiritual Business