Are Using Enough Visuals In Your Marketing? Images are now vital in any marketing campaign, in-fact posts with visuals in your marketing are 95% more likely to be read. Images also act as a memory trigger by helping 65%  of readers remember content for up to 3 days. One of the reasons the right logo can help people to remember you and your brand.
The Power Of The Rights Visuals In Your Marketing
With so much information overload online , it can be very difficult to stand out and be seen by potential clients. Never mind get them to take that step, to book an appointment or even like your page. That is why it is important to choose powerful visuals in your marketing campaign. Post engaging, attention grabbing or thought provoking visuals that get your ideal audience to actual stop, stop and take the time to read.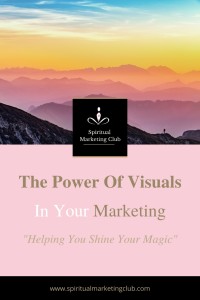 When you invest the time in choosing the right images, graphics and videos you get noticed. If you add a message that resonates into a clients core need/dersire it increases the chances of being remembered. Good visual marketing increases conversion if it's done at the right place, right time with the right message and product.
Just like the quality of  your products and services, the visibility of your professional image and branding can sell or repel. Your marketing  must align with the psychological beliefs of your potential clients. So choose wisely the words and images in your advertising.

Choosing High Quality Images For Your Website, Posts
The great news now is today you can buy amazingly stunning high quality images from as little as $ yes one dollar. I remember having to pay £90 for just one stock image for marketing my meditation classes about 15 years ago. Today there is a much wider choice of great stock photo images to suit every sort of business. That you will find something you can get creative with, something that will help you get your message clear. Also think about the impact of specific colours you choose in your visuals; the psychology of colour in your marketing.
Things To Consider When Buying And Using Stock Images
Just make sure that you choose the right option when you are buying  images on products, downloads, books, cd's, clothing. Make sure you buy the right license for images that you are using on products you are selling. These images are strictly copyright and you can be legally fined a few thousand pound for using an image you don't have the right license for.
Never just use an image you find online or on social media again you can be legally fined a few thousand pounds. As someone who helped build websites for therapists, friends and family over the last 20 years. At one one point on my own hosting space, I was nearly fined 3 times  $25000 each. Because I used images therapists said were free to use photos when they weren't. I stopped using my hosting space to hold other people's websites and made sure I was shown the source of the image.
Tools To Help You Create Great Visuals
You can make amazing images, social media posts, graphics and memes on the free and paid version of Canva. There is so many free video making software app's you can get online and for your phone. I create everything on my laptop so I prefer video software like Lumen 5, one of my friends uses pixaloop. And just love the  software Screencast-o-matic.com for all my video editing, power point and course videos. You can do so much with this software.
Free Webinar – How To Create A Marketing Plan For Your Holistic & Spiritual Business

[Originally written and published July 2016 updated 8th Feb 2020]




by