Are you starting a new spiritual website and looking to build strong connections with your soul clients? Then, you need a web host to establish your online presence. This company hosts your website on a server connected to the internet, making it available to visitors worldwide.
Moreover, you need a high-quality provider. Without a reliable service, your visitors can experience lag, downtime, or security threats. Discover the best web hosting providers on the market to bring more traffic to your spiritual website and grow your spiritual business!
And if you want to take matters into your own hands, let's dive into more details. What is web hosting, exactly? And with the abundance of web hosting providers and services available, how does one choose the right one for their spiritual business?
What is Web Hosting?
Web hosting is a service that provides technology and resources, such as storage space, for your website data to make it available on the internet. It stores all of the files, images, and content that you want to appear on your website and be made accessible to your website users globally.
Say a visitor wants to access your spiritual business brand site. When they type your domain name into the web browser, the browser sends a request to retrieve your website data to the web host. The web hosting provider responds by sending the necessary files to the browser, which then displays them to the user. While it might seem complex, it's a process that occurs in a matter of seconds.
Types of Web Hosting
You can choose from several types of web hosting depending on your traffic, performance, and resource requirements.
Shared hosting is a type of web hosting where multiple websites share the same server and its resources. It's the most common and cost-effective type of hosting suitable for small websites with low traffic.
Virtual Private Server (VPS) hosting allows users to have their own virtual server, which acts like a dedicated server but shares the physical server with other users. As a result, it allows for more control and flexibility than shared hosting while being cheaper than dedicated hosting. Therefore, VPS hosting is perfect for medium-sized websites.
Dedicated server hosting offers users their own physical server. It provides maximum control over server resources, making it the most expensive type of hosting. Due to this, dedicated servers are best for enterprises and websites with high traffic levels.
Cloud hosting relies on a network of servers instead of the traditional one server. It enables users immense flexibility – to add or remove resources on demand. It's primarily suitable for websites with unpredictable traffic spikes or scaling businesses.
Managed hosting is a type of hosting where the provider takes care of server maintenance, such as software updates, security, and backup. It is suitable for businesses that don't have the time, expertise, or resources to manage their servers.
All the different hosting types provide different levels of performance, control, affordability, and scalability. This allows the website owner (you!) to choose the best host type that will fit the needs of your business and website.
How To Choose the Best Web Host for your Spiritual Website?
Now that you know which type of web hosting service is right for your spiritual website, let's help you choose the best company to get you online. Remember that choosing the wrong company will hurt not only your pockets but also your online reputation and profits.
Here are a few key factors to consider before spending money on a web hosting service.
Security
For a spiritual website, security is of the utmost importance, as it may store sensitive information. Unfortunately, these websites are often targets for hackers.
Look for a provider that offers extensive security measures, such as SSL encryption, DDoS protection, firewalls, and automated backups.
Fast Load Time
Fast load time is critical in ensuring a positive user experience, maintaining your website's reputation, and improving your website's SEO ranking.
Opt for a web host with a dispersed server network and advanced hardware and software, such as SSD storage, caching technologies, and CDN.
Reliability
Users expect websites to be available 24/7, and any downtime can harm their experience. Therefore, if your website is frequently unavailable, your users will need to seek alternative sources.
Therefore, it's essential to choose a reliable web hosting provider that ensures minimal downtime for your website. Look for a provider with an uptime guarantee of at least 99.95%; the closer to 100%, the better.
Scalability
As your website grows in the future, it will require more resources to handle increased traffic demands and data storage. So, getting a web hosting provider that offers scalability is vital.
Consider whether the web host can accommodate sudden traffic spikes without slowing down. It should be able to provide more server resources, including CPU, RAM, and storage, provide database optimization tools, and load balancing. In the best-case scenario, it should also offer cloud hosting.
Choosing the right hosting provider for your business is all about balancing your website's budget and needs. The cheapest plan is usually not the best, but neither is the most expensive one. So, opt for the best value for money.
Pricing
Consider purchase discounts, renewal prices, and hidden fees. Also, opt for freebies. If the package doesn't include free goods, such as an SSL, domain, or backups, you'll eventually spend way more on extras than on the web hosting service itself.
Conclusion
Selecting the best web hosting provider for your spiritual website is crucial for online success. Fortunately, you can ensure that your website's requirements are fulfilled by evaluating providers based on factors such as security, reliability, fast load times, scalability, and pricing.
With the right web hosting provider, you can bring more traffic to your spiritual website or spiritual blog and connect with your soul clients worldwide. So, what are you waiting for?
Plan Your Spiritual Website Workbook
Spiritual website templates for healers, and coaches who want to create a more soul-aligned spiritual website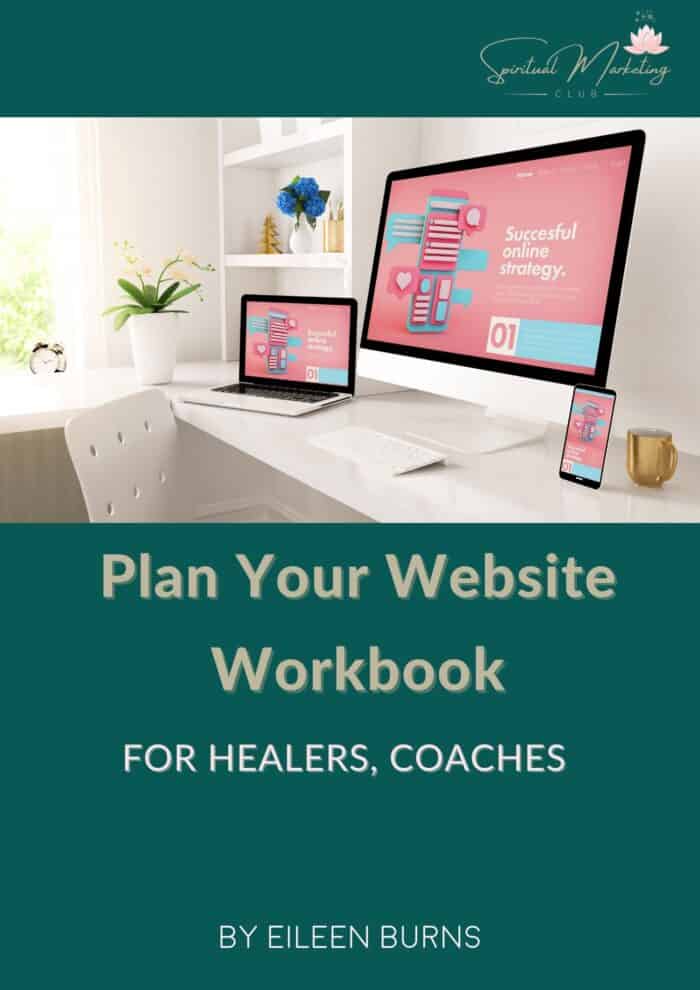 Top Related Recommended Blogs