How To Attract Soul Clients Not Just Your Ideal Clients With Spiritual Marketing For Healers, Spiritual Coaches, And Spiritual Teachers.
Why Spiritual Marketing doesn't just help you attract soul clients but helps you reach the heart and soul of your soul clients. Why more heart-based businesses are moving towards a more soulful authentic way to market themself.
Modern marketing uses a wide range of psychological tactics to attract and encourage customers to buy which often includes often over-hype selling. While Spiritual Marketing helps you reach the heart and soul of your soul client's wants and needs in a more authentic yet powerful way. Especially if you use a more spiritual archetypal approach in your marketing.
But before you create an effective spiritual marketing plan,  you need to create a product or service that your ideal client or soul client desires and will buy. But too many spiritual and holistic businesses assume that what their offering will sell. They often naively set up businesses assuming there are enough clients or customers where they set up or market their business who want their product or services.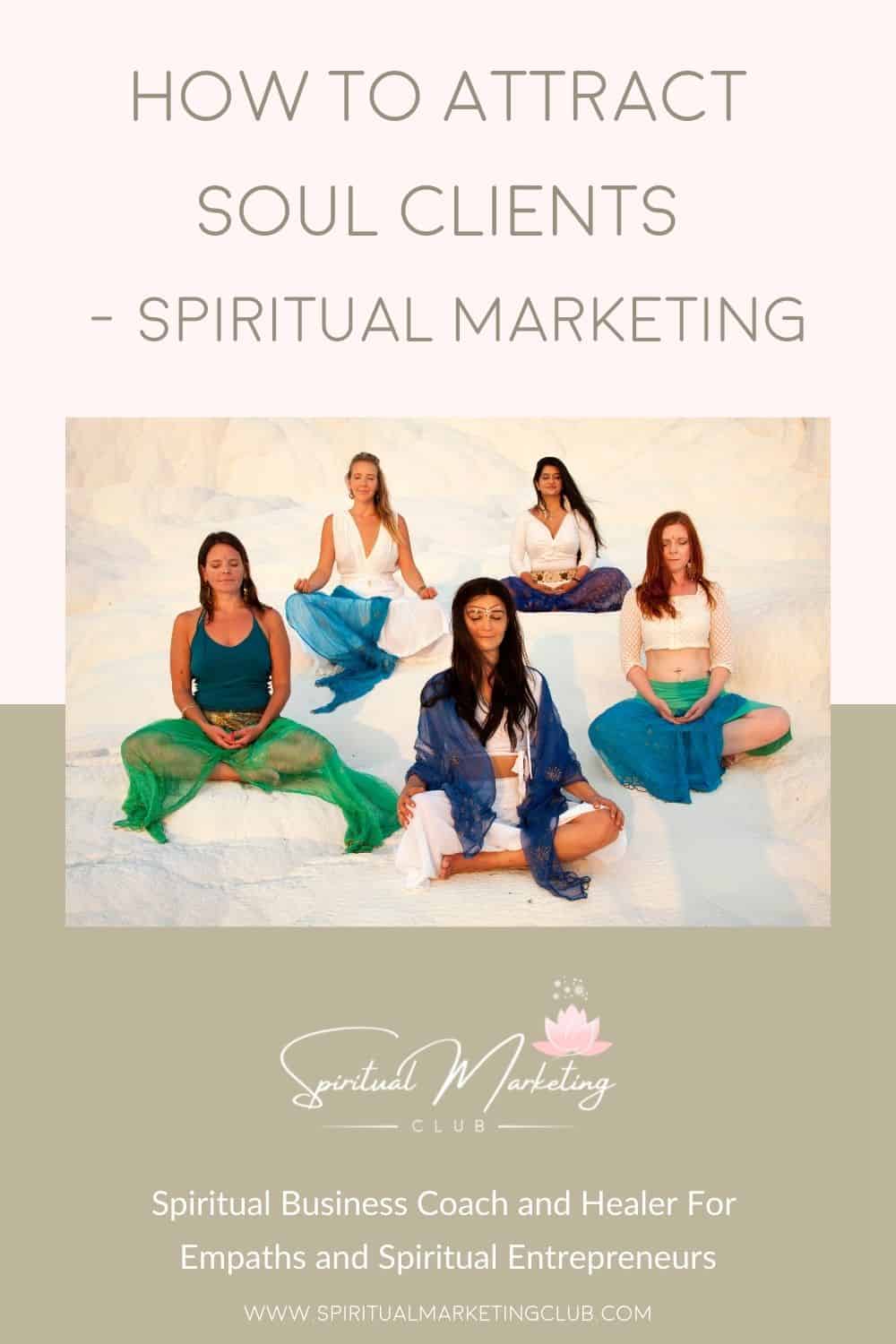 Service-Based Holistic And Spiritual Businesses
Most self-employed therapists, healers, and coaches are so passionate about the techniques or therapy they are trained in. That they don't think about doing any market research to check if there is enough customer market for what they are offering. Or if this is something their present clients will actually invest in.
They spend a lot of time marketing the techniques or modality instead of selling the benefits. Customers want to know the solution for a particular pain point. A lot of the time they are not really interested in the type of therapy or program. They just want to know you can solve their particular problem.  If you are not sharing the solutions you can offer you will struggle to attract any clients never mind soul clients.
Most business support and business start-up services don't highlight these issues. They rarely advise the business to do proper market research in relation to their nice, customer market. If you are a clinic, spa, shop it is important to choose the right locality. Or to assess if there is enough demand, and enough clients who will buy what you selling and where you are selling.
Too many holistic therapists set up businesses in areas where the market is already saturated. Or in areas where they lack clients willing to invest in your type of product or service. So most of their business start-up income is spent on marketing campaigns that are unsuccessful. They struggle to find clients who will resonate with them or will pay for their services. Especially if they are not focusing on their ideal clients or soul clients.

Soul Clients
When a client invests in a healing or therapy product, things are much more personal. The client needs to trust the healer, the therapist,  there is often something much more deeper going on. This is usually client  resonance,  client alignment. That is why a more spiritual approach to marketing is highly effective for holistic and spiritual-based businesses. Especially business owners who want to be authentic, those who put integrity and the client at the heart of their business.
When I began studying various types of heart-based and spiritual marketing many years back.  It completely woke me up to see more clearly my soul clients. I spent 13 years in business focusing a lot of time, energy, and money on the wrong ideal clients. But luckily whilst part of my business naturally attracted soul clients. It took me many years to see that my soul clients were a niche area, where certain work and referrals came easier than other contracts and work.  The type of work and clients that came so naturally to me.
Speaking To Your Ideal Audience, Your Soul Clients
If a business clearly know who it is marketing to, it doesn't just market to everyone and anyone it speaks to a typical client directly. Marketing is like speaking a language that only that specific person or audience will understand. So a successful business has to be very specific on who its ideal client is and what language they understand. And on average only 3% of that audience will be ready or want to buy your product or service at that stage. So if you spend a lot of time, and energy on the wrong audience, those who will actually buy are going to be even lower than 3%.
So Who Is Your Soul Client?
So who is your ideal match, who is your soul client, and how do you start creating a brand, a marketing campaign that will speak to the emotions, the pain of that soul client.  Well, you have to know yourself and key traits of your soul essence that those soul clients are looking for. This I find so powerful especially being a healer for 25 years. You focus on what makes you unique, and attractable and then learn to market your business and its products and services in a more authentic, clear, effective and unique way. I introduce people to this journey in How To Be Authentically You and take clients fully into this journey in my Spiritual Marketing Support Programs.
Either way, you need to plan out an effective marketing campaign. A marketing plan around the core solutions you are offering your ideal client or soul client. A highly targeted plan on how to build a connection with your ideal client or soul client. Like any relationship you need to know how to court them and nurture the know, like, and trust factor until they are ready to buy.
This blog was updated 28th June 2022
What Is A Soul Client And Why Should You Market To Them?

Latest Testimonials from Soul Clients
" I had a 30-minute breakthrough call with Eileen and got more golden nuggets in half an hour than I did in 12 weeks coaching with a well-known coach!! Came away with an action plan and clarity about where me and my business are now and where we are going. Huge thanks Eileen Burns you're a superstar mentor!" Fiona Kyle
Thanks Eileen. Your course is fantastic and it will be worth its weight in gold. I'm very grateful to you for your generosity – thanks again Lesley Scott, Hypnotherapist & Coach
I have paid hundreds of pounds in the past for courses with much less content and much less heart.. David Rabone, The Soul Healer
"Your 3 day challenge has helped me so much. I loved the daily tasks. It really made me think where is my ideal client hanging out. That for me was the biggest aha moment. I'm busy working away with my lists and pulling together my ideal client profile. Thank you once again for sharing your knowledge I really appreciate you letting us have a glimpse of your experience in marketing" Carolyn Bradshaw, 3 Day Ideal Client Challenge
"Many thanks to Eileen Burns for a useful telephone session last Thursday! We talked about: 1) How to identify my ideal client by looking at my own experience and the kind of clients I was successful with in the past. 2) How to market my services to my ideal client: work out how my skills and services are a solution for clients, and promote that, rather than advertising the modalities I use 3) Match my solutions with the ideal client, then work out how I am going to package the solutions. This was very helpful in working out my priorities, and gave me a process for organising my business and my marketing strategy. "Iain Layden, Healer & Therapist
This course with Eileen has given me the confidence I need to carry on my journey in Reiki Healing….so I thank you very much Eileen, you are a wonderful and very talented lady and I am so proud to let people know that I have had the privilege to work with you and thank you for the support you are giving me….. NAMASTE x" Elaine King, Shining Light Holistic Therapies, Lanarkshire
Hi Eileen I have loved the course – I have found it difficult to keep up just with juggling other demands but know I will go back and work on everything. I'm generally feeling a lot more confident and the support and encouragement you have given us all has been amazing. Massive thank you Lynn Sutherland, Hypnotherapist & Health Coach
Update: this content was originally published in March 2017 but has been recently updated June 28th 2022 to reflect new changes.




by