Facebook Algorithms what you should know about FB algorithms if you have a Faceboook Business Page. What is Fb Algorithm and why you should understand what they mean to your business?
What is Facebook Algorithms?
So Facebook algorithms are basically an analysis, a calculation that Facebook uses to decide what posts and even adverts are served to you on your Facebook newsfeed. Basically the Facebook algorithm controls what you see. It tries to pick the content it thinks you are more likely to find valuable.
According to tinuiti, in 2020 Facebook is using the Vickrey-Clarke-Groves algorithm
Inventory is all the content on someone's Facebook newsfeed
Signals are basically information FB can gather about the information that is being posted.
Predictions are basically the way facebook predicts someone's behaviour using past interaction
Final Score is how facebook work's out how likely you are to engage with a piece of content.
Purpose Of Facebook Algorithms
As Mark Zuckerberg, stated a few years ago" We built Facebook to help people stay connected and bring us closer together with the people that matter to us. That's why we've always put friends and family at the core of the experience. "
Although FB gives businesses a free platform to showcase their businesses. Facebook first and foremost's main purpose is to keep it's audience happy. And part of that involves making sure business posts do not over-saturate this platform.
But in reality stats show in Nov 2019 "90 million small businesses use Facebook" just under 25% of these businesses use paid advertising. That is a lot of businesses competing to be seen.
So Facebook like any business has to constantly monitor what seems to please or disengage their audiences. And this is the main reason for changes in the algorithms of your Facebooks newsfeed. Businesses have to change, expand and their marketing has to get more engaging, especially Social Media so they stay fresh and inviting.
How To Beat Facebook Algorithm Change
Keep Your Facebook Audience Engaged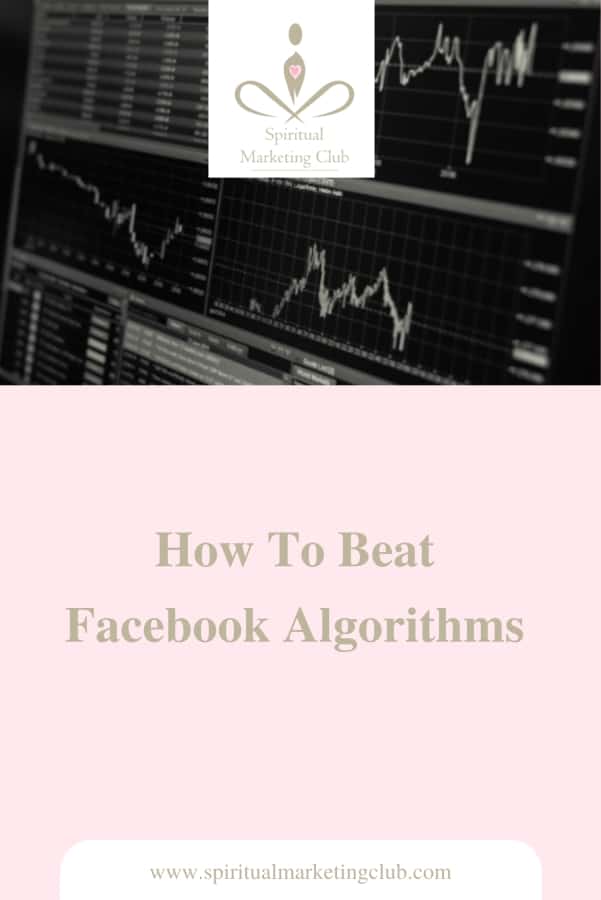 No matter what changes Facebook make, like any business facebook's main focus, is keeping its audience and customers happy.
In social media, it is all about the audience's engagement.
So what exactly should you be doing to beat the FB algorithm?
Create Educational Engaging Content
Well, first and foremost it is about ensuring you provide your audience with relevant engaging content. Show your audience you genuinely care by sharing valuable educational and informative content that is relevant to your ideal audience's pain points. Create content that will keep your audience engaged. I share a lot in my 111+ Social Media Content Ideas To Boost Your Spiritual Business
At The Moment Facebook Algorithms Love Live Videos
At the moment one great way to beat the FB algorithms is to do live streaming. In fact presently Facebook lives to get up to 6 times more reach than other videos.
Live streaming events you are at or inviting special guests onto your Facebook page is one way to increase your reach and to get maximum engagement.
Live videos are great for service-related businesses as they help demonstrate personality and authenticity.
Use Polls, Quizzes, And Surveys
Use polls, quizzes, and surveys to find out what content your ideal audience are most interested in.
Reply To Your Audience's Comments
Make sure you respond to your audience's comments, this helps to demonstrate activity and engagement on posts. It also helps your audience know you appreciate their engagement.
Use Paid Advertising Strategically
Facebook obviously keeps a certain amount of space on news feeds for ads. So make sure you include in your marketing, enough money to invest in strategically placed paid advertising. To reach a wider audience or retarget a warm, new, or old audience.
Don't Just Ask For Likes
One of the biggest Facebook mistakes many small businesses make is requesting likes from people who are not their ideal audience. Every day or two I get asked to like someone's business page. Too often from people I don't know, but more importantly, from businesses, I will never buy from.
Just because someone is in a similar industry to you, just because someone lives locally to you does not make them your ideal client. Actually getting people to like your business page who are actually NOT your ideal audience, can actually mess up the algorithm.
Why You Need To Focus On Your Ideal Audience
A successful business focuses on its ideal clients not on building likes from the wrong audience. Focusing on likes in many ways is insanity and vanity.
For example, I am a healer for nearly 30 years. Have been a big consumer, student, and teacher in this industry so I know hundreds of therapists and healers. And I can't possibly engage in all of their business pages. And I am definitely not many of their ideal clients.
Some of these therapists are very early on their path, some are physically located therapists who live across the globe. So every time they ask a therapist or healer to like their who page who is not the demographic of their ideal audience they confuse the algorithm. Facebook may start only serving its posts to these audiences.
For a while back I had a hypnotherapy training school in England, that literally asked me to like all of their student's hypnotherapy pages. I eventually messaged the owner of the training school, to explain why I was not liking his student pages. I explained why he was in fact doing his student's business pages more harm than good.
How To Keep Up With Facebook Changes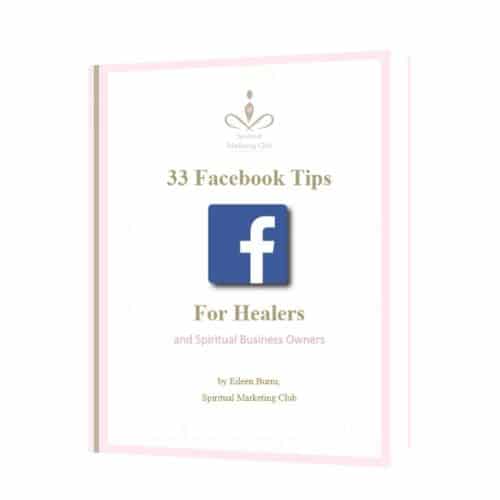 Before you feed your facebook fans, you need to know your ideal audience. You need to understand your ideal audience and even better soul audience. Then your Facebook marketing starts to get so much easier.
Facebook algorithms will continue to change and it's worth checking up on the latest changes. But the key important thing is giving your audience what it wants and needs.
If You Are A Spiritual Business Who Would Like To Market Their Business On Facebook Like A Pro. Check out my Free 33 Facebooks Tips For Healers.