Is Poor Marketing Attracting The Wrong Clients And Repelling Your Ideal Clients? Are You Marketing Like Primark When You Need To Be Marketing Like Marks and Spencers? Does your marketing make you look like an amateur in your field when you are a pro?
What Is Poor Marketing?
Branding and Marketing is a million-dollar business and is based on the clever use of design, styling, buying, selling, and colour psychology.
Some of the biggest brands in the world spend millions getting into the psyche of their ideal clients so you notice their adverts, browse their shop or online catalogue and then buy their products. They know how much a poor marketing strategy can lose them, clients, and customers.
Buying from a coach, healer or therapist online isn't that much different, except the main difference between you and a corporate company is that as a healer, coach, or therapist you are a fundamental part of that product and service.
If you are a coach or therapist who is trying to sell their services at high-end prices, your business brand needs to back that up.
Part of that is making a great first impression online this means highly effective quality marketing aimed at your right client audience. But so many coaches and healers don't even know who is their ideal clients or the most profitable clients in this industry, soul clients.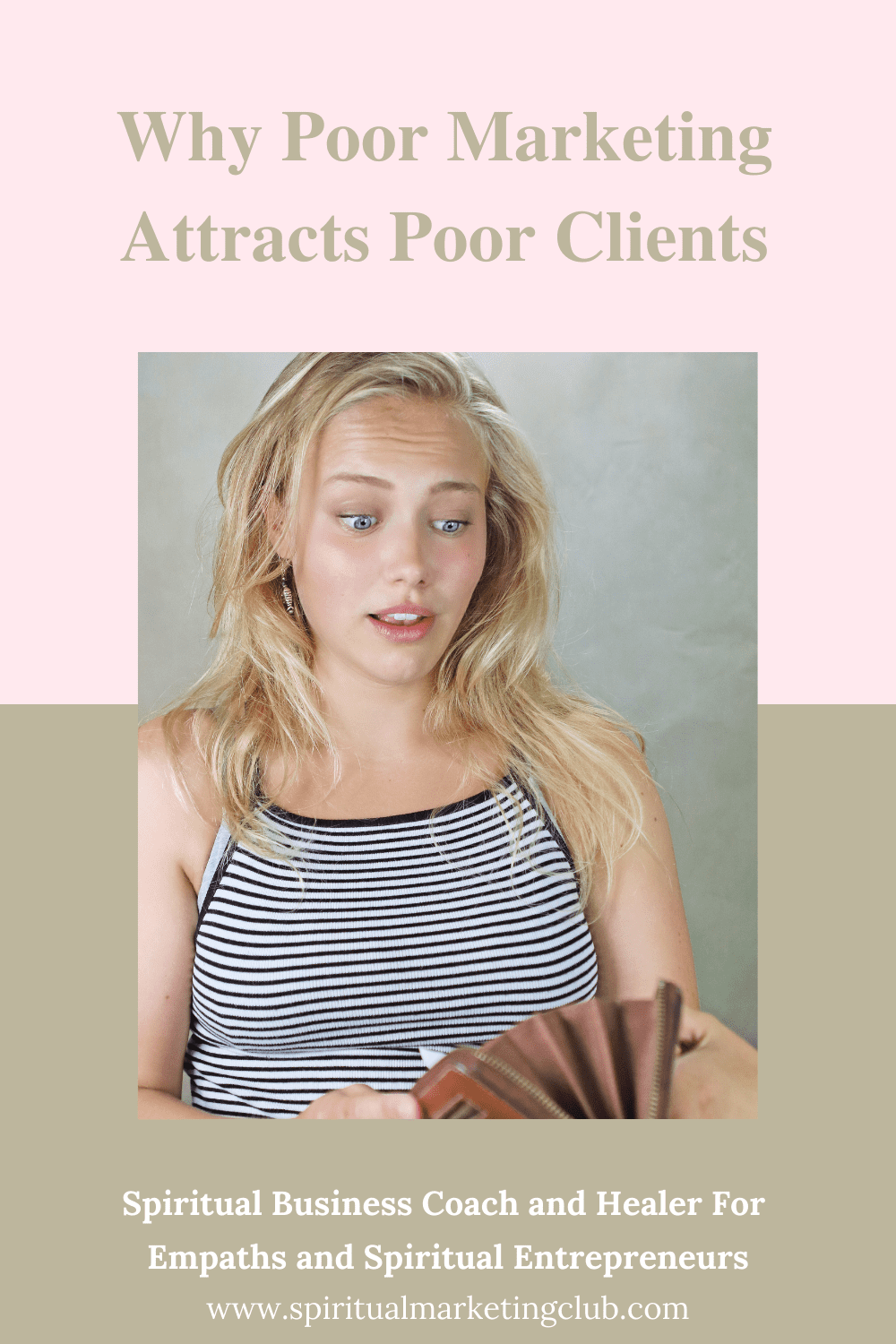 Why Poor Marketing Can Create Client Doubt
When a potential client or potential customer arrives on your website, your social media pages, or your content on a conscious and unconscious level they are looking for evidence you and your product are the right fit for them.
Unconsciously your marketing has the power to be a client magnet or client repeller. If you have poor marketing; your marketing isn't clear or looks amateurish, it can give the impression you don't really care about your business or marketing image.
But the reality is, marketing psychology shows first impressions and your business image can mean a lot more than you think to your potential clients, your ideal audience. Poor marketing can not just reduce client confidence and trust, poor marketing can repel your ideal clients.
I have met many coaches who have gone for years struggling to convert any sales to their lead magnets or exclusive coaching programs, simply because of poor marketing or a refusal to make any financial investment in their marketing.
Common Mistakes That Result In Poor Marketing
A really poor-looking website: a website that isn't clear about what it is selling or even a free website that has free adverts like wordpress.com or one that has another company branding all over it can reduce customer confidence. Social media graphics that look like a child created them, or even the wrong brand colors can repel your audience. They can be especially damaging to holistic or spiritual businesses that are asking clients to make a high-ticket purchase or long-term financial commitment to their coaching programs.
Overselling and under-delivering: Sadly today there are still a lot of marketing strategies built on over-hype, and overselling in many ways this is another example of poor marketing. This can be extremely risky for those in the healing and spiritual sector who are supported to be more spiritual and or who support people with certain challenges for example chronic or life-threatening health challenges.
Selling Your Technique Not The Solution: Many therapists, and healers are so focused on the techniques they use or products they use, they miss the fundamental basics of marketing which are sharing the benefits of the solution. Most clients are not interested in the techniques you are using but in the evidence that you can help solve their problem. Of course, it is important to be transparent about the techniques you use so they can choose if this is something they want or not.
Transparency Is Vital in Marketing: on so many levels. For example, over 20 years ago I booked a massage therapy session with a therapist, who was charging premium spa prices for what was implied to be her business clinic when it was actually a massage bed covered in old towels in the middle of her living room. I was disappointed on so many levels and I just couldn't relax lying on her plinth because I was unconsciously expecting someone to come into the living room area at any minute. She had no understanding that pricing is not just about the treatment and her time, but the solution and the experience. If you are charging high-end spa prices? Your client will normally expect a high-end experience.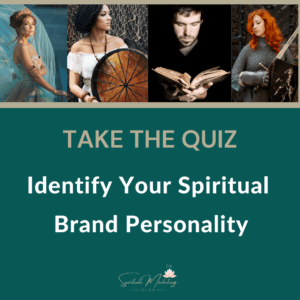 The Power Of Effective Marketing
An effective marketing campaign has the potential to completely turn your business around from no clients to regularly paying clients and customers.
Just like we need to invest in the right tools, techniques, and skills in our healing, therapy, and coaching to be effective at what we do. To stand out online, to convert our website and social media visitors to paying clients or customers, we usually need to invest in the right marketing and business strategies.
A Highly Successful Marketing Campaign
Professional and successful marketing, gives the right energy and message that your ideal clients and soul clients can see and feel, creating client confidence, and trust. While poor marketing creates doubt and mistrust.
That is why I use archetypal work when I am helping clients with their marketing and branding. As it helps brings in the unique energy and message you give to your clients.
It is vital that potential clients know you are serious about your business, you are genuinely interested in what is best for them.
Effective marketing is not just about looking professional but a good marketing strategy clearly conveys the information they want or need in an honest way.
Every business owner has theirunique audience and unique traits that will attract their ideal audience and soul clients. But no matter who your audience is poor marketing or ineffective marketing can seriously lower your reach and conversion.
Poor Marketing Versus Effective Marketing
Think about your own consumer decisions from where you buy your groceries and clothes, or that restaurant you eat out in, or the salon you get your hair done.
These are all unconscious consumer-based decisions you make every day, that you rarely think about. But each purchase is made with different underlying motives of why you choose that particular product or service. And it is mainly on small things that encourage that know, like, and trust factor.
Think about why you choose each specific purchase from your weekly food shopping to your cosmetics, toiletries, clothes, a night out…
What are the main factors; cost, quality, ethics or values, prestige, experience, their colour, their design?
These are all the subconscious or conscious reasons that may make or break a buying decision from potential clients.
But the first thing you need to be sure of before all of the above is being 100% sure who your ideal audience, your ideal clients, or soul clients are?
If you don't know for sure who your ideal clients are, you don't know who you're speaking to, marketing to, or selling to. Just hoping or guessing who your ideal clients are, hoping or guessing with your marketing often leads to a lot of wasted time, energy, and money. Check out my FREE What is A Soul Client Course? Why you should want to know 100% who your Ideal Clients and Soul Clients are…

If you are totally a Soul Aligned Spiritual Business and would love some spiritual help with your marketing and business check out the Spiritual Marketing Club Facebook Group