How To Add Magic To Your Marketing, How To Stand Out From The Crowd
Marketing is any form of media that is used to help share your product or service. If you are a healer or coach who is struggling to stand out online, you need to add some magic to your marketing so you can shine. Especially today in the holistic, coaching, and spiritual industry, in many ways there is far more program being marketed than being sold.
Today most marketing is promoted online through social media, websites, and directories.
But in a saturated marketing where everyone seems to be struggling to attract clients, you need an effective marketing strategy. You need to make marketing a big part of your business growth. 
So How Do You Get Noticed?
How can you encourage potential clients to come to us instead of someone else?
You need to know your ideal client.
If you don't know your ideal audience you're wasting a lot of time, energy, and money just guessing. Invest in finding out who your ideal client is.
You need to know what makes your business unique.
What makes you and your product or service different from those offering similar services or solutions? If you are a coach, healer, or therapist you may be offering the same type of healing or therapy as a therapist friend but what makes you different from them?
You have to shine;
a powerful way you can do that if you're a healer is by using spiritual and archetypal branding and marketing strategies. strategies to add magic to your marketing so you stand out from the crowd. If you are a coach, healer, or therapist you may be offering the same type of healing or therapy as your neighbour, so know what makes you different.
You have to understand your client's pain points that you can solve.
What are your client's biggest pain points that you know you can help solve
Educate and demonstrate what your product or service helps to solve?
Demonstrate and show evidence such as testimonials. Facebook testimonials and video testimonials are the best.
If you are a therapist or coach the client has to trust you
so sharing your expertise, your years of experience and qualifications will build up more credibility.
Your product or service has to stand up to its promises,
so sharing testimonials encouraging clients' reviews will help increase confidence. Guarantees can be helpful with some sort of coaching programs.
The client has to believe your product or service is value for money; 
explain what is included in your product or service and what to expect.
Your product or service has to be easily accessible or available to that client.
Include on your website, Facebook, and promotion literature location, and availability.
The product or service has to be promoted in places that will be seen by these right clients.
Make sure you advertise online where your typical client will go looking for you or come across you, don't rely on just one form of online marketing, consider when and where your client hangs out and make sure they will be able to see what you offer. Offering free support in forums, groups, free talks at events, or places where your client hangs out is a great way to reach your audience.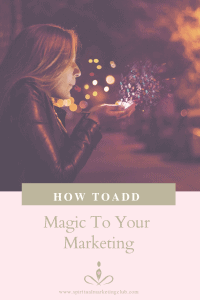 How Do You Add More Magic Into Your Marketing?
If you are a coach or healer a powerful brand and theme in your marketing that represents a mixture of you and the solution you offer can be extremely powerful. I help my clients and students do this through a series of steps that helps clients unlock the most powerful aspects of themselves and their business that their clients are unconsciously attracted to.
This is a powerful way to add magic to your marketing. One of the easiest clients to add magic into their marketing is clients with strong Alchemist or Magician Archetypal Traits. Every single one of them is very unique in their vibration, their soul essence, and their gifts but when they get that blend right in their marketing well magic naturally happens.
When you add magic to your marketing, you help bring your essence alive, your message travels clearer and further.
If you really want to add magic to your marketing for 2023. Sign up for the Spiritual Marketing Club Membership