The Christmas Market can be a great time for many holistic and spiritual businesses to not just boost sales but to reach a wider audience. But like any sort of selling or marketing it is not just about what you are selling or promoting it is about how you promote it, where you promote it. So are some top tips to help you capture the Christmas market.
SHOW UP TO THE RIGHT AUDIENCE
You need to know your ideal audience, your buyers so it is important that you show up in front of the right audience to do that you need to know exactly who your ideal audience is. At Christmas, that audience may be different than your normal ideal audience because it is someone buying for your normal ideal client or customer. In the Christmas Market your buyers maybe your normal ideal client's friend, partner, sibling, parent, or even child. So you need to show up where that audience will hang out or look for the sort of products or gifts you are offering. If you are mostly selling online make sure you are sharing your offerings in the right type of Facebook Group or online platform. Or that you using the right keywords on your site that those customers will find you.
STAND OUT FROM THE CROWD
Every single day most of us are bombarded with some sort of selling or promotion. In many ways, we are not just suffering from information overload but advertising overload so it is important that you stand out from the crowd to your ideal buyers especially during the Christmas Market.
SHARE THE BENEFITS
In many ways, selling and marketing is just helping someone see the benefits of your product or service. The why someone should buy your product or service. Share what makes your product or service different from other products or services out in the market.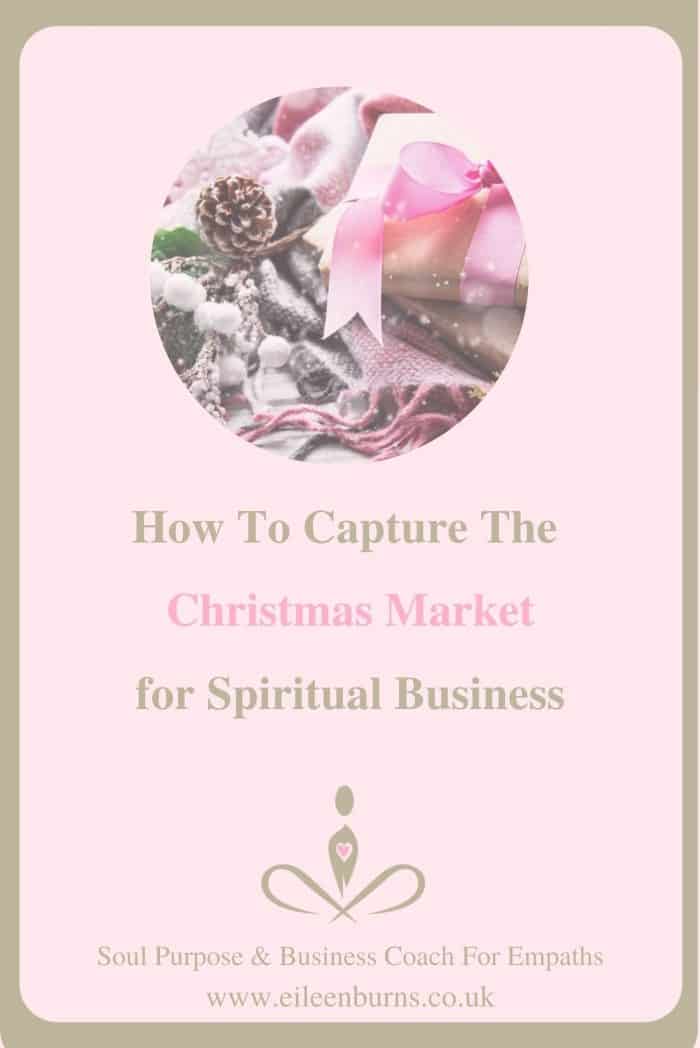 USE EFFECTIVE BRANDING
Great branding and marketing can seriously help you stand out. Archetypal branding and spiritual marketing is a great marketing strategy for heart-based and or spiritual service-based businesses. As it helps not just capture the energy of your products but the energy of the person that is providing that service and traits. This is very important in the coaching, healing, or therapy industry where people want support from those they feel aligned with. To demonstrate what products or services can be bought as Christmas Gifts add a little bit of Christmas branding and marketing that helps highlight that this is on offer as a Christmas Gift.
CREATE EXCLUSIVE CHRISTMAS GIFT OR NEW YEAR PACKAGES
If your a therapist, coach, or healer consider creating exclusive packages or sessions marketed with a Christmas or new year twist. Christmas Spa Bundle, New Year Kick Start Coaching Bundle, Christmas Healing Gift. Sometimes you just got to make it obvious to consumers how it can look like a wonderful Christmas gift. And consider creating bundles with other's see below
TEAM UP WITH OTHER BUSINESSES
To reach a much wider and even exclusive audience team up with other businesses to help promote each other's products or services. Collaborate with other businesses to over gift boxes or packages. This can be one of the most cost-effective ways to reach a wider audience without having to spend a lot of money on Facebook, Pinterest or Google Ads.
CREATE CHRISTMAS GIFT VOUCHERS
Make sure your audience knows they can buy Christmas gift vouchers for their family and friends for your live products and services.
CREATE A CHRISTMAS CATALOGUE
A great way to showcase any Christmas gifts is to create and publish your own Christmas Catalagoue there is a variety of online software that can help you create a very glossy looking professional online Christmas Catalogue. But you can equally create lovely looking catalogues using software such as Canva.
BECOME A PRODUCT AMBASSADOR OR CONSULTANT
Christmas can be a great time to add something a little bit different or extra to your business to sell. Especially if you choose products that are very aligned with your business and your ideal audience. As a qualified aromatherapist and someone who has been using mostly natural and organic products for over 25 years. I am an ambassador for Tropic skincare products and makeup and an independent consultant for NYR Organics. Although I have to be honest I don't have much time to promote these products, these products are very aligned with the values and challenges of most of my ideal clients and soul clients. Having another business income stream especially one that is generally more passive can be a really good move for any business as you have something to fall back on in quite or challenging times
If you would like more Christmas Tips check out one of my older blogs How To Earn Cash For Christmas – Therapists & Coaches
Or sign up for my Free Webinar – Boost Your Spiritual Business Income This Christmas And New Year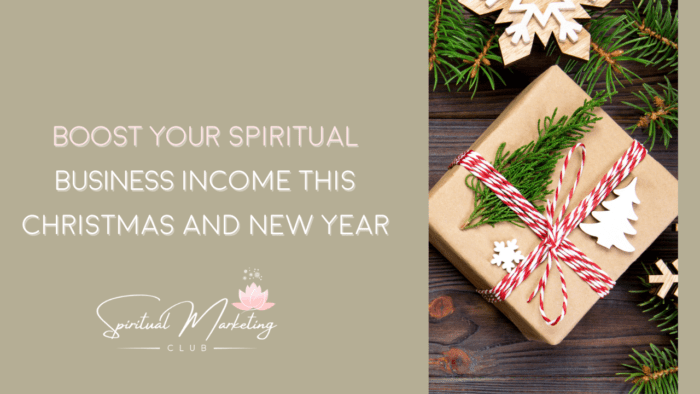 by