Pinterest Tips – How To Attract More Clients to your spiritual business using Pinterest. Top Pinterest tips on how to create and share your blogs, videos, podcast, and offerings on Pinterest boards. Learn why Pinterest can be a highly effective way to increase traffic, to raise your SEO ranking on Google and other search engines.
Why Pinterest Is Great For SEO
Pinterest can be a great way to attract more clients and more traffic to your website, your shop, and your social media. Pinterest not only helps you increase your client reach by increasing your SEO ranking. Pinterest can help attract fellow pinners who are your ideal clients and biggest sharers
Many of your ideal clients, your ideal audience use Google or other search engines to search for a solution to the problems you help solve.
If you have a blog, video, freebie ( eg. a lead magnet), or a product that solves that problem you want to add some pins to Pinterest with links to that resource.
That is why if learn how to use Pinterest the right way you can greatly increase your SEO ranking for key topics and keywords you want to rank for.
Pinterest particularly loves links to blogs, that have good valuable content with lots of rich keywords relevant to the subject, topics you are writing about, and topics your audience is interested in. That is why these Pinterest tips below can help increase your audience reach.

7 Pinterest Tips For The Spiritual Business
Top Pinterest tips to help you start attracting more clients to your spiritual business, especially if you are a healer, coach, therapist, or conscious creator.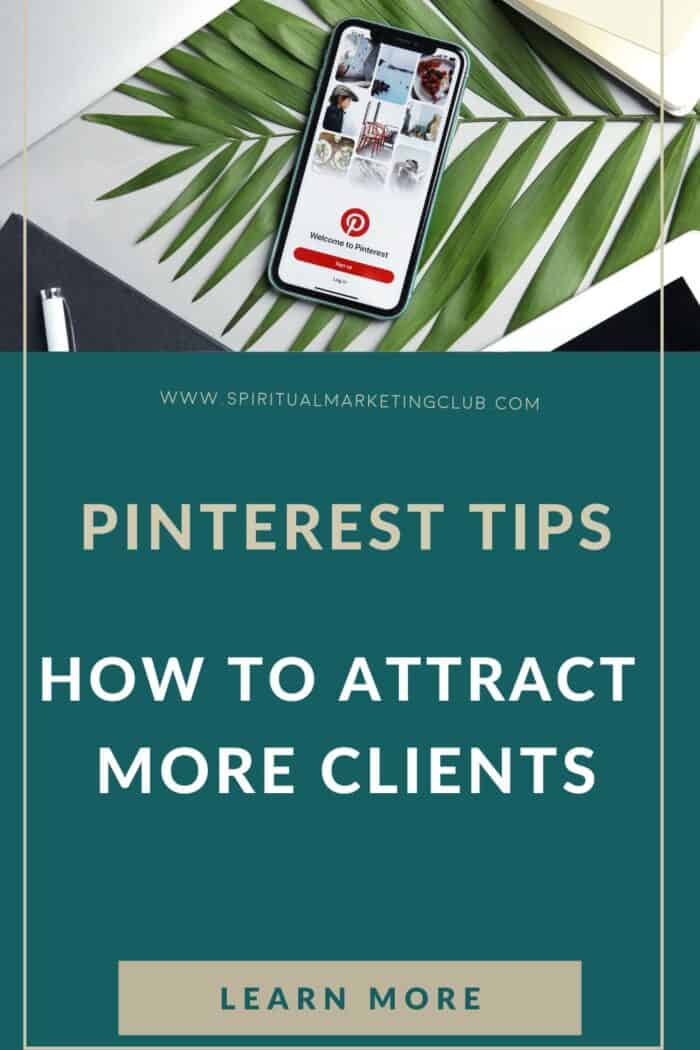 Create A Pinterest Business Account or change your account to a business account.
Create Pinterest Boards on subjects your clients would be interested in for eg, the Benefits of Reiki, Healing, Natural Remedies For Menopause, Yoga For Kids, Pain Relief, and Migraine Solutions. A top Pinterest tip when using Pinterest boards is to use keywords that your audience and clients would use. Create Pinterest boards for your blogs, videos, and other content and start pinning your content to them using long-tail pins, see below. For example, I have a Pinterest board called Spiritual Marketing Club for all of Spiritual Marketing Club's blogs, videos, and other content. Check out my Pinterest Video For Spiritual Businesses
Create Longtail Pins for Your Pinterest Boards and Blogs Pinterest prefers clean and clear-looking longtail pins, and so do other pinners most group boards will only accept longtail pins. I would always recommend you stick to your brand colours and fonts as much as possible. Make sure your brand colors are aligned with your offerings. Share your blog pins, your video pins, and your freebie pins with your relevant Pinterest boards using a social media scheduler.
Pinterest Links; Pinterest particularly loves links to blogs, that have good valuable content with lots of rich keywords relevant to the subject, topics you are writing about, and topics your audience is interested in. So make sure you share other people's pins to your boards that you find relevant.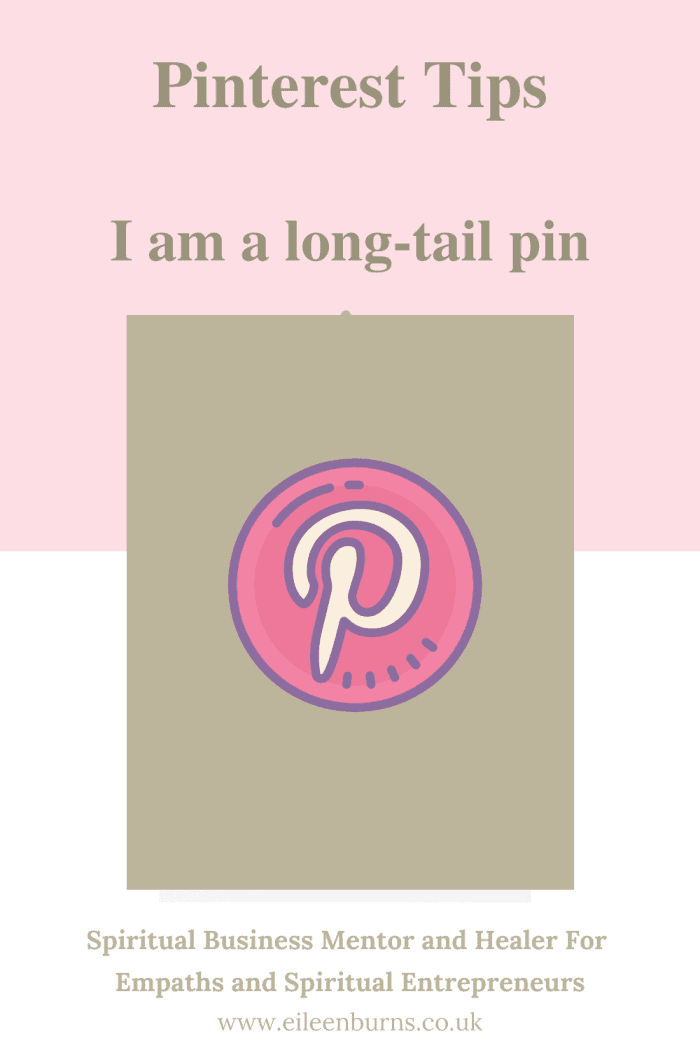 Create Pinterest Group Boards You can create Pinterest groups from the Pinterest boards for example as described above. But make sure you create group rules before inviting other members. For example, common rules 1. Only share blogs on (your topic), 2. For every 1 pin you post to the group board, 1 pin you must share. 3. Do not pin the same pin to the group board more than once every 6 months. 4. Long tail pins only. 5. You will be removed if you do not follow rules.
Request to join other Group Boards Joining group boards is a great way to get your traffic out to a wider audience. Look for group boards that are related to topics you write about, discuss in your podcast or videos, problems you help solve that are related to your spiritual business products or services. Join other group boards that are relevant to your audience. Before you ask to join Pinterest groups make sure you have enough relevant pins on your boards that will demonstrate to that board owner that you are a valuable pinner, with valuable pins share and valuable boards to share them too. Here are some fabulous tips on how to be accepted on other group boards.
Join Tailwind the top marketing assistant for Pinterest. If you are serious about using Pinterest to grow your business, using Tailwind to schedule and share pins is a must. You want to find the right Pinterest boards to join. One highly effective Pinterest tip I would definitely recommend is to sign up for Tailwind. The Tailwind app is like a social media scheduler for Pinterest but it is so much more. Tailwind is a great way to grow traffic to your website and includes a variety of expert Pinterest tips and tools. You can try out Tailwind today for free Click Here
I hope you have found my top Pinterest tips helpful and enjoy pinning, check out my Free Social Media Content Planner to help plan out your next pins or other social media content today.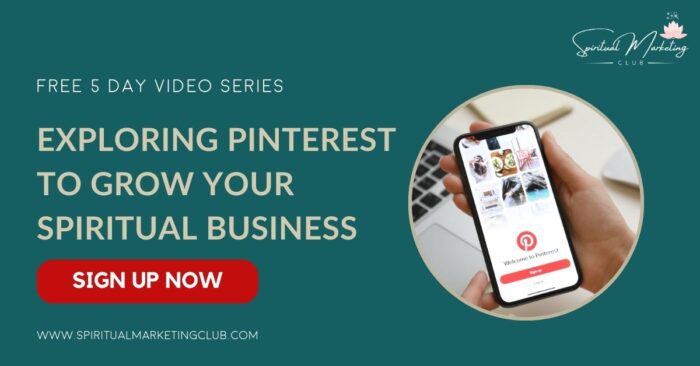 Exploring Pinterest Tips To Market Your Spiritual Business