There are many reasons to use google plus  for your business(google+)
Especially to share your blogs, events and latest offers and here is why.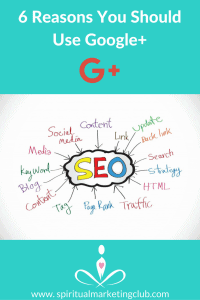 1. Google+ is a very easy to use social network of google. And if you use google+ effectively it increases your authority on google search engine.
2. Research in 2014 showed 60% of people will use a search engine to help decide on a purchasing decision a BIG reason why your business should be well indexed in the search engines especially google.
3. Research in early 2016 shows 64% of search engine searching is done on google while only 21 %  is microsoft and 12% yahoo, that is a lot of potential customers using google.
4. As soon as you add something to your Google+ Business Page it will automatically be indexed to google, if you already have great SEO it will normally be indexed higher.
5. Too many small business especially coaches and healers are relying on facebook, twitter and pinterest when it may not be where a large part of their audience hangs out or looks for their services.
6. The number of +1′ s on your google+ business page is the main authority on local searches. So if your a healer, therapist , yoga teacher or other health practitioner who practices in the local area of your business residence this is a huge bonus. So the more customers who give you +1's on your page the better authority and higher ranking up the page for your keywords.
If you don't understand the importance of search engines such as google for your business or website read my blog 6 Ways To Get Traffic To Your Website  This will highlight further reasons why to sue google plus for your business.




by