6 Reasons To Use Google My Business To Promote  Your Holistic Business If You Are A Therapist, Healer Or Coach.
There are many reasons to use this top business listing to promote your business products and services, especially if you are a holistic business that runs a mobile or locality-based business. Such as a healer, therapist, counsellor, yoga or meditation teacher, a nutritionist, herbalist or homeopath.
This is a useful type of business listing  to  share and promote your latest events, products, services, and offerings on especially because it is the No 1 top search engine in the world.
6 Reasons To List Your Holistic Business On Google My Business
1. Free Advertising:
Google My Business is absolutely free, a great free form of advertising your holistic or spiritual business.
2. Free Brand Awareness:
Using this Business Profile is a great way to boost your brand awareness in your local area and online.
2. Google Maps:
A way for your holistic business to get published on google maps. Great if you run a locality-based business like a holistic therapy clinic, counseling service, yoga or meditation classes, or run a crystal shop.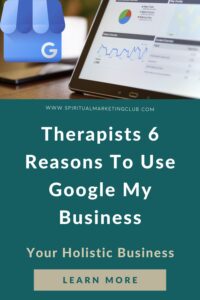 3. Improve Your SEO:
This business listing helps improve your website SEO. it can help increase your google rankings. So more of your ideal audience can find you, so you get more traffic to your blogs and website.
This business listing is a great way to show honest reviews about your business to increase client and customer reviews. Invite happy customers and clients to share a google-review. A great way to increase confidence and trust in you and your therapy business.
5. Promote Your Latest Offers:
An additional advantage of being on this business list is being able to add your latest offers, change and update your products, services and events in a quick, simple and easy way.
6.  Free Analytics:
The free analytics feature offers free insights into the audience you are attracting to your Google-My-Business page. This can help you identify any areas you need to improve on to attract more of your ideal audience.
Suggested Blogs: