Why More Gratitude In Your Business Can Help You Attract More
Why more gratitude in your business can help you grow. Having the wisdom to see blessings within any situation is a beautiful gift. Having more gratitude in your business can help you see situations from a different perspective and help your business grow.
Gratitude not only helps you create a more powerful spiritual business but helps you vibrate at a far higher level.
It can help open your world and business to more possibilities than you ever imagined. It can help you create and see solutions where things once seemed impossible.
In a time when we spend more energy on the future or past we miss mthe blessings of every moment. When our business plans don't work out as we hoped, it's so easy to fall into despair or even denial. We can fail to see our presenting challenges are just sign posts. Some challenges are stop signs, some life lessons and other are there to guide us along a certain path.
The life or business we plan out for our self is not always the right or greatest path. Sometimes life has another journey for us, one that takes us to a much richer soul experience. The more we resist these situations as signposts or opportunities, the more di-stress and unhappiness we create in our life.
When our life journey involves the more spiritual or healing arts, there is more of a spot light on our motives. More of a focus on our attitude, tolerance, wisdom and discernment. Every one of us are are having a human experience with weaknesses and strengthens. But within that is there is also vast greatness. As healers we not face our own own tremendous life challenges. But we also face those that come with a spiritual heart-based business. Being able to be grateful for every situation isn't always easy. And gratitude certainly doesn't not mean denying the reality of a situation. But when we  have the wisdom and strength to trust there is a bigger picture at play.
Magic begins to happen, the energy you vibrate out changes.
With every challenge in our life, we first have to accept that situation at that precise moment.  There is more dis-ease when you hide your head in the sand or suppress your pain. It is only when we fully face a presenting situation, that we can evolve from it. Sometimes we need to let go as were nudged along a different path than we we thought we were on. Sometimes we need to shift our perspective simply learn a new way of doing things. Other times it's about us learning or developing new skills.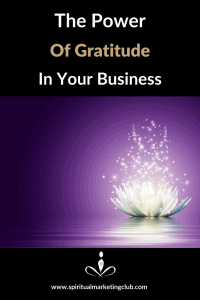 My Story- The Power of Gratitude In Business
I like all of you have faced many diverse challenges on my journey as a healer. A path of 25 years that was strewn with many difficult choices and challenge.  Running a heart-based business from a place of integrity and service can sometimes be a lonely and difficult journey. Many times in my career I had to stand up or walk away from contracts and work. Situations not of the highest benefit for me, my clients or students.
Many times my business nearly folded and many times my heart was broken. Because to me my business was my baby, to me it was my life. Until I started to see things a lot clearer. But you know in many ways I wouldn't change many of these challenges for the world. You see my business for me wasn't just a career or about making a living. My business gave me my life back, my passion back it helped me be of service. You see, as a young woman in my twenties I spent a large part of my life bed and housebound.  A young woman with many fears I would never get any better. And despite still living with many health challenges,  my work gave me my life back. I just wanted to be of purpose and do what I love. Thats why I dedicated most of my waking hours and energy to my passion as a healer and teacher.  In many ways I feel extremely lucky  to have been able to do  a job I absolutely love.
So far I've survived self-employment for 16 years around many financial and health challenges by focusing on my blessings. Brought up as the eldest of nine we were brought up to be resourceful. A genetic line of extreme determination and tenacity has kept me motivated.
Build Your Business On Your Strengths
In my work I have always focused on my resources rather than my disabilities. This helped me use my holistic knowledge and skills in a variety of ways.  Sometimes that meant using my expertise such as writing articles for papers, magazines, online media. And other times the teacher, trainer sharing my skills to small and large groups of people of all ages. Because of my health conditions  I would often be only fit to physically  work a few hours a day. So this was a far more efficient way for me to use my time, energy and stamina.   I spent time my down time studying, marketing or creating online courses or training materials for organisations and schools.
Be Grateful For The Journey
Of course, there was many many times when I was extremely frustrated. Times when I couldn't do any work, times when I couldn't undertake specific contracts I would have loved to. Many times when I knew it was best to give the work to someone else. But I learned to focus on the great opportunities I could do rather than what I couldn't.
I am not going to lie, at times the stress of running a business was very challenging. Yes even as a stress coach lol. Especially with someone who has a disability that isn't visible, catered for, supported or understood. But I learned to have the wisdom that somethings are just not meant to be. I like most people in business had also many unpleasant experiences. Those where I wasn't paid or where other people would try and sabotage my business or contracts. Sometimes I got overwhelmed, but when I simply let things unfold these situations eventually revealed them self, more clearly. The funny thing was the work came back, the contracts came back.
Be Grateful For Your Gifts, Own Your Gifts
My life situation has changed again and my present situation has guided me to help you. A generation of amazing, dedicated and gifted coaches, healers and therapists who just want to live their purpose.
But I see too many of you struggling to see, own and shine that greatness. That is where I can help.
So for now, focus on what you CAN DO and mostly share what your GREAT AT DOING . Be grateful for each and every client, contract or sale no matter how small. Be grateful for the gifts and skills you have been blessed with and worked hard to gain.
If you would love some help to own and shine that greatness Book A Session
Wishing you many blessings for now,
Eileen x





by