77 Hashtags Spiritual And Holistic Business. Hashtags For Healers, Coaches, And Therapists
Hashtags spiritual and holistic businesses can use on various social media platforms to share and search for specific topics. Hashtags are used to increase client reach, to help your ideal clients and soul clients to find you.
In fact, when you use the right hashtags for healers on Instagram or Twitter you can instantly double your audience reach. So when you can identify the best hashtags spiritual businesses and your audience use you can start to reach more of your soul clients and soul audience.
Understanding Hashtag Use
A #Hashtag is a use of the hash button also known as the number or pound sign # in front of a keyword, for example, #hashtag. If used effectively hashtags for your holistic or spiritual business can be a powerful marketing tool on various social media platforms.
Recommended No Of Hashtags
The number of hashtags you use on every social media platform is different. Instagram and Twitter love hashtags. Hashtags on Linkedin and Facebook should be used more sparingly.  Keep up to date with different trending hashtags and the recommended amount of hashtags at the current time.
Hashtags As A Marketing Tool
Hashtags when used correctly are part of a highly effective marketing strategy that helps potential clients and customers more find your brand, products, and or services. The main problem with hashtag usage, is most small businesses don't know how to use choose the right hashtags and use them the right way.
In fact, many just use hashtags that are far too competitive, not relevant, or never searched for. So it is important you know how to use hashtags effectively for each platform. You should always use a mixture of low-traffic and high-traffic hashtags in your marketing.

Right Types Of Hashtags To Use
Focusing only on the most popular hashtags means your content can get lost in the noise of social media. Or mostly focusing on using your own #hashtags when you are an unknown may not always give you any leverage. Choose different types of hashtags related to your content pillars.
So let's look at some of the most trending hashtags for the holistic and spiritual industry at the moment that you can add to your social media marketing, hashtags spiritual, for the more conscious and awakened.
Top Hashtags Spiritual Business, Spiritual Entrepreneurs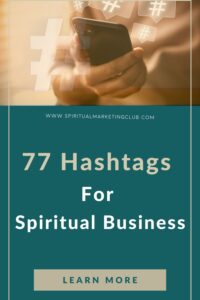 The most popular spiritual hashtags popular on Facebook, Instagram, Twitter, and Tumblr at the moment when this was first written are
Trending Hashtags Spiritual Teachers And Spiritual Mentors
Some of the other trending hashtags spiritual mentors, hashtags spiritual teachers use on Instagram, Twitter, and Youtube. Spiritual and spiritual hashtags for spiritual teachers, spiritual influencers
#awakening #awareness #conciousness #god #gratitude #happiness #higherconsciousness #higherself  #innerpeace #intuition #inspiration #lawofattraction #life #meditate #lightworker  #mindfulness #peace #selflove #spirit #spiritual #spiritualgrowth #spiritualawakening #yoga #universe #peaceofmind #spiritualguidance #spiritualpath
Trending Hashtags Spiritual Coaches
Trending hashtags spiritual coaches and awakened coaches use
#spiritualcoach #spiritualmentor #spiritualcoaching #lifecoaching #spiritualwarrior #spiritualguidance #aligned
Trending Hashtags Spiritual Healers And Energy Healers
Some popular hashtags spiritual healers, energy workers, and lightworkers use.
#chakras #crystals #energy #energyhealing #healing #reiki #selfcare  #wellness #lighworker #holistichealing

Popular Hashtags Spiritual Artists Use
Some of the more popular hashtags spiritual artists and psychic arts use to increase their audience reach
#psychicart #spiritualart #spiritualartist #soulart #soulartist
Popular Hashtags For Holistic And Wellness Bloggers
Some of the most popular hashtags for holistic and wellness businesses such as wellness bloggers suggested by Marie Forleo include
#cleaneating #cleanliving #detox  #dailydetox #greenlifestyle #holisticliving #liveinspired #mindbodysoul #mindbodygram #organicbeauty #wellnessblogger #wellnessjourney #wellpreneur #wellnessjourney #nontoxicliving
Bonus Hashtags for Healers, Coaches &  Therapists
Here are more spiritual and holistic hashtags for healers, coaches, therapists, and other businesses in the holistic, spiritual, health and or wellness industry.
#essentialoils #fitness #health #healthylifestyle #healthyliving #holistic #wellness #holistichealth #massage #mentalhealth #nature #natural #naturalmedicine #nutrition #organic
Hashtag Research Tools
Hashtags for Spiritual Healers & Holistic Businesses
Many healers and holistic businesses find it hard to stand out in the crowd. Hashtags can be a powerful yet simple marketing tool that can seriously increase your audience's reach on social media.
The key is using #hashtags correctly, in-fact in some social media platforms like Facebook, the wrong use of hashtags can seriously impact your business.
When you know your ideal clients and soul clients and identify their matching hashtags more of your soul clients find it easier to find you.
Get access to my over
300+ Hashtags Spiritual And Holistic
in my latest e-book below.
Hashtags Spiritual and Holistic for Social Media Marketing. Designed to help you save time, hours and days searching and researching for a wide range of spiritual hashtags for your business.

Eileen Burns is a highly experienced spiritual business coach and mentor who loves helping healers and spiritual entrepreneurs attract soul clients by helping them live more of their life and soul purpose. She runs the Spiritual Marketing Club Membership and Stress Coach Training.