Our Latest Free Spiritual Marketing Courses & Resources
Free Spiritual Marketing Courses for holistic and spiritual businesses, free spiritual marketing courses for healers, coaches and therapists.
Start Here
The First Stages Of A Successful Marketing Journey
Marketing is very much about taking your audience on a journey, a journey that helps builds up connection; that know like and trust factor. As a coach, healer and therapist who has been marketing my holistic and spiritual business digitally for 20 years. I know how important each step on that journey can be.
The very first step on any marketing journey is knowing your ideal audience. The audience you will be taking on the journey. If you make a mistake at the very beginning and focus on the wrong audience, you can waste a lot of time, energy and money. The journey is so much easier when you choose not just your ideal clients but soul clients, from your soul tribe. That is why I have created for you my Free Video Series- What Is A Soul Client?
I share what is the main difference between ideal clients and soul clients.
I share why soul clients help you to grow your business more organically.
I share why my why soul clients save you time, energy and money

FREE Spiritual Marketing Video Course
The 2nd Stage Of A Spiritual Marketing Journey
One of the next stages in marketing other than knowing your soul clients and knowing the products and services they want and will buy. Is the ability to create an effective marketing plan, a marketing campaign that will attract your ideal audience. In my Free Webinar- How To Create A Marketing Plan For Spiritual & Holistic Businesses I share a step by step process to create an effective marketing campaign.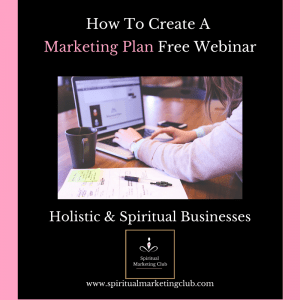 The 3rd Stage Of That Spiritual Marketing Journey
One of the next steps of that journey is finding and attracting those ideal clients and soul clients. That is why we recommend our Identify & Attract Your Soul Client And Ideal Client Course. Once you are sure of your ideal clients and soul clients it is all about finding them and attracting them. If your soul tribe hangs out on instagram or twitter you need the right hashtags . That is where my Free 300+ Hashtags For The Holistic & Spiritual Business comes in very handy.
ACCESS NOW

If you are an experienced coach, healer, therapist or spiritual teacher who is ready to take your business and marketing to a much deeper soul level. I have a range of spiritual marketing courses and mentoring sessions to support you. Check out our new online training platform.
Eileen Burns x
Owner of Spiritual Marketing Club & Stress Coach Training
Update: This page was originally published in July 2016 and has been updated to include more up to date free spiritual marketing resources




by